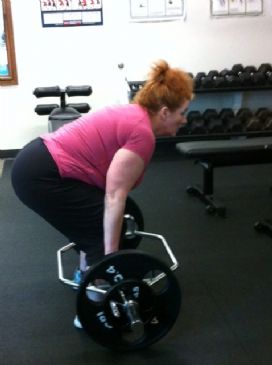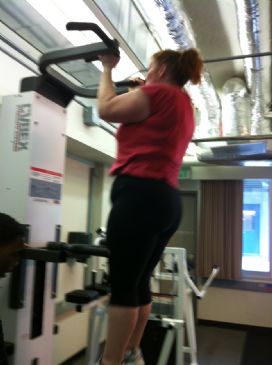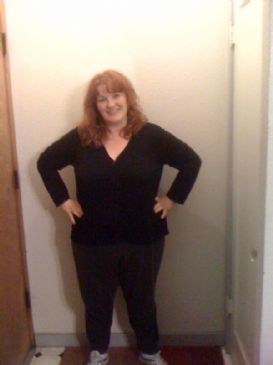 I have 9 pics in my gallery

Awards

"It does not matter how slowly you go as long as you do not stop" ~ Confucius
That has become my new mantra -

I have been up and down in weight since starting this journey on Sparks. I've gained so much more than a number on a scale or a pants size...

I can run/jog/walk consistently without feeling like I am going to die.

I can consistently lift BIG weights - 225# deadlifts consistently ... and that weight WILL go up. UPDATE: 255# consistently as of 11/4/13

I am eating to fuel my body, not to entertain myself. Food ...
That has become my new mantra -

I have been up and down in weight since starting this journey on Sparks. I've gained so much more than a number on a scale or a pants size...

I can run/jog/walk consistently without feeling like I am going to die.

I can consistently lift BIG weights - 225# deadlifts consistently ... and that weight WILL go up. UPDATE: 255# consistently as of 11/4/13

I am eating to fuel my body, not to entertain myself. Food is fuel, not an "activity".

I am setting a positive example for my 12 yr old daughter - She knows that health is not a pants size or a number on a scale. She measures her success in the number of laps she swims in the pool, or how many miles she can run. I am so proud of her.

I like that I can run a mile in under 13 mins - I started at over 25 mins. I like that I have muscles under all my flabbity flab. I like that I feel stronger and can do more. I cannot emotionally or physically AFFORD to go back to where I was. Ever.

KNOW THIS: You can NOT out-exercise poor nutrition. 80% of this is what you put in your body - 20% is what you do WITH your body. Fuel your body with good nutrition and watch what you can do!

I'm worth the effort. I'm worth the work. And I refuse to put my health last anymore. It won't be easy - but it will be so worth it!

Measure your progress in ways that truly reflect your results!

I will never, EVER quit


Current Status:


SparkFriends

SparkTeams

My Ticker:
current weight: 240.0

Interact with IRISHBEANERGAL





Recent Blogs:

Profile


Member Since: 1/19/2011

SparkPoints: 34,547

Fitness Minutes: 28,640

My Goals:
Weight goals:

230

220

205 (1/2 way)

199 (onederland) -

190-

180-

170-

160-

150 GOAL-

Maintenance-

**************

Other goals:

Run a 5K-

Learn to swim well enough to swim 5 laps consecutively-

Ride in a biking event (maybe STP?)-

Play on a softball team again- DONE 8/16/12 - Six game round robin tournament - and I rocked it!





My Program:
I am working out a minimum of 5x a week - and try to do double sessions 3 of those days. My routine varies, but the emphasis is on strength training, balance/core, and cardio - guess I covered it all! I am lucky enough to have an intern/personal trainer through my work during class sessions (I work at a college that offers a PFT program - and I am the guinea pig for the interns.).

If I'm not working out with a trainer at work, you will find me at the YMCA training with the infamous "Trainer #4" (aka ME)

Personal Information:
I am on this journey for ME...

But also for my kids. I have to set the example. And I have to win this fight. My kids are my biggest "fans" and have been supporting me throughout this journey.

Other Information:
REMEMBER THIS:

Only YOU can make yourself feel inferior. Others can try, but you ultimately have to give them the permission to do it. DON'T! Plan to work and work your plan.

Profile Image