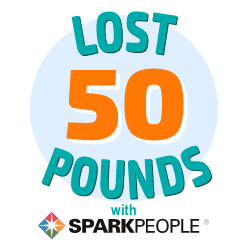 I have 10 pics in my gallery

Awards

Back on Track!!

God give me strength.




Jan 23, 2011 Well I'm still holding strong. I had some health issues and had to have surgery. But I'm down to 282 and that is so close to having lost 50 lbs. But this is my year and I'm done making excuses. I want to have met my goals next time this year. I'm not letting anyone stand in my way...even myself!!


Aug 9, 2010 Back on track. I'm glad to say that as of yesterday morning my weight is 300.1lbs. ...

God give me strength.




Jan 23, 2011 Well I'm still holding strong. I had some health issues and had to have surgery. But I'm down to 282 and that is so close to having lost 50 lbs. But this is my year and I'm done making excuses. I want to have met my goals next time this year. I'm not letting anyone stand in my way...even myself!!


Aug 9, 2010 Back on track. I'm glad to say that as of yesterday morning my weight is 300.1lbs. So during my time off I didn't gain back any of the weight that I had already lost. I'd also like to say to anyone that I was talking to online in February...I'm really sorry for bailing. :0( Family issues are ALWAYS my down fall. But I've taken a step back from my family issue so that I can just deal with me, my child and my husband. thanks for reading!

Jan 18, 2010
Things are going well. I'm down to 312 as of this morning and I'm very happy with my progress. My mother in law has lost some weight also. I didn't really get on board until just before Christmas. So I almost have a month under my belt. I just recently bought a treadmill and love it.

thanks for visiting!! God bless!!
Dawn


Nov 1, 2009
Okay so here is the deal. I want to lose weight but I'm having a really hard time changing bad habits for good ones. I also give in. But I'm back and this time I have company. My mother-in-law and I are losing weight together. Oh and this time I'm going to put down rewards that I REALLY want. Wish me luck!! Here we go again.


God Bless thanks for visiting.

Dawn

My Weight Loss Week by week
Dec 7, 2009 330
Dec 21, 2009 325 (- 5)
Dec 28, 2009 320 (- 5) Total -10 pounds

Jan 4, 2010 317 (- 3)
Jan 11, 2010 313 (- 4)
Jan 18, 2010 312.2 ( .8)
Jan25, 2010 307.4 (- 4.8) Total -12.6 pounds

Feb 1, 2010 306 (-1.4)
Feb 8, 2010 300.6 (- 5.4)
Feb 25, 2010 297.6 (-3)



SparkFriends

SparkTeams



My Ticker:
current weight: 300.8

Interact with INTERLAKEGRL





Recent Blogs:

Profile


Member Since: 6/16/2009

My Goals:
330
320GOAL
310 July 14. 14
300
290
280
270
260
250
240
230
220
210
199
190
180
170
160

My Program:
Watching what I eat (portion control) and exercising every day. I'm using the walk at home videos, treadmill and strength training. I'm also just trying to stay busy cleaning and playing with my daughter.

Personal Information:
Manitoba Canada

Other Information:
I'm a stay at home mom of one VERY active 10 year old girl. I love to cook, bake, garden, read, watch TV. I spend my spring, summer and fall camping hunting, fishing, and gardening.

Profile Image