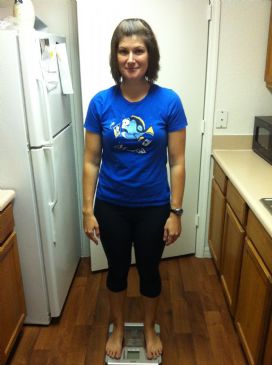 I have 1 pics in my gallery

Awards

Nothing great was ever achieved without enthusiasm.
My reason for joining SparkPeople is to become more motivated, eat healthier, get stronger, and become more toned. I'm not trying to lose any significant amount of weight. In fact, gaining muscle is my major goal. I am working on my overall cardiovascular health and endurance, as well.


-----Progress-----

9/23/13 - 142 - 31%BF (starting weight for DietBet)
10/16/13 - 137.2 - 30%BF
10/22/13 - 136 - 30%BF (ending weight for DietBet)
4/4/14 - ...
My reason for joining SparkPeople is to become more motivated, eat healthier, get stronger, and become more toned. I'm not trying to lose any significant amount of weight. In fact, gaining muscle is my major goal. I am working on my overall cardiovascular health and endurance, as well.


-----Progress-----

9/23/13 - 142 - 31%BF (starting weight for DietBet)
10/16/13 - 137.2 - 30%BF
10/22/13 - 136 - 30%BF (ending weight for DietBet)
4/4/14 - 142.2 - 30%BF (starting fresh! new DietBet!)
4/26/14 - 139.2 - 29.5% (DietBet nearly over)


Quotes inspire me:

**It's not the strongest of the species that survives, nor the most intelligent. It is the one most adaptable to change. - Charles Darwin**

**If you greatly desire something, have the guts to stake everything on obtaining it. - Brendan Francis**

**Be who you are and say what you feel, because those who mind don't matter and those who matter don't mind. - Dr. Seuss**

**People who ask our advice almost never take it. Yet we should never refuse to give it, upon request, for it often helps us to see our own way more clearly. - Brendan Francis**

**We are still masters of our fate. We are still captains of our souls. - Winston Churchill**

**The journey will be difficult. The road will be long. I face this challenge with profound humility and knowledge of my own limitations. - Barack Obama**

**If you have a talent, use it in every which way possible. Don't hoard it. Don't dole it out like a miser. Spend it lavishly like a millionaire intent on going broke. - Brendan Francis**

**Our greatest glory is not in never falling but in rising every time we fall. - Confucius**

**Fortune favors the brave. - Publius Terence**

**If you do not hope, you will not find what is beyond your hopes. - St. Clement of Alexandra**

**The difference between try and triumph is a little umph!**
SparkFriends



SparkTeams



My Ticker:
current weight: 141.0

Interact with INEFFABLESQUIRL





Recent Blogs:

Profile


Member Since: 2/5/2010

SparkPoints: 16,246

Fitness Minutes: 9,316

My Goals:
*Do 5 pull-ups.

*Increase cardiovascular health.

*Eat healthier for life.

*Help others achieve their health/fitness/life goals.

My Program:
*SP Food Tracker.

*SP Fitness Tracker.

*Fitness classes whenever I can (for fun and social atmosphere).

*Cardio a few times a week.

*Strength training program 3-4X/week.

*Drink plenty of water.

*Introduce more healthy foods into diet.

Other Information:
I absolutely enjoy reading, helping people, researching, and browsing the internet.

Profile Image