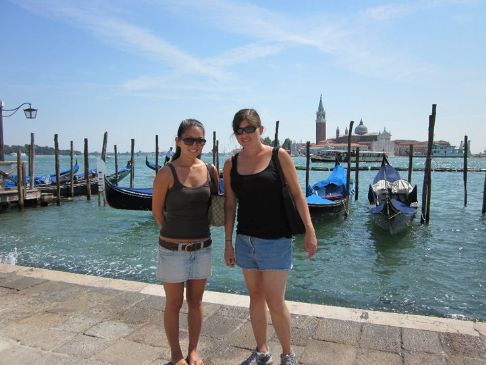 I have 3 pics in my gallery

Awards

"Your goals, minus your doubts, equal your reality."
My name is Meghan, I'm 28 years old. I recently moved back from France, where I was an au pair and walking everywhere, to Los Angeles ('nobody walks in LA', the song is very true) as a theatre technician.

I've always been slightly overweight, and moving back added about 10 pounds on top of that. I'm bored of being self conscious about how I look and tired of hating clothes shopping. I want to be comfortable in my own skin. I also have pairs of jeans that are in good condition but ...
My name is Meghan, I'm 28 years old. I recently moved back from France, where I was an au pair and walking everywhere, to Los Angeles ('nobody walks in LA', the song is very true) as a theatre technician.

I've always been slightly overweight, and moving back added about 10 pounds on top of that. I'm bored of being self conscious about how I look and tired of hating clothes shopping. I want to be comfortable in my own skin. I also have pairs of jeans that are in good condition but a bit tight, and I really can't afford to spend money on buying new ones. Unless they're smaller, of course. ;) So, time for a change.

I've been trying to lose weight off and on for years, but only on my own. Hoping that this will be the difference.

Reboot 7/6/2014:

After a year and a half on tour, not eating right and not exercising enough, those 15 pounds I was so happy to lose? Yeah, they crept back on. I think TSA snuck them into my checked baggage. :)

However, being back in Los Angeles (at least for the summer), I have discovered a new fun exercise class: Aerial 101 at the cirque school! It's an hour long class, half on aerial silks, half on the static trapeze, minus the warm up and cool down time. It's a bit expensive, and not so close to where I live, but so much fun. And the desire to be able to do tricks, and climb to the ceiling (harder than it looks!) is great motivation to get stronger.

In addition to finding new classes (still don't belong to a gym), I'm doing the Summer 5% challenge. We're on week 3. My goal for the challenge is to lose 8 lbs, which would put me at 164, but even if I don't make it all the way to goal, I'll hopefully still lose, and form good habits.

Week 1: drink water (good on that)
Week 2: track food and stay in limit (good on tracking, mostly good on staying in limit, except for maybe fourth of july. Looks like I need to cut back on the drinks when out with friends though).
Week 3: eat 3 meals a day (easy when I'm at home, not always when on tour)
SparkFriends

SparkTeams

My Ticker:
current weight: 170.0


Recent Blogs:

Profile


Member Since: 1/25/2012

SparkPoints: 16,107

Fitness Minutes: 13,863

My Goals:
Improve cardio health
Get stronger (gotta keep up with the guys at work!)
Lose weight
Eat more vegetables

Mini Goals:
Starting weight- 174
170-Jillian Michaels 30 day Shred DVD (achieved and bought 2/5/12)
165- New sneakers (met 5/23/12 and bought!)
159 (healthy BMI!) - Striiv pedometer
155- new book maybe
150- 30 minute massage
145- Zip lining!

Reboot 7/6/2014

Overall goals:
Improve cardio health
Build up strength, specifically arm and core
Eat more fruits and vegetables
Up fiber and protein intake.

Starting weight: 170

Mini goals:
165- New workout clothes.

159 (healthy BMI)- 30 min massage

155- mani pedi?

150- 1 hour massage

145 (Goal!)- Ziplining!

My Program:
Be diligent about tracking my calories.
Drink at LEAST 8 glasses of water a day.
Find even more activities that I enjoy.

More specifically updated plan:
Going to Zumba class at least once a week, if not twice. When on tour/busy, do videos, or find local class.

Yoga once (or twice) a week, same rules as zumba.

Aerial class (new addiction!) once a week when in town.

Overall:
Cardio (zumba or other) 3x/week
Aerial class 1x/week
Yoga 1-2x/week
Strength training video: 2x/week


Personal Information:
Born and raised in Hawaii, moved to Los Angeles, then Paris, now back to Los Angeles, though sometimes roaming the country on tour.

Other Information:
Freelance designer.
5'7".
I like water sports and dancing.
I'm a Doctor Who nerd.


Profile Image