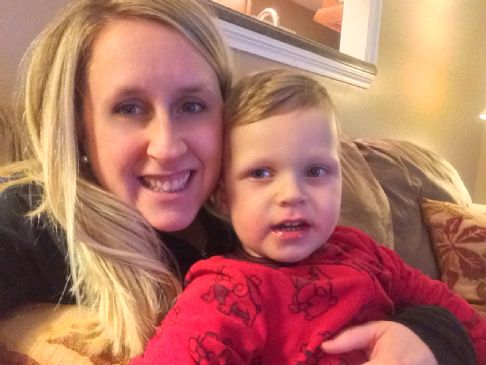 I have 7 pics in my gallery

Awards

Your ATTITUDE determines your ALTITUDE.
Hey there! My name is Jen. I'm on a mission to lose 58 pounds.

About Me:
I'm a stay-at-home mom who left my career in 2013 to stay home with my son who's now 3 years old. I have an amazingly supportive husband whom I met in college and married in 2009. We live in a suburb of Dayton, Ohio.

About My Weight Loss Journey:
I wasn't overweight growing up, but I did eat a ton of processed foods during those years (like most kids in the 80's and 90's)! I was ...
Hey there! My name is Jen. I'm on a mission to lose 58 pounds.

About Me:
I'm a stay-at-home mom who left my career in 2013 to stay home with my son who's now 3 years old. I have an amazingly supportive husband whom I met in college and married in 2009. We live in a suburb of Dayton, Ohio.

About My Weight Loss Journey:
I wasn't overweight growing up, but I did eat a ton of processed foods during those years (like most kids in the 80's and 90's)! I was at a healthy weight through high school and college (even though I always wanted to lose weight - ha!), and was mostly in the 105-110 lb. range. I started running in college to lose weight for a vacation, and really fell in love with it. (I still run to this day, though not as much as I did in college.) When I graduated in 2004 and had to move back home for a few months, everything changed. I began eating the processed foods I grew up on and putting on weight. It was then that I began binge-eating, something I still struggle with to this day. I started putting weight on gradually, and have been trying to lose weight ever since. I have been successful for brief periods of time (like preparing for my wedding), but always gain the weight back - and then some. When I was pregnant with my son, I gained about 40 lbs, but lost much of it quickly after he was born. I was around 140 lbs. after he was born, but becoming a stay-at-home mom added a new dimension of stress and secretive eating to my life, and I put on another 30+ lbs in the last 2.5 years alone. I hit my heaviest non-pregnant weight at the end of March 2015 (172.8 lbs.) and decided to join Weight Watchers. I have been attending regular meetings for over four months now, and have seen some success (down 14 lbs at one point), but continue to struggle with good weeks followed by bad weeks. My hope is that the WW Plan, along with the support of SparkPeople and my family and friends, I will FINALLY succeed in reaching my goal weight and be happy with myself again for the first time in so many years.

I am always looking to connect with new SparkFriends, especially those who have similar weight loss goals, struggles or lifestyles. Please reach out to me if you'd like to help support each other! :)


My Weight Log:

08.22.15 - 165.3
08.15.15 - 162.0
08.08.15 - 164.2
08.01.15 - 165.2
07.18.15 - 162.8
07.11.15 - 164.8
06.27.15 - 159.8
06.20.15 - 162.4
05.23.15 - 158.8 - Below 160 for the first time all year!
05.16.15 - 162.6
05.09.15 - 160.4
04.25.15 - 162.0 - 10 lbs. lost
04.18.15 - 164.6
04.11.15 - 163.4 - 5 lbs. lost, 5% lost
04.04.15 - 168.2
03.28.15 - 172.8 - Highest weight ever :( Joined Weight Watchers

SparkFriends

SparkTeams



My Ticker:
current weight: 165.3


Recent Blogs:

Profile


Member Since: 3/29/2011

SparkPoints: 8,971

Fitness Minutes: 4,462

My Goals:
Ultimate Weight Goal: 115 lbs. (I'm 5'0" tall)

Non-Scale Goals:
( ) Receive a compliment about my weight loss
( ) Be able to fit into a smaller outfit in my closet
( ) Run a 5K race
( ) Run a 10K race
( ) Be able to comfortably cross my legs again
( ) Get rid of my "are you pregnant?" belly
( ) FINALLY be genuinely happy with myself and confident again

My Program:
I follow the WeightWatchers PointsPlus program and attend weekly meetings. I use the WW app to track my food and PP, but use SP to stay connected with friends, blog, and use other tools.

In addition to WW, I'm trying to reduce the amount of sugar and artificial ingredients I eat. I have a crazy sugar addiction, and am trying to eliminate having trigger foods in the house and making healthier, lower-sugar options whenever possible.

I run (slowly but steadily!) about 3-4 days a week for about 3 miles at a time. I'm hoping to incorporate some weight training soon!


Other Information:
Here are some quotes/motivational phrases that I LOVE:

Your ATTITUDE determines your ALTITUDE.

God is within her, she will not fail. -Psalms 46:5

Your dreams are as hungry as your demons. Make sure you are feeding the right ones.

You cannot write the next chapter of your life if you keep re-reading the last ones.



Profile Image