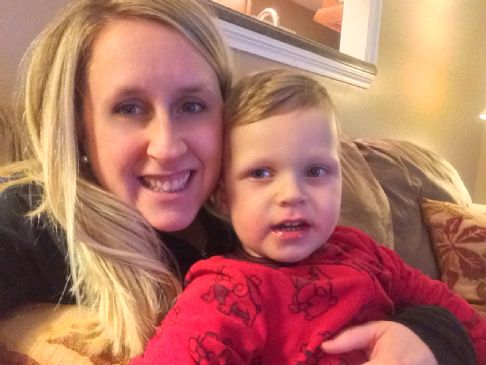 I have 7 pics in my gallery

Awards

The secret? DON'T GIVE UP.
Hey there! My name is Jen, and I'm a 33 year-old mom and wife. I'm on a mission to lose nearly 60 pounds.

The last time I looked and felt truly great was in college (2000-2004). I was about 110 lbs and fit into a size 0/2. My goal is to get back to that weight and happiness again. Every year since I graduated, my weight has consistently gone up. When I begin a weight loss plan and have success, I always seem to eventually give up, overeat, and gain the weight back - plus ...
Hey there! My name is Jen, and I'm a 33 year-old mom and wife. I'm on a mission to lose nearly 60 pounds.

The last time I looked and felt truly great was in college (2000-2004). I was about 110 lbs and fit into a size 0/2. My goal is to get back to that weight and happiness again. Every year since I graduated, my weight has consistently gone up. When I begin a weight loss plan and have success, I always seem to eventually give up, overeat, and gain the weight back - plus more. I also had a baby in 2012, and while I initially lost most of the weight I gained during pregnancy, I've gained so much more in the past year becoming a stay-at-home mom. I'm at my highest weight ever right now.

Spark People is truly the tool I need to stay on track. I love connecting with others on their weight-loss journeys, especially those who are also moms or struggling with a similar weight loss goal. Please reach out to me if you'd like to connect! :)

*UPDATE: I joined Weight Watchers at the end of March 2015 and am really LOVING the program. I'm currently following it and hope to keep up with making connections and blogging on SP for added support and friendship! :)

My Weight Log:

02.01.15 - 167.0
02.02.15 - 165.4
02.03.15 - 164.4
02.04.15 - 163.4
02.05.15 - 163.4
02.06.15 - 163.4
02.07.15 - 165.2
02.08.15 - 165.2
02.13.15 - 165.6
02.14.15 - 165.6
02.16.15 - 164.8
02.18.15 - 166.8
02.19.15 - 166.8
02.20.15 - 166.8
02.21.15 - 168.6
02.22.15 - 166.8
02.23.15 - 168.6
02.24.15 - 168.6
02.25.15 - 167.6
02.26.15 - 167.6
-----
03.01.15 - 169.6
03.02.15 - 168.4
03.03.15 - 166.6
03.04.15 - 165.6
03.05.15 - 165.6
03.09.15 - 167.0
03.11.15 - 166.8
03.15.15 - 168.0
03.16.15 - 166.2
03.23.15 - 167.8
----
03.28.15 - 172.8 - Highest weight ever :( Joined Weight Watchers
04.04.15 - 168.2
04.11.15 - 163.4
04.18.15 - 164.6
04.25.15 - 162.0
05.09.15 - 160.4
05.16.15 - 162.6
05.23.15 - 158.8
06.20.15 - 162.4
06.27.15 - 159.8


Current Status:


SparkFriends

SparkTeams



My Ticker:
current weight: 159.8

| | | | |
| --- | --- | --- | --- |
| 172.8 | 158.35 | 143.9 | 129.45 |

115

Recent Blogs:

Profile


Member Since: 3/29/2011

SparkPoints: 8,262

Fitness Minutes: 3,041

My Goals:
My ultimate goal is to achieve a healthy weight of 115 lbs. (I'm only 5'0" tall!) I want to make eating healthy and fitness a part of my everyday lifestyle. I want to feel confident again and look and feel my very best.

MINI HEALTH GOALS FOR 2015:

( ) Go at least one month without a sugar binge
( ) Receive a compliment about my weight loss from someone
( ) Run a 5K race
( ) Achieve "overweight" BMI range (29.9 or below)
( ) Run a 10K race
( ) Finally feel as though I am no longer addicted to sugar
( ) Achieve "healthy" BMI range (24.9 or below)

MINI WEIGHT GOALS:
(X) 164
(X) 159
( ) 155
( ) 153 = achieve "overweight" BMI goal
( ) 149
( ) 144
( ) 142 = halfway to goal!
( ) 139
( ) 134
( ) 128 = achieve "healthy BMI goal
( ) 124
( ) 119
( ) 115 = GOAL! :)

My Program:
Right now, my plan is to:

1) Track ALL calories consumed (I'm currently using the SP app) and aim to stay within 1,500 calories/day
2) Exercise at least 3 times/week, including running and working out at home or the gym
3) Drink at least 9 cups of water throughout the day
4) Log into SP daily
5) Read something motivating each day

Personal Information:
I'm a stay-at-home mom and love taking care of my 2 year-old son. I love to organize and am always trying something new that I saw on Pinterest. I really enjoy running outside (except in the cold) and I'm an Ohio State Buckeyes fan. I earned my BA in Organizational Communication from Wright State University in 2004, where I met my awesome husband.

Other Information:
These quotes motivate me so much:

God is within her, she will not fail. -Psalms 46:5

Failure is only the opportunity to begin again - only this time more wisely. �Henry Ford

Your dreams are as hungry as your demons. Make sure you are feeding the right ones. -unknown



Profile Image