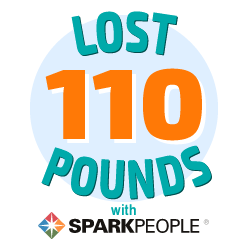 I have 14 pics in my gallery

Awards


JESUS FIRST - Seek him while he may be found
My name is Carol Im 51yrs old before coming to sparkpeople I had lost 100lbs on my own no surgery no pills just alot of hard work and putting Jesus First in my life. Since I have been here I have lost an additional 110lbs all to the Glory of the Lord!!

I could have not done this without my Jesus I cried out to him and he answered me.

2 Samuel 22:7
In my distress I called to the LORD;
I called out to my God. From his temple he heard my voice; my cry came ...
My name is Carol Im 51yrs old before coming to sparkpeople I had lost 100lbs on my own no surgery no pills just alot of hard work and putting Jesus First in my life. Since I have been here I have lost an additional 110lbs all to the Glory of the Lord!!

I could have not done this without my Jesus I cried out to him and he answered me.

2 Samuel 22:7
In my distress I called to the LORD;
I called out to my God. From his temple he heard my voice; my cry came to his ears."

Psalm 34:17
"The righteous cry out, and the LORD hears them; he delivers them from all their troubles.

The Lord has truly blessed me during this journey. He has helped me to grow and mature in him. He has taught me what it means to be disciplined, determined and dedicated in his word, in my prayer life and in my walk with him. I found out that when you DO his word you will be blessed.

James 1:22-25
But be doers of the word, and not hearers only, deceiving yourselves. For if anyone is a hearer of the word and not a doer, he is like a man who looks intently at his natural face in a mirror. For he looks at himself and goes away and at once forgets what he was like. But the one who looks into the perfect law,the law of liberty, and perseveres, being no hearer who forgets but a doer who acts,he will be blessed in his doing.

I tried so many times to lose weight to no avail. But when I put Jesus first and I asked him to help me, to give me the wisdom I needed to fight this fight of weight loss in his strength and not my own he gave me the VICTORY!!

I had many crying sessions with him and he taught me to set my eyes on him and stay in prayer, not how much weight I have to lose or how long it would take me. .

Luke 11:1
The disciples asked Jesus to teach them to pray. Notice they didnt ask him to teach them to preach, walk on water, raise the dead or cast out demons.
When Jesus prayed people saw the difference. Prayer is where the war is fought and victory is won.

Many people ask me what is my secret to weight loss and I simply say prayer. If prayer was important to Jesus shouldn't it be important to us?

Luke 5:16 But Jesus often withdrew to lonely places and prayed.

The only place you will find rest is in Jesus. Seek him in prayer and slip away to your secret place and spend time with him. He longs to hear from you, to talk with you, to spend time with you.

John 5:30
By myself I can do nothing; I judge only as I hear, and my judgment is just, for I seek not to please myself but him who sent me.

How much do we do on our own initiative? Is it not the great sin to take matters into our own hands and we find ourselves in bondage to it. Ask him to show you, guide you, lead you total surrender to him.

I love Jesus, not for what he does for me but simply for who he is.

Luke 18:8
when the Son of Man comes, will he find faith on the earth?

Will he find anyone who will take him at his word? Trust him, get to know him, All that you are going through, all the ups and downs of your life, the obstacles, the chaos he knows about them he sees you and hears you. Spend time with him in prayer believe me once you do your whole life will be changed. Jesus is your answer to everything in your life. He loves you more than you know.

Please dont die without knowing Him, give your life to him and seek him while he may be found.

Jesus first

SparkFriends

SparkTeams


This user doesn't belong to any groups

My Ticker:
current weight: 190.0


Recent Blogs:

Profile


Member Since: 7/16/2008

SparkPoints: 25,221

Fitness Minutes: 40,462

My Goals:
To do the will of my Heavenly Father for my life. That he may be glorified in everything I do.

Its all about him

My Program:
Spending time with Jesus everyday talking with him, praying with him, worshipping him.

Its all about him.


Personal Information:
I am a certified personal trainer all glory to the Lord!!

I give unto the Lord everything I am To deny myself and follow him.

Its all about him.

Other Information:
Weight train 3x's a week.

Boxing 2x's a week

All to the glory of God!!!!

Profile Image