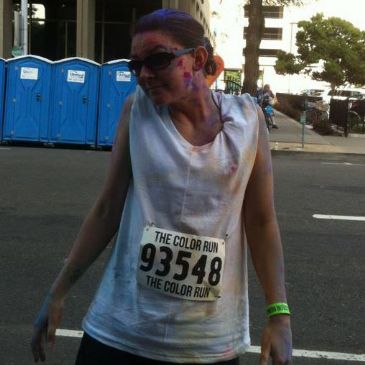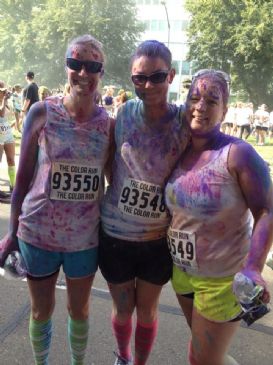 I have 16 pics in my gallery

Awards

Pain is Weakness Leaving the Body - USMC
[The polite, short/sweet, PC version of me]
Hi Y'all, I'm Teri. I am a 26-year old California raised, Southern girl at heart. I have been with my boyfriend Steven for over two years after meeting him at work. We are both in the Air Force, stationed in Northern California. He is pretty amazing, and super handsome too :]

We love being active, riding bikes, playing tennis, walking our Old English Bulldogge -Bella. We just get into ruts where we eat like crap and sit on our butts ...
[The polite, short/sweet, PC version of me]
Hi Y'all, I'm Teri. I am a 26-year old California raised, Southern girl at heart. I have been with my boyfriend Steven for over two years after meeting him at work. We are both in the Air Force, stationed in Northern California. He is pretty amazing, and super handsome too :]

We love being active, riding bikes, playing tennis, walking our Old English Bulldogge -Bella. We just get into ruts where we eat like crap and sit on our butts too much.

I'm a kid at heart who loves all dogs. I like to ride the bikes around the store and sing in my car. Life is far too short to take it too seriously. I strive to have fun and laugh everyday!

[The down and dirty, nitty gritty me]
I am a major slacker. I sign up for school because I have to and I dread actually taking the class. I post (and write) my assingments the day they're due and drop too many classes. I guess you could say that the same goes for my health. I PT with work 3 days a week and I eat ok, but it could be so much better.

I always talk about how amazing life, fitness, health, etc was at my last base. I used to run 25-30 miles a week for fun. Drank too much the night before? No big deal, I'd just run it off at the gym.

I make excuses for why it's not like that here. I got seriously injured (still affects me 4 years later) 2 months after I got here. I am a lot busier now that I used to be, etc. I had been doing good, working out consistently and eating good for awhile and I just kind of dropped off.

I want to make a change. Scratch that, I need to make a change. Yes, I know I look skinny. I'm tall and my weight is relatively low. I get that there are people who are bigger than me, sick, older, less busy, more busy, etc. I.Get.It.

My ah-ha moment was when I sat down on the couch not too long ago and saw the rolls made by my stomach. I wasn't slouching, I was pushing my stomach out. I tried to suck it in, sit up straighter and nothing made the rolls go away. Another ah-ha moment came just a couple of days ago. The inside of my legs where my knees are at, are fat. Not just a little bit, but noticeably bigger than normal. Even my boyfriend doesn't have that.

So what's my plan?

I plan to continue drinking lots of water. Yes I might have the occasional soda, but it's never been something I drink a ton of. My main fluid intake has always been water.

I plan to eat more meals at home (which I have been getting better at), eat more vegetables and less starchy carbs. I also plan to eliminate almost all dairy from diet. I am lactose intollerant so dairy and me have never really agreed.

My workout plan is to do some type of exercise every day. Every.Single.Day. This doesn't include PT. Walking Bella counts, but if that is going to be my sole workout f the day, it has to be a long walk. I bought the RevAbs DVD set from Beachbody so that will be an acceptable workout on nights I don't feel like hitting the gym. But I want to step out of my comfort zone and try group classes like yoga or Zumba.

I plan to continue running with Steven while he trains for his half marathon. Even though I am not running the half marathon with him, it would be amazing to know I could.

My overall reasons for finally holding myself accountable and making these changes are mixed. While yes, a big part of me wants to look great in everything I wear and love my body reflected in the mirror, it's more than that. I want to be able to chase my nieces and nephew around the yard or my future kids. I want to live a healthy life free from worry over disease and illness. I want to finally have that positive self image, self confidence, and self worth.

Not only do I want it, I know that finally I will achieve it. I won't quit! I won't give up before I am done! I will strive to live a healthier life tomorrow than I did today. I will be the positive example my future children will learn from. I don't think I've ever wanted or needed to make these changes more than I do right now and it finally just feels so right!

Check back often, as I plan to update my page and write blogs to document my journey. Thanks for stopping by :]




**Disclaimer** If you plan to lecture me on my weight, being skinny, not being fat, the way I eat, or the way I exercise... Just.Stop! Seriously. I KNOW I'm not fat, ugly, or stupid. I also know I need to eat more than 900 calories a day. So if you ever feel the need to lecture, please refrain. I have a mother and she lectures me enough :]
SparkFriends



SparkTeams



My Ticker:
May Minutes: 0

Interact with GREENBEAN17







Recent Blogs:

Profile


Member Since: 1/1/2011

SparkPoints: 5,015

Fitness Minutes: 4,581

My Goals:
Workout, eat clean, drink water, live life.

My Program:
Move more, eat clean, drink tons!

Personal Information:
[The quick/easy me]
I am 26 years old and in the United States Air Force. Dating my best friend Steven for almost 2 years. My favorite color is green. We have an Olde English Bulldogge named Bella, she's a nut. I'm shy but love meeting new people and am a huge procrastinator who is working on procrastinating less.

Other Information:
*Goals*
Continue to train for the AFSA-Halfsa w/Steven

Workout consistently everyday for 1 month

Lose inches

Feel great

Profile Image