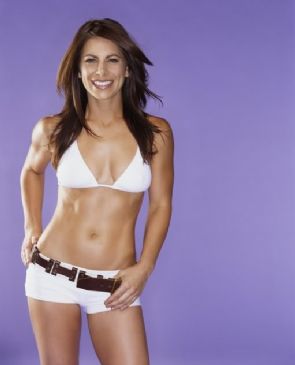 I have 3 pics in my gallery

Awards

I CAN DO IT!!!!
'Ello People!

I am a 20-something who has struggled with weight problems all my life. I was always just a bit chubby through childhood and never learned the right way to handle it.

It wasn't until 2009 at 23 years old when I hired a personal trainer and finally learned about portions, calorie counts, lean proteins, carbs and the importance of veggies!

I went from 180 down to 140 and back and forth a few times from 2009 - 2010. Now here I am in 2011 and I ...
'Ello People!

I am a 20-something who has struggled with weight problems all my life. I was always just a bit chubby through childhood and never learned the right way to handle it.

It wasn't until 2009 at 23 years old when I hired a personal trainer and finally learned about portions, calorie counts, lean proteins, carbs and the importance of veggies!

I went from 180 down to 140 and back and forth a few times from 2009 - 2010. Now here I am in 2011 and I am ready for a steady downhill - no more up and down!

2011 Update:

I have recently realized (thanks to a passage in The Spark book) that I am a yo-yo exerciser. I go hard and all out for months and lose weight, then I get burnt out and stop completely. I NEVER thought of it as yo-yo-ing.. I just thought of it as doing good and then not doing good.

Sooo I am taking a new approach in 2011- I am focusing on doing at least 10 minutes of exercise every single day. I KNOW I can manage 10 minutes and will likely do more than that- which will be extra credit.

This way, when my life gets in the way- long days at work, TOM, blah blah blah.. I can still get my but to do 10 minutes of pushups and situps- that will keep me going.

Here's to a great 2011 - I will be the turtle, not the rabbit... Slow and steady will win this race!

************
Starting Weight= 180
Starting BMI= 32 (Obese)
Starting Body Fat= over 31% (measured at 171lbs)

Current Weight= 147
Current BMI= 26.1 (Overweight)
Current Body Fat= 32% (measured at 161lbs)

************
Date = Goal ~ Actual Weight
5/20 = 158 ~ 159.6
5/27 = 157 ~ 157
6/3 = 156 ~ 163 - Eating like an idiot!
6/10 = 155 ~ 157.2 - TOM!! Ugh!!
6/17 = 154 ~ 153.8 - HECK YES!!
6/24 = 153 ~ 153.6 - Hmmmmm......
7/1 = 152 ~ 151 - WOOHOO!!
7/8 = 151 ~ 154.8 - No one to blame but me :(
7/15 = 150 ~ 150- BOO-YA!!!
7/22 = 149 ~ 150 - Seriously??? Ughhhh
7/29 = 148 ~ 150 - Obviously not working hard enough!
8/5 = 147 ~ 149 - Blaming it on TOM
8/12 = 146 ~ 148.4 - I was 147 yesterday!! Ugh!!!
8/19 = 145 ~ 148.2 - WTF
8/26 = 144 ~ 147.2 - Tough week at work
9/2 = 143 ~ 147.2
9/9 = 142 ~ 148.8
**Re-Doing my GW**
9/16 = 147.4 ~ 147.2
9/23 = 145.8 ~ 146 - New Low!!!! :)
9/30 = 144.2 ~ 147
10/7 = 142.6 ~ 145.8 ~ Woohoo!!!
10/14 = 141 ~ 146.8 ~ Still proud cuz I did a 4 mile run!
10/21 = 139.4 ~ 146 - lots of celebrating
10/28 = 137.8 ~ 147 - still celebrating! lol
11/4 = 136.2 ~ 144!!!
11/11 = 134.6 ~ 146
11/18 = 133 ~ 144.6 - oooh yeah- back on track!
11/25 = 131.4 ~146.6
12/2 = 130 ~ 148.6

***Re-Do Goals***
12/9 = 143 ~ 147 - Not exercising or eating healthy at all!
12/16 = 142 ~ 149
12/23 = 141 ~ 150
12/30 = 140 ~ 150

***Re-Do Goals - AGAIN! Ugh***
1/6 = 150 ~ 149.8
1/13 = 149 ~
1/20 = 148 ~
1/27 = 147 ~




SparkFriends

SparkTeams




Recent Blogs:

Profile


Member Since: 9/15/2009

SparkPoints: 13,881

Fitness Minutes: 7,308

My Goals:
OVERALL
1= reach 130 pounds

2= To get my BMI down to a healthy number like 23

3= To get my Body Fat% down to a healthy number like 24%

4= To run a 5K - COMPLETE!!
__________________
REWARDS

Goal= *155 lbs*
Reward= Roller Blades
Met=


Goal= *150 lbs*
Reward= Workout clothes
Met=

Goal= *145 lbs*
Reward= Facial
Met=

Goal= *140 lbs*
Reward= New Shoes
Met=

Goal= *135 lbs*
Reward= Tattoo
Met=

FINAL Goal= *130 lbs*
Reward= New clothes
Met=

My Program:
10 minutes a day at least.

Great gym with classes... lots of great DVDs at home with some equipment....

Lots of running... Boxing..

Personal Information:
I have been upset over my weight since I was 13 years old. Since then I haven't done much about it except whine. I used to be really active in cheerleading and gymnastics and dance but once college hit- it all went downhill.. or uphill on the scale.

Now its time to stop living in fear- time to stop not going out with friends because I cant find an outfit that looks good on me.

NO MORE WHINING - TIME TO START LIVING!!

Other Information:



Profile Image