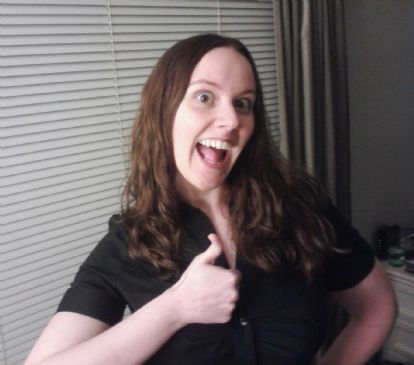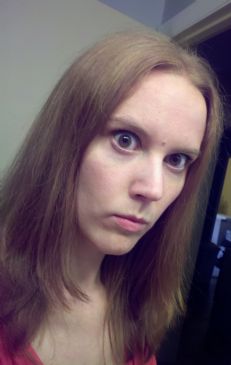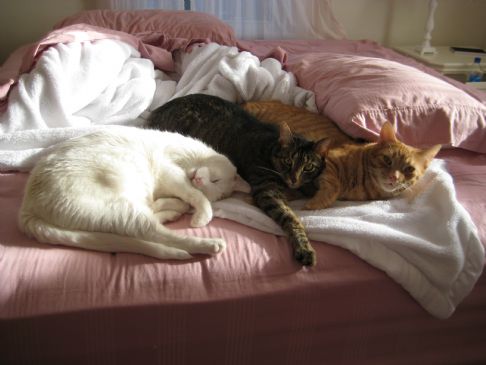 I have 23 pics in my gallery

Awards


You Can Go Hard Or You Can Go Home
My name is Chrissy. I'm 27 years old. When I was in high school, I weighed 270 pounds. When I graduated high school, I weighed 150 pounds.

I've kept most of it off, but I've had some gains and losses since, most recently gaining 30 pounds in 2010 and losing that plus some in 2011. I'm currently the smallest and lightest I've ever been and in the best shape of my life :)

I have accepted the fact that my weight and health is going to be a struggle for me my whole life, ...
My name is Chrissy. I'm 27 years old. When I was in high school, I weighed 270 pounds. When I graduated high school, I weighed 150 pounds.

I've kept most of it off, but I've had some gains and losses since, most recently gaining 30 pounds in 2010 and losing that plus some in 2011. I'm currently the smallest and lightest I've ever been and in the best shape of my life :)

I have accepted the fact that my weight and health is going to be a struggle for me my whole life, and I've turned it into a passion.

There is no secret, no shortcut, and no easy way out. It's hard work, all day, every day. And you know what else?

IT'S TOTALLY WORTH IT

www.lovingfit.com
http://litealloy.com/workouts/tags
www.crossfit.com
http://www.angrytrainerfitness.com/
http://pinterest.com/u62philo/fitness/


Current Status:


SparkFriends

SparkTeams

My Ticker:
current weight: 146.8

Interact with GIANTMICROBE





Recent Blogs:

Profile


Member Since: 8/12/2010

SparkPoints: 5,838

Fitness Minutes: 40

My Goals:
Fit back into my size 10 jeans: DONE!

Lose 10 pounds: DONE!

Lose 15 pounds: DONE!

Lose 20 pounds: DONE!

Lose 25 pounds: DONE!

Lose 30 pounds: DONE!

Lose 35 pounds: DONE!

Fit back into my size 8 jeans: DONE!

1000 Jumps in 10 minutes or less: DONE!

1000 Jumps in 9 minutes: DONE!

1000 Jumps in 8 minutes: DONE!

1,000 Jumps:
12/18/11: 7:43
12/30/11: 7:19


Do 5 on-the-toe pushups: DONE

Do 10 on-the-toe pushups: DONE

Go to Crossfit: DONE

RX a CrossFit workout:


My Program:
Finally started CrossFit after 2 years of wanting to- and I LOVE IT!

I also did home workouts for 2 years with Zuzana Light. She's amazing, highly recommend!!!!!

I lost 35 pounds using Weight Watchers points and that is the best way of tracking food for me.


Personal Information:
I have a BS in biology, currently working in a blood culture lab and dreaming of grad school

YES, I have an enormous collection of Giant Microbes :)

I have 3 cats and they're my babies

I'm from western PA, currently living in Baltimore

Likes include: All manner of nerdy things, animals, cooking and baking, crafting, nail polish, and working out

Dislikes include: rain, cycling, drinking, doing dishes, and onions.

Other Information:
"It's not about how hard you can hit. It's about how hard you can get hit and keep moving forward."

-Rocky Balboa

"A woman who wants something will find a way. A woman who doesn't will find an excuse."

"There is no elevator to success. You have to take the stairs."

"I fear not the man who has practiced 10,000 kicks once, but I fear the man who has practiced one kick 10,000 times." -Bruce Lee

"Excuses are the nails used to build a house of failure."

"Bathed in sweat, bent over and gasping for breath, Lungs burning, the athlete might have wondered aloud if this is what death must feel like. In time, this same athlete will surely realize the opposite. Indeed, this is what life feels like."

"It is difficult to say what is impossible, for the dream of yesterday is the hope of today and the reality of tomorrow."
-Robert H. Goddard

"If you think you can, or you think you can't, you're right."
-Henry Ford


Profile Image