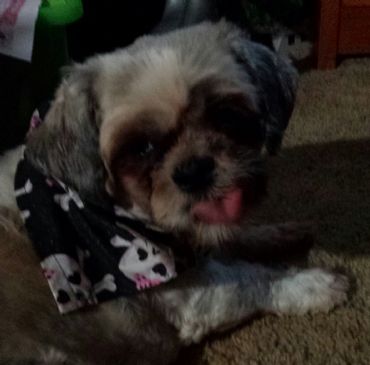 I have 6 pics in my gallery

Awards

GEMINICHIK's SparkPage
I am a child of God. I look to heaven for my eternal life.
He created us for His Glory! What we do who we become its all to glorify our Father.

If you believe that Jesus Christ is Godís Son, and accept Him as your Savior, you will not have to pay the eternal penalty for your sins because Jesus paid that penalty for you when He died on the cross.
Instead of eternal death and separation from God, you will have eternal life the moment you trust Christ. You can know that: ...
I am a child of God. I look to heaven for my eternal life.
He created us for His Glory! What we do who we become its all to glorify our Father.

If you believe that Jesus Christ is Godís Son, and accept Him as your Savior, you will not have to pay the eternal penalty for your sins because Jesus paid that penalty for you when He died on the cross.
Instead of eternal death and separation from God, you will have eternal life the moment you trust Christ. You can know that:
your sins are forgiven (Colossians 1:14)
you are a child of God (John 1:12)
you possess eternal life (John 3:16)



Current Status:


SparkFriends

SparkTeams



My Ticker:
Total SparkPoints: 77,434

| | | | |
| --- | --- | --- | --- |
| 60,000 | 64,999 | 69,999 | 74,999 |

79,999

SparkPoints Level 18

Recent Blogs:

Profile


Member Since: 2/12/2014

My Goals:
5lbls @ a time
Goal weight by birthday

My Program:
Joined Weight Watchers & following the 360 Points Plus program
Cleaned out fridge & cabinets of all unhealthy food & repllaced w/ power foods & other healthier foods

Personal Information:
Becoming A Woman Of Excellence:

A woman of excellence
Is what I long to be,
Filled with Your godly wisdom so it is part of me

A woman of integrity
No matter what I face,
Standing up for righteousness
And for your saving grace

A woman of destiny
Living out your plan,
Knowing where you'd have me walk, being guided by Your hand

A woman of promise,
Standing on your word;
Holding on to all the truths
While carrying out Your work

A woman of compassion
For the ones in the dark,
Those that do not know your love and have darkness in their hearts

A woman that will never
Compromise the faith
With what the world may offer, but will keep the narrow way

A woman who loves Jesus
And will only follow Him;
Gladly to give up the world so His light can shine within

continued below:

Other Information:
Lord, this is my earnest prayer As a daughter by Your grace, grow in me these qualities
As I walk with You in faith.

© By M.S.Lowndes


Profile Image