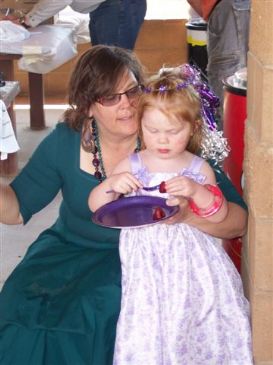 I have 6 pics in my gallery

Awards

My Spring 5% Challenge Commitment:
All of my equipment is always ready to go, gym bag is always packed. Wii balance board and remote batteries are charged (and so are the back-up batteries). DVDs have been selected and more motivating music mixes are being set up today for use on the elliptical and Kangoo jumps or for walks around town.

My Exercise Commitment: 1 hours daily at least
• I teach a water aerobics class for joint health and joint recovery( mix of cardio, strength and flexibility) 3 days a week 1 ...
All of my equipment is always ready to go, gym bag is always packed. Wii balance board and remote batteries are charged (and so are the back-up batteries). DVDs have been selected and more motivating music mixes are being set up today for use on the elliptical and Kangoo jumps or for walks around town.

My Exercise Commitment: 1 hours daily at least
• I teach a water aerobics class for joint health and joint recovery( mix of cardio, strength and flexibility) 3 days a week 1 hour each
• I have a morning routine with the Wii and/or DVD's at least 30 mins. each day. Or I will hop on my stationary bike.
My Daily Healthy Diet Commitment:
• I follow the Spark People trackers and advice and will continue to always try to make healthy choices
• I will work harder to get in my full amount of fruits and veggies

My Daily Communication with my Team:
• I am horrible at posting daily so I am committing to at least 1 post daily
• I will work to be a motivation to my team mates and help cheer the team on to success!
• I will work on creating at least a weekly blog

SparkFriends

SparkTeams

My Ticker:
current weight: 199.0


Recent Blogs:

Profile


Member Since: 12/28/2010

SparkPoints: 22,524

Fitness Minutes: 30,016

My Goals:
I will lose 35 more pounds.

I will continue with my daily morning workouts and I will strive to change them up to challenge myself and keep my body in burn and tone mode.

If my RA is flairing. Then I will continue with some yoga stretches and poses.



My Program:
Currently I have sworn off processed foods and sugar (two and a half months now, Yay me) and I have adopted a healthy vegetarian life style.
I try to work out at least 1.5 tto 2 hours daily, water aerobics 3 times a week, zumba or wii fit 3 times a week and at least 1 bike ride per week..
I am trying to make sure I interact with spark everyday.

Other Information:
Ok, so this is my frist attempt at creating a page. I guess a little bit about me might be good... I am a 46 year old Grammy to 5 wonderful grandchildren and Mom to 4 awesome Kids. I have a wonderful supportive husband who is my best cheerleader.
All my life I have been up and down the scales. Due to several health issues, I find myself back up on the scales. The one issue that got me here has been somewhat resolved so I am now working to lose about 52 more pounds so that I can manage my other health issues. but more about that later.
I have been a member of Sparkpeople since last year, but have just recenly began "really" using it. So far I am down 10 pounds and looking for motivation to lose the 55.

Profile Image