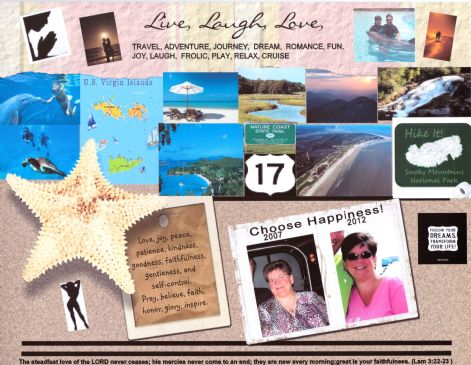 I have 39 pics in my gallery

Awards

Live, Laugh, Love!
Holy Spirit,
Deliver us from just going through the motions
and help us heed your call.
Breathe into us the restlessness and courage
to do something new,
something saving,
and something true,
that we may be agents of your love and grace
and know in our bones what it means to be your people.
Through Jesus Christ our Lord. Amen.

2013 Re-affirmations: Live Simply, Love Generously, Care Deeply, Speak Kindly...Leave ...
Holy Spirit,
Deliver us from just going through the motions
and help us heed your call.
Breathe into us the restlessness and courage
to do something new,
something saving,
and something true,
that we may be agents of your love and grace
and know in our bones what it means to be your people.
Through Jesus Christ our Lord. Amen.

2013 Re-affirmations: Live Simply, Love Generously, Care Deeply, Speak Kindly...Leave The Rest to God!

Balance - Maintain a balanced, healthy lifestyle: Spiritually, Physically, Mentally, Nutritionally, and Financially

Activity - Remain active and continually seek new/fun activities. Just enjoy what I'm doing and keep on moving!

Live simply - "living in a way that is outwardly simple and inwardly rich." Being satisfied with needs, not wants.

Adjust - Daily computer time. Reduce time and increase productivity.

No! - Just say no, if it doesn't fit into my lifestyle and goals.

Challenges - Personal mini challenges to enhance my Spiritual, Physical, Mental, Nutritional, and Financial aspects of healthy living.

Expand on whole foods living, clean eating, label reading, and continue learning and understanding what we eat.

Ongoing:

Enjoy life! I love my peaceful, laid back life!

Maintain a balanced, healthy lifestyle.

Pantry challenge - eating from the pantry first, limited trips to the store, reducing costs and waste, increasing creativity.

Cooking, experimenting with new recipes, grains, beans and legumes, and batch cooking.

Living my dreamboard/vision collage.

De-clutter, purge, organize.






The Art of Simple Living

Simple Living is "living in a way that is outwardly simple and inwardly rich. This way of life embraces frugality of consumption, a strong sense of environmental urgency, and a desire to return to living and working enviroments which are of a more human scale." (Duane S. Elgin and Arnold Mitchell)

The practice of voluntary simplicity is advocated in the teachings of Jesus, the early Christian Church, St. Paul, St. Francis, and many others. It also has it roots in the teachings of other world religions, the teachings of Gandhi, and the writings of Thoreau. The American Friends Service Committee (The Quakers) define simple living as a "non-consumerist lifestyle based on being and becoming, not having."

Seven Reasons for Choosing a Simpler Lifestyle:

1. As an act of intentional living performed for the sake of personal integrity and as an expression of a commitment to a more equitable distribution of the world's resources.

2. As an act of creation care for ourselves and especially for our children and grandchildren against the earth destroying results of over-consumption such as pollution, climate change, and resource wars.

3. As an act of solidarity with the majority of humankind, which has little choice about material affluence.

4. As an act of celebration of the riches found in God's creation, and the riches of community with others, rather than in the "poverty" of mindless materialism.

5. As an act of spiritual discipline ordering our lives to reflect the values of simplicity and just living taught by Jesus and teachers in other world religions.

6. As an act of advocacy for changes in present patterns of production and consumption.

7. As an act of provocation (ostentatious under consumption) to arouse curiosity leading to dialog with others about affluence, and sustainable "green" living to redirect the production of consumer goods away from the satisfaction of artificially created wants toward the supplying of goods and services that meet genuine social needs.

(Based on an article by Jorgen Lissner)

"Simple living today is joyful, bright, poetic and mentally robust."

from Michael Phillips and Catherine Campbell's Simple Living Investments










Current Status:


SparkFriends

SparkTeams



My Ticker:
163 Maintenance Weeks


Recent Blogs:

Profile


Member Since: 12/12/2009

SparkPoints: 42,466

Fitness Minutes: 43,711

My Goals:
PRAY, EAT, MOVE !!

*Spiritual Growth
*Maintain a balanced, healthy lifestyle!
*Live my vision collage/dream board.
*Min 10 min fitness
*Pantry Challenge
*Move down a size
*Clean Eating/Whole foods

My Program:
JUST MOVE!!

Min 10+ min daily.
Cardio/ST - 3x/wk
and a variety of fun activities, outdoor nature walks, gardening, Xbox games, and experimenting with Yoga, Zumba, dance, and other exercise.

Personal Information:
I live in SC, and I'm married to the sweetest man on earth. We have 2 fur-buds named Abi and Jesse, who keep us entertained with their funny antics.

We live in the country where we enjoy the peace, quiet, beauty and awesomeness of God's creation.

I enjoy photographing it all and the critters too.

Mostly, I love to just sit, be still, and enjoy His presence!

Other Information:
I enjoy reading spiritual, inspirational, and motivational books and devotionals.

I love photography, traveling, being outdoors walking, gardening, and just relaxing, enjoying the peace and beauty of God's creation.

I love spending time with my husband doing anything or nothing at all. Just being together is enough for me!

Profile Image