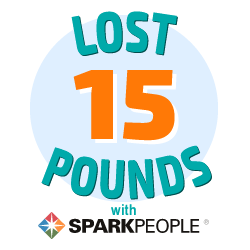 I have 5 pics in my gallery

Awards

I'm not going to try to lose weight... I am going to SUCCEED
I am a working mom with a great husband, 3 wonderful kids and one horrendously busy job and ridiculous commute.
. I am overweight and am now so DONE with this, I need to lose 120 bs, but have set half that as an intial target. I will measure success by my fitness - and by whether I get into a series of gorgoeus dresses I have in smaller sizes (including a great party dress I have bought 2 sizes smaller to incentivise myself (Sale prices!)

I am DONE being a fat girl
I ...
I am a working mom with a great husband, 3 wonderful kids and one horrendously busy job and ridiculous commute.
. I am overweight and am now so DONE with this, I need to lose 120 bs, but have set half that as an intial target. I will measure success by my fitness - and by whether I get into a series of gorgoeus dresses I have in smaller sizes (including a great party dress I have bought 2 sizes smaller to incentivise myself (Sale prices!)

I am DONE being a fat girl
I want to be the slim girl
I want to be able to choose which shops I buy my clothes from
I want to walk tall and proud, knowing I am fit and healthy
I want to have a healthy family
I know that only one person can make all of this happen - me, but I will rely on one group of people to help me achieve this - all my Spark Friends, especially the UK London and South East team (as their captain I am their greatest cheerleader!!!) and the DONE girls - who take support, teamwork and friendship to incredible levels. Guys - I LOVE YOU ALL!

Samantha


MY WEIGHT LOSS GOALS
each 12.5lbs is 10% of my original target weight loss

12.5lbs DONE 1 Feb 09
25.0lbs
37.5lbs
50.Olbs
62.5lbs
75.0lbs
87.5lbs
100lbs
112.5lbs (would be happy to leave it here)
125lbs (maybe a step too far but worth trying for!)


SparkFriends

SparkTeams

My Ticker:
Pounds lost: 35.0

Interact with FATWORKINGMOM






Recent Blogs:

Profile


Member Since: 1/20/2008

SparkPoints: 0

Fitness Minutes: 692

My Goals:
Lose Weight (lots of it)
Feel Great
Eat well
Incentivise my kids to eat well
Cut out bad snacking
cut the carbs - they are my downfall


Personal Information:
I am British and proud of it! I am a Londoner at heart, as I work there, and believe it to be the best city in the world. I live just outside in a village in Hertfordshire

Other Information:
Randomly, there is one other city I would love to live in, as I have fallen head over heels in love with it - Chicago!

Profile Image