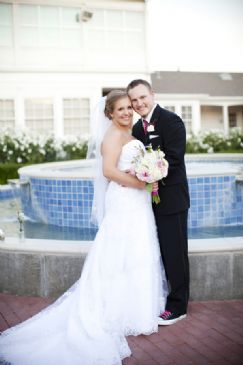 I have 44 pics in my gallery

Awards

The journey to loving myself and my body.
Hi! My name is Brittney and thanks for stopping by my sparkpage! I'm 24 years young, a full-time college student and a photographer. I live in beautiful Southern California and married my highschool sweetheart of 8 years on October 1, 2011.

I have had issues with my weight since about 2008. I was always active as a teenager with sports, dance, colorguard, etc. that honestly I didn't have time to be fat because I was constantly on the go. Sure, I had the normal insecurities ...
Hi! My name is Brittney and thanks for stopping by my sparkpage! I'm 24 years young, a full-time college student and a photographer. I live in beautiful Southern California and married my highschool sweetheart of 8 years on October 1, 2011.

I have had issues with my weight since about 2008. I was always active as a teenager with sports, dance, colorguard, etc. that honestly I didn't have time to be fat because I was constantly on the go. Sure, I had the normal insecurities about my body like most teenage girls do but it was just little things like stomach pudge. My parents ended up getting divorced at the end of 2007 and by December of 2008, I had gained about 40-50lbs and weighed in at my heaviest weight ever..202lbs. Ever since then, it's been a battle to lose weight and keep it off. I'll lose it and then gain it and lose it and gain it again..it's an unhealthy vicious cycle that I'm determined to break.

My husband and I want to start a family within the next couple of years and I want to make sure that I'm as healthy as I possible can be for when we decide to take that next step. I want people to look at me and think "wow, she must workout." I want to be proud of my body for the first time in my life and love what I see in the mirror. I want to not only be happy with how I look but how I feel. I want to feel like there isn't anything in the world I can't do. I want to be able to love myself and my body and appreciate who I am because God only made one me and that's pretty special. I want to feel sexy for my husband and be the best possible wife I can be.

I'm not following any crazy fad diets or working myself out until I can barely move for a week straight. My plan is to eat smaller portions, more meals throughout the day, eat a healthy mixture of protein, fruits/veggies and complex carbs and exercise by doing a mixture of strength training and cardio (machines at the gym and also things I enjoy like zumba, tennis, running, dancing, etc.) If I want to stick with something and make it last longterm, I need to make sure I'm able to enjoy what I'm doing and with a plan like this, failing is not an option.


Start date:
Starting weight:
Starting size:
Waist:
Thigh:
Bicep:
Hips:


Goal weight: 145lbs
Goal size: 6


SparkFriends

SparkTeams



My Ticker:
current weight: 205.8

Interact with FAT2FITBRITT







Recent Blogs:

Profile


Member Since: 5/23/2007

SparkPoints: 4,141

Fitness Minutes: 4,280

My Goals:
To be able to wear size 6 jeans. To wear a bikini. To feel and look my absolute best. To tone my body and have muscle definition. To enchance my curves. To be strong and not let insecurities get in the way anymore. To be the healthiest and happiest I've ever been in my life.

My Program:
Smaller portions, more meals throughout the day, eat a healthy mixture of protein, fruits/veggies and complex carbs and exercise by doing a mixture of strength training and cardio

Profile Image