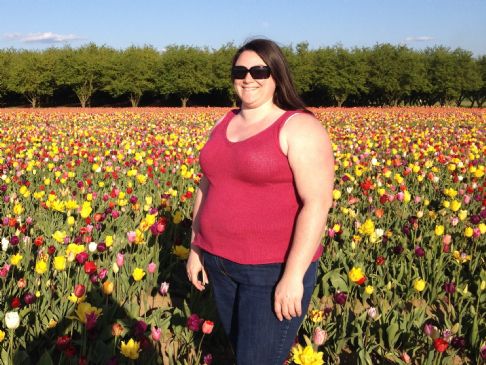 I have 18 pics in my gallery

Awards

I'm not myself anymore.
I'm a 27 year old single mom of a six year old son. I'm trained as a middle and high school English teacher, but in summer 2012 I accepted a position as a social worker with a nonprofit mental health agency and I'm loving it. The HUGE downside? I sit at a desk for 6-8 hours a day, and yet when I get home I feel exhausted, so then I sit at home all evening. And don't go to the gym. And snack mindlessly on whatever I can get my hands on. Ugh....

I am now at my heaviest weight ever. ...
I'm a 27 year old single mom of a six year old son. I'm trained as a middle and high school English teacher, but in summer 2012 I accepted a position as a social worker with a nonprofit mental health agency and I'm loving it. The HUGE downside? I sit at a desk for 6-8 hours a day, and yet when I get home I feel exhausted, so then I sit at home all evening. And don't go to the gym. And snack mindlessly on whatever I can get my hands on. Ugh....

I am now at my heaviest weight ever. Sigh. I look back at photos of myself at 190, 200, 210 pounds and remember how much I wanted to lose weight even then. I am now sitting around 250-255lbs. I am disgusted with my own laziness and lack of self control. My weakness is food. I not only love food for the taste, texture, pleasure and social aspects of it, but I also eat compulsively when I'm bored, sad, and sometimes for seemingly no reason at all. I've come to mistrust myself. I told myself I'd never get to 200lbs, and then I did. Then I told myself I wouldn't get over 220, and then I did...and so on and so forth.

This is not the story I want to live. It's time for action. Time for hope. Time for kicking my own ass.

Thinking about the huge amount I need to lose feels scary, but a "10lbs at a time" mindset makes me feel less anxious....so here I go, focusing on the pennies and hoping the dollars will take care of themselves, so to speak.

A ten-year history of my weight:
4/18/14: 260
11/8/14: 250
3/2013: 240ish
8/2012: 235ish
8/2011: 230ish
5/2010: 215ish
6/2008: 215ish
12/2007: 230 (9mo pregnant w/my son)
03/2007: 205 (right before getting pregnant)
05/2006: 190
06/2004: 180ish (at HS graduation, age 17)
06/2002: 175ish (mid-HS, nearly 16, same height I am now)


Current Status:


SparkFriends

SparkTeams



My Ticker:
current weight: 265.3


Recent Blogs:

Profile


Member Since: 1/13/2006

SparkPoints: 4,400

Fitness Minutes: 2,492

My Goals:
Learn to manage my compulsive/emotional eating.

Have more energy to play with my son.

Feel like I look sexy. No more feeling like I have to suck in my gut throughout the day. No more cringing at photos taken of me.

Goal by 8/11/15 (29th bday): Under 200!

My Program:
Trying to walk, hike, jog or cycle 600 miles in 2014!

Would like to jog the whole way in a 5k sometime in 2014. Completed a 5k in March 2014 with a 49min time due to walking half of it. Completed another in June 2014 at 47min. Would like to get that under 45!


Profile Image