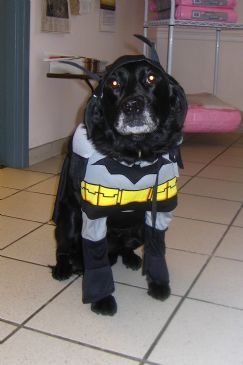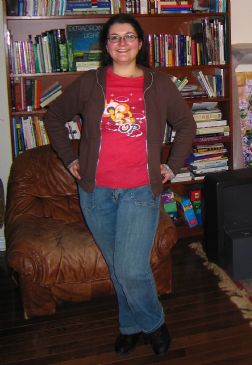 I have 3 pics in my gallery

Awards

Getting Back to the Real Me
April 2013

It truly is a unending struggle, isn't it?
I was ending the year at 227.4 with high blood pressure and started the year at 213! Then struggled again... now I was down to 201.8. Feel very proud but will be up tomorrow given poor eating today... Back to it....

September 2112

Have put on more weight, have lost many good habits, have been working lots extra.... but things may be getting better.... Time to focus on me again. Reached 220.9!!! ...
April 2013

It truly is a unending struggle, isn't it?
I was ending the year at 227.4 with high blood pressure and started the year at 213! Then struggled again... now I was down to 201.8. Feel very proud but will be up tomorrow given poor eating today... Back to it....

September 2112

Have put on more weight, have lost many good habits, have been working lots extra.... but things may be getting better.... Time to focus on me again. Reached 220.9!!! Need to lose 69 lbs to get to goal weight.....

June 2012

Busy, busy, busy time! Started the month at 207.4 and have gaine 3 lbs since. No time to breathe is how I feel... we'll keep at it - not going to give up!

May 2012

So far, so good! Starting May 1st at 209.4! I am heading into the busiest ttime of the year for work... we'll have to see how my coping skills hold up!

April 2012

New plan.... down at least 5 lbs a month so that by the end of the year I am in the 180s and at my idea weight by next summer. This is doable!

January 2012

Well.... still getting back to who I am supposed to be. It has ever been a battle but I am not defeated and I am not resigned.

The last year has been a really stressful one for me with many challenges in my work life (and since I own the business, my work life IS my personal life).

I have been my highest this last year I've every been since I graduated school (not including pregnancies). I had reached 220!

But now, back to basics. Eat healthfully. Exercise regularly. Cut out stress eating. Make time for ME (i know that one will be the hardest!).

I started Jan 1st at 212.0 and here I am Jan 15 at 206. Yeah, me!



November 2011

Here we go again..... today I'm 212.6 lbs.... what I was at the end of January. I was as high as 219.2 and as low as 206..... now I need to focus and make time for me....

Plans / Goals:
1. track food
2. regular exercise
3. journal/blog - no emotional eating

That's all for now....


February 2011

So... January come to a close and I am at 213lbs. WTF?!?! I am having a hard time. Work is stressful, I have no nanny and have had to work less to manage childcare, the accountant needs to tell me how I'm doing and how I a going to manage things....

So, I've gone back to Jenny Craig. We'll see how it goes but it really helped me once. It is expensive, so even if I only do it for a month to get back in controll of my portion sizes, it will be something.

I still need to get down to like 150 lbs by July - in 23 weeks.... that is now a weight loss of close to 3 lbs per week. We'll see what we can do.

January 2011

A new year!!! Yeah!!! A new opportunity to start again!!! Yeah!?

In 2009 I did amazing! I got to 172 by June. Then life threw some challenges at me and I went back to bad habits to manage stress, and exercised less, then not at all, the stopped regular meals, then ate out and had lots of junk food.... and here I am.... Dec 31 and I'm over 210lbs!

WTF?! How did I let this happen? I have been stressed and time-limited and fell back onto my old bad habits.

So... some stresses have been managed, and others have fallen away, new ones have cropped up... but I cannot continue like this!!!

My goals and plans are the same as they were in 2009.... I jusat have to really apply them!

Happy New Year!

November 2010

It is absolutely rediculous that I need a calender starting point. But here we are, October ends and November starts on a Monday. Monday's are my start days - always! The start the week and set the tone. So starting tomorrow morning, I am back to my "Good Habits". Those are the ones I deleloped last year that let me lose the 38 lbs that I have since regained. I'm back at 203 this morning.

The Plan:

1. eat mindfully - count calories and stay within my number.

2. regular exercise - even when I am tired get on my machine and do 30 min minimum!

3. Get into the gym - at least 2 times per week, but aim for 3.

4. Go to bed at a decent time - stop staying up to 2 or 3 am.

So: we'll see how things go.... I'll try to blog more too.... even if it is boring and just says what I did.

Goal: down to 195 by Dec 1st.

August 2010

In May I was 204.2 at my highest. In June I bounced around 200. In July I got as low as 194.4. So here we are in August: I'm up to 196.o this morning.... but heading in the right direction. I have lots of time off this month, and although I have lots of work to do at home, and still have a lot of stress, I am re-commiting to making myself a priority. Exercise and food diary is back on the daily schedule! I turn 39 this month. It would be nice to do it lighter. It would be nice to have all my extra weight down by the end of this year and learn to maintain it. That is the goal!

May 2010

I have slowly been gaining weight since the start of the year. This absolutely has to stop! I am still below 200lbs. Thank God! I somehow feel if I went back above that number the world will end..... okay, hyperbolous as that statement is..... you get the idea of how I'd feel.

This month, I have a locum coming into work - that means I should be able to get more time for me (rather then working 6 days a week). My challenge will be to take it!!! I also need to count my calories and not just eye-ball my food, or give myself permission to indulge (which I did today with my in-laws visiting).

Goals:

1. Gym (upper, lower body strength training) 2 days / week
2. Cardio at home on my machine for 1 hour at least 5 days / week
3. Count calories and food journal DAILY (except friday)
4. Drink more water and have regular meals at work
5. Lose 2 lbs per week Starting weight: 198.6 Sun May 1st.

I'll report on my progress....



April 2010

Yet another re-start.... don't hav much to write that I haven't written before, however will try again. Let you know how it goes.

So far not so well.... I have continued to slowly gain weight since Jan - now I'm up just about 10 bls! So.... back to basic is what I have to do. Back to counting calories and ensuring I find time to get my exercise in. This last week in April is going to be my boost.... I'll work really hard so that by the end of the week, by the start of May I will feel positive and on my way!

March 2010

So here we are; two months of the year gone and I actually weigh MORE now than at the start of the year! This last week, I have felt back on track. I exercised (cardio in the basement) 3 times and I feel like my crazy eating is under control. Now I have to be more consistant and stick with things. I bought Jillian's 30 Day Shred and am going to try to do that in the mornings - we'll see how it goes. I need to make tie to go to he gym. I need to focus on eating healthfully. Those three things are my focus for the monh of March. That and losing at least 5 lbs.... but 10 would be better.....

2010..... A new year.....

I did well last year. I learned a lot. I applied what I learned. I lost 28 lbs then I regained then in the last 3 months of the year.
So.... I've got my work cut out for me, and I'm going to get it done.

This year brings some big changes. I've gone into HUGE, GIANT, EMORMOUS debt to buy my own business and now I'll have to work very hard to make it continue successfully. I will need to find a balance where I am able to manage my carreer, my health and my family life... sorta in that order: my carreer supports my family and my health is important to me and them.

2010 starts with me at the weight I had started 2009 at, but more capable.

*************Hear's to 2010!

________________________________________
____________________
Update for the 2nd half of 2009

I've essentially had a "summer off". I slacked off on the calorie range and the gym exercise but managed to continue my cardio. I have gained back a little - I am about 6 lbs above my lowest point. September is just starting and I am refocusing. My life still has a lot of stress and the stress will be climbing but if I can control my diet and exercise hopefully that will leave me with extra confidence to control everything else. So here is to the rest of 2009..... I hope to greet 2010 at 160lbs..... that is 18 lbs - only 4.5 lbs a month......

______Update For 2009__________

I need to lose about 40 lbs to get back to the person I never really stopped being in my mind (it's just the clothes got uncomfortable with larger numbers on the labels). I had started here in Jan 2008 but have really been working on things since Oct 1..... I'm down 16 lbs since then. I've formed some good habits and, since they say it takes 30 days to make something a habit, I think they will stick. My family has been very encouraging and supportive. Overall, I seem to have found my groove and am working my way up my mountain.... I really hope to reach my goal weight this year. I truly believe I CAN do it....

Belief that I can do it is a new phenomenon for me. I always KNEW I could if only I cound apply what I know and stick to things and avail myself of my will-power, but somehow this feels different.... I BELIEVE in myself!

So here's to 2009!!!

_______My Story and Inspiration________

I have a wonderful husband who is very loving and supportive, who doesn't judge me for how I handle stress, who is a real partner in my life. I have 3 children (7.3, 5.7, and 33 months) who delight me and fill me with wonder and love each day (enought that the frustration and fears are drastically minimized by comparison). I owe it to my family and to myself to stay healthy so I can enjoy them and my life.

I have a profession I love that leaves me with a sense that I contribute to the good in this world. I have many family members who love me and who (despite the turmoil and stress they bring to my life) I love and am grateful for. I have my material and spiritual needs met. I will one day be able to afford to do and have what I cannot now (that's what financial plans are for).

I have written this to remind myself that no matter what stress comes to me there is support and love in the universe for me to fall back on without a tub of Haagen Dazs (I can spell it, clearly I've had too much of it). I am working on new ways to handle my stress. I have realized that exercise is what helps me to manage my stress which makes it possible for me to eat healthfully and hence manage my weight.

I had been on ishape.com and when I participated it really helped me. Last fall was particularly stressful and unfortunately I feel off the wagon and landed softle in a huge truck of Haagen Daz tubs. Now I've regained all my padding that I thought would be gone forever. So I'm starting fresh again here.

I realized that journaling - on the computer or on paper - seems to help me focus on why I am doing it (and not just the size 16 pants being tight).

So this year I've decided that I'm going try to keep a journal during this process - I will try to write in the evening of each day. What I did right, what I did wrong and why. I am an emotional and stress driven over-eater so if I can better understand why and when I am driven to eat perhaps I will finally develop new ways of managing my stress. Besides, if my hands are busy writing while I watch TV in the evenings then I won't be using them to help inappropriate food enter my mouth.

I have tried to lose weight with intermittent success since the weight gained during first year of university (where I spent 8 "gloriously" busy and stressful years. What will be different about this year..... why will I succeed this year? I'm more focused, I know I can do it, I know I need to do it, I'm recognizing what issues I need to tackle and how to go about doing so. And my huband is going ot be doing the healthy weight-loss thing too (so he won't be bringing irresistable foods home and he won't be twisting my rubber arm and he'll be my back-up conscience about the post work grocery store stop).

This journey that I have embarked on to get back to the real ME, the body image of me in my head, the me that is still angry and surprised on some level that the clothes I see myself wearing don't look right or don't come in my size. I'm doing this only for me...I am loved and successful no matter what I weight, but I will live longer and be able to do more in and with my life if I am healthy.

So this is my mission statement: to focus on handling all the obstacles the universe feels I need to learn from to progress and develop as a human being with a divine spark while at the same time manageing to return and keep my physical form healthy to allow that devine spark to flourish and find and experience all the joy that is available along the way. (mission statements are supposed to be verbose and vague and full of positive non-specific references, right?)

SparkFriends

SparkTeams



My Ticker:
current weight: 201.8


Recent Blogs:

Profile


Member Since: 1/7/2008

SparkPoints: 14,417

Fitness Minutes: 23,034

My Goals:
1. weight loss

2. get healthier

3. get stronger

4. be more active

5. fall back in love with ME!

6. establish a Healthy (Emotionally and Physically) Work-Life Balance!

My Program:
1. eat mindfully and healthfully

2. get regular exercise

3. stop self-destructive eating patterns

4. develop new (not food-oriented) ways of dealing with stress and self-reward

Personal Information:
I went to university for 8 years and gained like 90 lbs while there. After graduation I exercised and ate better and lost 25lbs on my own. Then I did JennyCraig for about 1 year and lost another 33 lbs. Then I got pregnant - 3 times! - and found myself back at over 200 lbs. Time to lose!

Profile Image