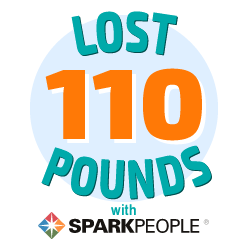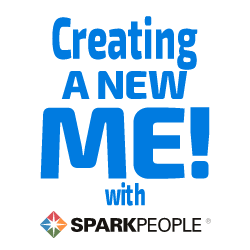 I have 47 pics in my gallery

Awards


Losing Weight, Getting Healthy, Fighting PCOS
May 2012 - I am committed. I was shortly derailed. I am back. I can do this. I want to re-earn the Lost 110lbs with SparkPeople Badge. I am already on my way...

Jan 2012 - I have posted a new blog. Time to get back to making good choices. Because every single choice we make in life makes a difference.

Happy New Year.

August 2011 - I have hit a bit of a plateau for the last couple of weeks. It is frustrating but since this is a lifestyle, there is no ...
May 2012 - I am committed. I was shortly derailed. I am back. I can do this. I want to re-earn the Lost 110lbs with SparkPeople Badge. I am already on my way...

Jan 2012 - I have posted a new blog. Time to get back to making good choices. Because every single choice we make in life makes a difference.

Happy New Year.

August 2011 - I have hit a bit of a plateau for the last couple of weeks. It is frustrating but since this is a lifestyle, there is no turning back. :-) I will get through this with the right choices and determination. I will exercise more and push my body past this. I am still determined to meet my goal. Right now I have 6lbs to lose by Sept 9 for my mini goal. That gives me 4 weeks to break through this plateau and I know I can do it. :-)

July 2011 - The scale now reads an 80lb loss since January. This makes me so excited as it puts me in unknown territory. I haven't been this weight since I was a Senior in High School. I will need to post a new picture soon so people can see the progress. I now know that I can reach my 100lb goal in one year. :-)

May 2011 - I have lost over 50 lbs now since January. Let's keep it coming off!

April 2011- Lost 40.4 lbs in 12 weeks! Yay. I am so excited to see this coming off. More posts to come.


----------------------------------------
-------------------
Okay, I am back on track! After a delay of Pregnancy and Nursing, I am back on Low Carb. I began on Monday, Jan. 3, 2011 I am going to post my milestones as I have in the past. I am pumped! Starting Weight 299lbs.



Diagnosed PCOS 10 years ago. Took 8 years to get pregnant after a 60lb. low carb weight loss. Gained it all back with each pregnancy. My oldest is 9, my middle one is 4 and my youngest is 15 months old. I am determined to lose the weight and change my lifestyle for good. I plan to reward myself with laser hair removal . :-)

Starting Weight 308lbs - August 15, 2008

Lost 76lbs and counting! Hoorah! 03/18/09
Lost 81lbs and counting! WooHoo! 04/08/09
Lost 82lbs and counting! Still going Strong! 04/22/09
Lost 84lbs and counting! Slow but steady. 05/13/09


1/12/2010

Had a hiccup. LOL A new baby girl born Dec. 29, 2009 I gained a lot of weight and wanna get it off!! Starting weight 286lbs yikes!!!!

8/23/2010

I am having trouble with losing weight and nursing. Not sure why except for the fact that I am sitting on my derriere cuddling my baby a lot! LOL I do realize that I have to do something. It won't come off on it's own. OWN! That is really what I have to do OWN this problem and do something about it. I am not there yet but I can feel the day is near. ***Prayers are Appreciated***
SparkFriends

SparkTeams



My Ticker:
current weight: 206.0


Recent Blogs:

Profile


Member Since: 8/22/2008

SparkPoints: 20,664

Fitness Minutes: 20,167

My Goals:
I would like to be 160 lbs by June of 2013. I want to be sure to stabilize my weight and not gain it back. I want to be healthy, fit, and sexy for my husband. I want my children to be proud of me and realize that they can do anything that they set their minds to.

My Program:
I try to extremely limit the carb intake in my diet. I am walking almost everyday and trying to do more cardio exercising at night. I was diagnosed with PCOS in 2000 and have been able to naturally concieve and carry two beautiful boys and a sweet little girl by watching my carbs.

Personal Information:
My name is Erica and I live in Indiana. I work in marketing. I love my family, my friends, and I really enjoy my job. I have a full wonderful life and I only want to be able to experience more of it and not be embarrassed by my size.

Other Information:
The Lord didn't do it all in one day. What makes me think I can?

I CAN do ALL things through Christ who STRENGTHENS me!



Profile Image