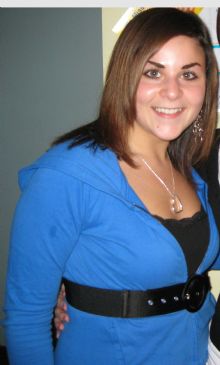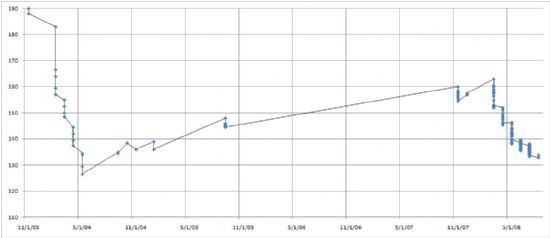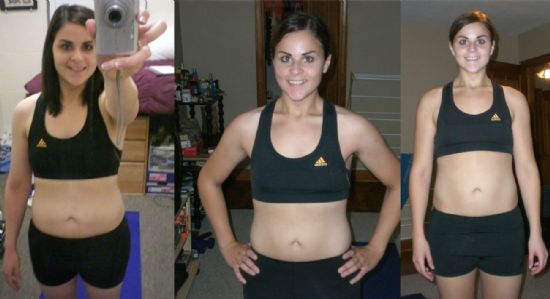 I have 17 pics in my gallery

Awards


Are you just interested or are you committed?
WEEKLY WEIGH-IN:

January 2015:
-----------------------
1/9/2015: 159.6
1/16/2015: 157.4
1/23/2015: 156.6
1/30/2015: 156.4
Goal Weight: 154 - 2.4 lbs heavier than goal weight :(
Month Reflection: Overall lost 3 pounds and worked out every day I worked! :D

February 2015:
-----------------------
2/6/2015: 157.4
2/13/2015: 156.8
2/19/2015: 155.8
2/26/2015: 153
Goal Weight: 154 - PASSED GOAL ...
WEEKLY WEIGH-IN:

January 2015:
-----------------------
1/9/2015: 159.6
1/16/2015: 157.4
1/23/2015: 156.6
1/30/2015: 156.4
Goal Weight: 154 - 2.4 lbs heavier than goal weight :(
Month Reflection: Overall lost 3 pounds and worked out every day I worked! :D

February 2015:
-----------------------
2/6/2015: 157.4
2/13/2015: 156.8
2/19/2015: 155.8
2/26/2015: 153
Goal Weight: 154 - PASSED GOAL WEIGHT! :D
Month Reflection: Lost 4 1/2 pounds and worked out every day I worked for 2 months in a row! Learning how to reduce my calorie consumption on weekends, while drinking really good craft beer in moderation. :)

March 2015:
-----------------------
3/6/2015: 154.4
3/13/2015: 153.6
3/20/2015: 152.2
3/27/2015: 151.2 (met goal!)
End Weight: 151.2
Goal Weight: 151
Month Reflection: Lost 3.4 pounds this month! Proud of myself!

April 2015:
-----------------------
4/2/2015: 151.4
4/9/2015: 150.6
4/17/2015: did not weigh myself
4/24/2015: 150
Goal Weight: 150
Monthly Reflection: Even though I only lose 1.4 pounds this month, I'm very proud of myself! I ran my 1st 10K (6.2 miles all running straight, did not walk!!!) in Austin, TX during my visit with my brother. The 3rd weekend of April was my bachelorrette party. Overall, with everything going on from selling my townhouse, buying a new house, renovating the new house, trying to maintain/lose weight, and wedding planning, I'm very proud of seeing 150 on the scale! Looking forward to being in the 140s again!!! :D

May 2015:
---------------
5/1/2015:
5/7/2015:
5/16/2015: My wedding!!! :D
Goal Weight: 147

MY GAME PLAN:
Before I even begin, I am not going to stop this time. I will keep going, regardless of the time it takes me. If I take a break, I WILL get back to work. I do not want to be one of those that just give up. I've been one before, and I refuse to be one again. It will be a daily struggle, but I know I possess the qualities to overcome this. It's time to finally reach my destination. No more detours. No more turnarounds. I will get there, and it will be permanent. There's no going back! Slow and Steady. That's how I'll win the race. If I move too fast, I will not maintain. I will gain back. Therefore, I'm taking my time to achieve my final goal!

It is more important to know where you are going than to get there quickly. Do not mistake activity for achievement. (Mabel Newcomer)

INTRODUCTION:
My name is Eman. I'm on this mission to have the body I've always wanted! I, like the others on SparkPeople, am not on a diet. I'm readjusting my lifestyle into a healthy one. Therefore, this road is not perfect. I will make mistakes. I will fall down. However, I will get right back up!

All my life, I've consumed food until I couldn't move anymore. I have an eating disorder: overeating. I am on my way to defeating this disorder!

During my last diet (see blog 4/15/08), I thought I could stay at 130. I ran into a major plateau. I also lost a lot of energy and stopped working out. Neither did I maintain the weight or lose more weight. I was not happy with my body yet, so instead of losing more weight, I gained. It seemed much easier.

I had always been a bit on the heavier end. My heaviest was about 188 when I was 15. I exercised and ate "healthy" and got down to about 126. I expected so much from my weight loss...boys, popularity, more friends, special treatment. And the largest expectation of all: being able to eat the same way, indulging in sweets, binging as much as I want. Let me tell you, I gained over half my weight back in the past 3 1/2 years!

This time, I realize I want to remain healthy, and that includes healthy portions and constant exercise. I love to run, but I also love to walk. Constant walk or moving will help shed off the pounds or maintain weight.

HOW TO START YOUR CHANGE:
1. MIND: Determine whether or not you are serious about changing your lifestyle. This is not a diet, this is your new healthy lifestyle.(You cannot cut portions and then go back to your old lifestyle, otherwise you will gain the weight back. It's happened to me.)

2. FORMULA: Losing body fat is a formula. Calories in, calories out. It takes 3,500 calories to gain a pound or lose a pound. Therefore, a calorie deficit must be incorporated. (Ex. normal eating = 2,000 calories per day, cut down to 1,500 calories/day & burn 500 calories each day to lose 2 pounds a week. Take it one week at a time.) Also, keep in mind, there's no way to spot train. Your body chooses where it takes the fat off. The first place gained is the last place lost.

3. AVOID STARVATION MODE: Do NOT consume less than 1,200 calories (for a female). With less than 1,200 calories, your body will switch into starvation mode and turn calories into body fat quicker. (It's how our ancestors survived in famine.) Since you can't consume less than 1,200, there's only one thing left to do. EXERCISE!

4. AVOID MUSCLE LOSS: Do NOT consume less than 60 grams of protein per day (for a female). Consuming less will put your body in risk of losing more muscle when losing weight. For every pound of muscle, your body burns 3x as many calories as a pound of body fat.

5. BALANCE CARBS/FAT/PROTEIN: Balance out your foods. Do not avoid fats because you believe they are related to body fat. Avoiding fats can actually make you hungry. Spark People gives you a healthy range of carbs, proteins, and fats. Healthy fats include, but do not limit to: olive oil, nuts, avocado etc.

6. FIBER: Make sure you get at least 25 grams of fiber per day to stay full.

7. WATER: Along with the fiber, make sure you have at least 8 cups of water a day to hydrate your body, keep you full, and avoid any health concerns. To help you achieve the at least 8 cups/day rule, drink a glass of water before and after each meal. This way, you tell your stomach you are actually hungry by satisfying its thirst and afterwards, you clear the tastes in your mouth as to not crave any more tastes. I have problems with that sometimes. I am able to have ONE more piece of chocolate but then the taste is still in my mouth. I crave another. Just drink water and you'll forget about the taste! Water is your best friend!

8. TRACKERS: Add more trackers to your nutrition tracker to compare your saturated fat intake, cholesterol, iron, and fiber.

9. GAME: If you couldn't tell from the first paragraph on this page, weight loss is a mind game. Play it well. Oh the power of positive thinking and self-talk does wonders.

10. TIME DISTORTION: 5 minutes of your day, you mindlessly eat, consume an additional 300 calories you did not need. What do you do with the other 23 hours 55 minutes of your day? Punish yourself or forget those 5 minutes and consume as you would on a normal day? If you feel motivated enough, go shed those additional unwanted calories!

11. DESSERTS: Be nice. Learn to share. Sharing is caring. As children, we learn to share things someone else wants. That's why we should always share sweet foods. Share the pleasure, share the calories!

12. CARB CALORIES: Balance your carb calories. If you eat a high amount of carbs one day, the next day you should eat less carbs. Your body will appreciate you.

FAVORITE QUOTES:
~Just because you're in debt, doesn't mean you should dig yourself deeper in the hole.

~It doesn't matter how long it takes. What matters the most is losing it and keeping it off!

~The scale does NOT tell you how hard you worked during the day, the next day, or the previous day.

~Think strength, not length!

~There's a difference between interest and commitment. When you're interested in doing something, you do it only when it's convenient. When you're committed to something, you accept no excuses; only results.

~FAILURE is not an option.

~Rest, but don't quit.

~Eat clean, remain healthy, feel strong.

~How badly you want it can be shown by how well you can distract yourself.

If you would like to see my program, I encourage you to view my nutrition and fitness logs. I religiously write down everything I eat, even the things I did not want to eat. I also log my meals the day before to achieve perfection in my eating. I sometimes readjust accordingly during the day. That way, I don't stress out when I go over.

Feel free to leave any comments, to ask any questions, or just to add me as a friend. Have a wonderful day!!!
SparkFriends

SparkTeams

My Ticker:
current weight: 154.8


Recent Blogs:

Profile


Member Since: 3/10/2008

SparkPoints: 69,260

Fitness Minutes: 33,916

My Goals:
Starting Weight = SW
*Goal Weight = GW
Lowest Weight = LW
Maintenance Weight = MW

GIVE YOURSELF A REWARD AT EVERY GOAL! :)

1st Weight Loss (Age: 15)
--------------------------------------
SW: 188 (Nov 2003)
LW: 128 (May 2004)

2nd Weight Loss (Age: 19-20)
--------------------------------------
SW: 163 (March 2008)
LW: 127 (Oct 2008)

3rd Weight Loss (Age: 22-24)
--------------------------------------
SW: 155 (Oct 2010)
SW: 166 (March 2011)
*GW: 159 Pedicure/manicure (5/20/2011)
*GW: 152 Sunglasses (7/31/2011)
*GW: 145 Coach purse (11/12/2011)
LW: - 142 (April 2012)
SW: - 148 (July 2012)

4th Weight Loss (Age: 24-25)
--------------------------------------
SW: 154 (March 2013)
SW: 151 (Aug 2013)
*GW: 145 Facial (10/11/2013)
*GW: 140 Pedicure (Plan Date: 11/15/2013)
*GW: 135 (Plan Date: ?)
*GW: 130 (Plan Date: ?)

5th Weight Loss (Age: 26)
-

My Program:
My daily calories goals:

Before Morning Workout: 150 calories
After Morning Workout: 250 calories
Lunch: 350 calories
Dinner: 350 calories
Dessert: 100 calories

If I feel hungry or after a hard workout, I usually have another snack, as long as altogether the total daily calorie count is under 1,550.

Personal Information:
Hometown: Milwaukee, WI
Birthday: June 14, 1988
Age: 26
Height: 5'3"
Body Type: Pear
Body Frame: Large
Face Shape: Heart

Other Information:
No matter how long this takes, I will be strong and healthy!

Profile Image