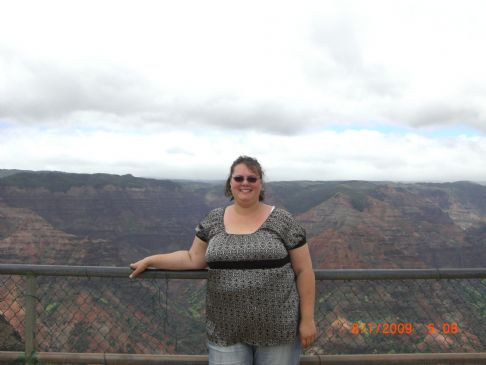 I have 8 pics in my gallery

Awards

Changing my story from tragic to magic!
2/22/13--Update

They just opened a gym 5 miles from my rural hone. It ain't ever getting closer than that so I prepaid a year and that got me 15 months for the price of 12. They have a recumbant eliptical and for now, that swimming will have to do until I drop 40 or 50 lbs.
I do believe I am committed.
Go me!

I saw the film Forks over Knives and have just not been the same since. I began two weeks ago eating a plant based diet-but then I realized ...
2/22/13--Update

They just opened a gym 5 miles from my rural hone. It ain't ever getting closer than that so I prepaid a year and that got me 15 months for the price of 12. They have a recumbant eliptical and for now, that swimming will have to do until I drop 40 or 50 lbs.
I do believe I am committed.
Go me!

I saw the film Forks over Knives and have just not been the same since. I began two weeks ago eating a plant based diet-but then I realized cottage cheese, although not milk, was a cheese product! So i'd say the transition has been more gradual than sudden.

I'm committed to learning how to eat what looks gorgeous and I cannot wait. I am excited.

It's LEAP YEAR 2012 and I'm leaping into Fitness this month. It's been a long time but I have been working on health despite not blogging.

I still do Zumba twice a week. I've also sort of began working out during lunch (this is so hit and miss because of my schedule) but it is the goal.

I will post my measurements here. I took my measurements 4 years ago today and am sort of interested in the comparison. Probably not much has changed but we'll see.

I'm still working a pizza delivery job (thank you Dave Ramsey) until I become debt free. I get a free Pizza 3 days a week. I try to pull my salad together before they close down the salad bar but bc I'm out and about, sometimes I miss it.

I am still responbile for my choices. I will make it my goal to post weekly. I am definitely one of the SLOWESET LOSERS! But I haven't felt healthier in eons and I'm very happy with my progress and fitness level.

Hanging tough!~

Sharon



Today is Oct 6, 2011.

I am down 28 lbs. I have slowed down, but not given up by any means. I am back to watching what I eat and eating more slowly and stopping when full. I still LOVE Zumba. :)

Today is August 8, 2011.

I have lost 24 #'s and I feel great. Only another 125 to go!!!!

Zumba is my friend...no, my love. I found a Groupon in May 2011 and I have only missed when medically necessary since then. I LOVE it. It's held in an old grange hall in a very rural area (15 min drive from me). They black out the windows and light it with LED string lights. It is totally a party! I love it. It motivated me to get a 2nd job to get out of debt. Combined with more working and more moving, I'm accelerating my weight loss.

August 6 I walked my first 5k with two of my best buds. We plan on beginning the C25K program this month for a 5K in October.

I also learned I love to golf...except for the walking, carrying your clubs part, lol.

It may just be time to bust out that kayak I won two years ago now...:)

Life is good. I can and will do this. I am stronger than I thought.

Today is sometime in March 2011:
Another year older, lol.

I have been reading the spark book (uh, I have a desire to read the Spark Book) and I am going to start some streaks. There have been too many goals and I haven't been able to do them all just yet so I've decided that creating three new habits or continuing and growing 1 a week is the way to go.

Goals:
Walk 30 minutes every day
Read the nutritional info on every bite before it goes in my mouth
Eat 3 home cooked meals 3 x week

Pack a lunch every day
Eat at least 2 fruits and 1 cup of salad a day or equivalent veggies
Eat appropriate portoins of food
Walk 30 min 5 days a week and add weight routine from SP

The plan is to do it in sequential order here...so when I eat at a level 4 for 7 days, then I add the additional goal of taking 25 minutes to eat. I will not ask myself to do this all at once. But rather, create new habits that change me over time. I can do this.

By June 30, 2011, have lost 40+ lbs.
My motivation includes hiking, biking and kyaking and playing!! (Oh, did I mention looking freakin' fantabulous?)

Progress:
Jan BLC Starting Weight: 347
FINALE WI:334.8
Apr BLC Starting Weight: 334.0


SparkFriends

SparkTeams

My Ticker:
current weight: 355.8

| | | | |
| --- | --- | --- | --- |
| 355.8 | 341.85 | 327.9 | 313.95 |

300
Interact with EAGLEVALLEYDE







Recent Blogs:

Profile


Member Since: 8/21/2009

My Goals:
No dairy before no meat.


My Program:
Tracking food daily
Setting small, achievable goals and begin healthy streaks
Have a specific plan and goal to strive for
Increase veggies and fruits
Learn to eat appropriate portions
Continue to increase exercise

See my page for weekly specific goals

Personal Information:
I'm funny and love people. I like talking and joking around.

Other Information:
I love historical fiction and novels. I like playing online games like that dumb typing one on FB and spades or hearts.

Profile Image