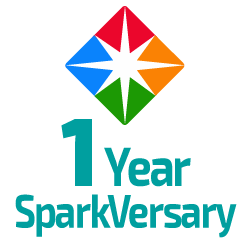 I have 13 pics in my gallery

Awards

"If it is to be, it is up to me."
New for 2012:
I recently gave birth to my first child and now I'm hoping to lose some of this baby weight. It may be difficult with less time to plan meals and to exercise but I know it can be done!


Just here to stay motivated to eat healthier, exercise regularly, lose some of the weight I've put over the years, and keep it off. I joined sparkpeople in September 0f 07 but didn't start using it until January 2009. So far I've lost 20 pounds by choosing healthier ...
New for 2012:
I recently gave birth to my first child and now I'm hoping to lose some of this baby weight. It may be difficult with less time to plan meals and to exercise but I know it can be done!


Just here to stay motivated to eat healthier, exercise regularly, lose some of the weight I've put over the years, and keep it off. I joined sparkpeople in September 0f 07 but didn't start using it until January 2009. So far I've lost 20 pounds by choosing healthier foods, controlling my portions by using a food scale, using the nutrition tracker daily to log all of my food intake, and exercising regularly.

I aim to hit the gym five times a week and usually do 35 minutes on the elliptical trainer or treadmill. I try to make it to one spinning class a week, depending on my school schedule. I strength train 2-3 times a week.

I purchased a heart rate monitor awhile back and found that having feedback while I'm exercising has been great in terms of motivating me to push myself to maintain my target heart range throughout my workout. Now I can't imagine working out without it!

My Progress:
1/12/2009:
Weight: 143.5 lb
Waist: 31 in
Hips: 38 in
Neck: 12.75 in

1/18/2009:
Weight: 143.5 lb
Waist: 31 in
Hips: 38 in
Neck: 12.75 in

1/26/09
Weight: 141 lb
Waist: 30.5 in
Hips: 37.75 in

2/01/09
Weight: 140 lb

2/16/09
Weight: 139 lb
Waist: 30.25 in
Hips: 37.25 in
Neck: 12.5 in
Happy to see that I am down a pound since my last weigh in, especially after splurging on Saturday night. : )

02/23/09
Weight: 137 lb

03/02/09
Weight: 136.5 lb
Waist: 28.5 in
Hips: 37 in
Neck: 12.25 in

03/09/09
Weight: 137 lb
Waist: 28 in
Hips: 37 in
Neck: 12.25 in

03/15/09
Weight: 135 lb

04/26/09
Weight: 131 lb
Waist: 27.5 in
Hips: 36 in
Neck: 12.5 in

05/03/09
Weight: 130.5 lbs (so close to reaching my goal of 130!)

05/10/09
Weight: 130 lbs
Waist: 27.5 in
Hips: 36 in
Neck: 12 in

05/31/09
Weight: 129 lbs
Waist: 27.5 in
Hips: 36 in
Neck: 12 in

8/20/2009
Weight: 122 lbs
Waist - 26.5 in
Hips - 35 in

09/11/09
Weight: 120 lbs (goal weight!)
Waist: 26 in
Hips: 35 in


SparkFriends

SparkTeams



My Ticker:
current weight: 125.0


Recent Blogs:

Profile


Member Since: 9/9/2007

SparkPoints: 28,474

Fitness Minutes: 28,411

My Goals:
Go From 148 to 130lbs by 5/28/2009 - achieved on 5/10/09!

Next goal: go from 130 to 125 lbs by 7/19/09 - Achieved!

Weight Loss Goal # 3:
go from 125 lbs to 120lbs (my weight in high school!) - achieved on 9/11/09

New goal: Get back to my goal weight (118-120 lbs) since I gained some weight after being sedentary for a couple of months after surgery.

Other Goals:

Maintain my weight b/t 118-122 lbs

Plan and pack meals a day in advance when I will be at school or clinical to ensure I have healthy options available.

Do 30 min cardio 4-5 times a week and strength 2-3 times a week.

Complete the 8 week couch to 5K program I printed from coolrunning.com! - achieved, and have grown to love running in the process!

Run a 5K

Run a 10K

Consume between 1300 and 1600 calories per day.

Burn 1500 calories per week with exercise.

Use nutrition tracker daily to track my food intake.

My Program:
I use the nutrition tracker every day to keep track of my calories to keep me accountable.

I suffer from portion distortion so I use a food scale to measure out single servings of everything I eat.

30 min cardio 4-5 times a week, aiming to keep my heart rate around 140-160 BPM.

Strength training (upper body) 2-3x a week.

Abs and gluts 2 times a week

Ideal Meal Plan:
Breakfast - 350 cal
Lunch - 500 cal
Dinner - 350 cal
Snacks - 2 daily around 150 cal each

Total: 1500 cal/day


Personal Information:
I live just west of Boston. I recently turned 30 years old. I just got my bachelor's in nursing in May '10 and now its time for me to go out and find a job!

I switched to a vegan diet in early September '09. I was formerly vegetarian for 6 years then fell off the wagon for about 6 years but always felt guilty about eating meat and dairy. It feels great to have made the switch.

I enjoy cooking, eating, exercising, spending time with my husband, and getting outdoors during the summer months which are few here in New England.



Other Information:
Some motivational quotes from sparkpeople that I find helpful:

"Being defeated is often temporary, giving up makes it permanent."

"There's a difference between interest and commitment. When you're interested in doing something, you do it only when it's convenient. When you're committed to something, you accept no excuses; only results."

"Something we were withholding made us weak, until we found it was ourselves."

"If we wait for the moment when everything, absolutely everything, is ready, we shall never begin."

"If it is to be, it is up to me."

Profile Image