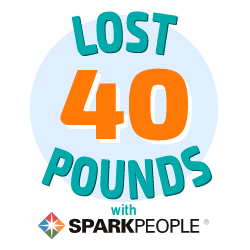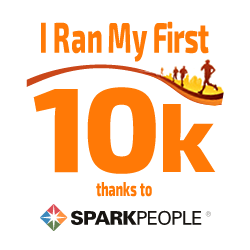 I have 21 pics in my gallery

Awards

I want to be a loser.
I have been slowly gaining weight for the last 10 years. My husband and I want to start a family but are having problems. I think it's to do with my weight, so I have decided that now is the time to lose every pound I can until I am a healthy weight. It's a pretty tall order - it means roughly halving my current weight - but I'm trying to approach it as a lifestyle change rather than a really long diet!

Click to see more info about my mini-goals and the progress I have made.
...
I have been slowly gaining weight for the last 10 years. My husband and I want to start a family but are having problems. I think it's to do with my weight, so I have decided that now is the time to lose every pound I can until I am a healthy weight. It's a pretty tall order - it means roughly halving my current weight - but I'm trying to approach it as a lifestyle change rather than a really long diet!

Click to see more info about my mini-goals and the progress I have made.

CURRENT GOAL
---------------------------------

My first major goal is to drop a BMI range. To do this I need to lose 47 lbs from my start weight. That's equal to an elephant's heart and a human brain.

Scroll down further for a list of all my goals.

PROGRESS UPDATES
---------------------------------

24th March 09: 280 lbs (SW)
31st March 09: 274 lbs (-6)
THIS MONTH: -6
TOTAL: -6

7th April 09: 266 lbs (-8)
14th April 09: 266 lbs (-)
21st April 09: 264 lbs (-2)
22nd April 09: 260 lbs (-4) (extra sneaky weigh-in!)
28th April 09: 259 lbs (-1)
THIS MONTH: -15
TOTAL: -21


5th May 09: 259 lbs (-) (Kitchen refit & TOM)
12th May 09: 258 lbs (-1) (Kitchen refit)
15th May 09: 254 lbs (-4) (extra sneaky weigh-in!)
19th May 09: 252 lbs (-2)
26th May 09: 251 lbs (-1)
27th May 09: 250 lbs (-1) (extra sneaky weigh-in!)
31st May 09: 249 lbs (-1) (extra sneaky weigh-in!)
THIS MONTH: -10
TOTAL: -31

1st June 09: 247 lbs (-2) (extra sneaky weigh-in!)
2nd June 09: 246 lbs (-1)
5th June 09: 245 lbs (-1) (extra sneaky weigh-in!)
9th June 09: 244 lbs (-1)
10th June 09: 243 lbs (-1) (extra sneaky weigh-in!)
11th June 09: 240 lbs (-3) (extra sneaky weigh-in!)
14th June 09: 239 lbs (-1) (extra sneaky weigh-in!)
16th June 09: 239 lbs (-)
23rd June 09: 238 lbs (-1)
30th June 09: 238 lbs (-)
THIS MONTH: -11
TOTAL: -42

NOTE: My scales totally died on me at the end of June! The new ones arrived on June 29th, and early indications show that they register me at a higher weight than the old ones. So, what I'm going to do is to take a new weight on 1st July. My goal for July will be to reconcile my actual weight with my ticker weight.

1st July 09: 248.8 lbs
6th July 09: 247.8 lbs (-1)
13th July 09: 245.2 lbs (-2.6)
20th July 09: 242.8 lbs (-2.4)
27th July 09: 240.0 lbs (-2.8)
THIS MONTH: -8.8
NEW TOTAL: -40.0

After this, I fell off the wagon big time. Somehow August and September were taken off. It just sort of happened. Those months weren't too bad, but then I procrastinated with getting back into things. October saw my birthday, so I put off resuming things until after that, and before I knew it I'd found a new favourite restaurant and Christmas and the New Year had happened.

It took me a little while to give myself a good kick – but now I'm back, determined to go a little easier on myself and stick at it for a lot longer.

24th January 10: 267 lbs (new start weight)
31st January 10: 261 lbs (-6)
THIS MONTH: -6
TOTAL SO FAR: -19

Wow, that's depressing! To help make that less depressing, I'm resetting my ticker. The start weight will be 280 lbs and the goal weight - for now - will be 233 lbs, i.e. the first BMI range change. I think that'll make my progress more obvious and make it clear how close I am to that first goal.

7th February 10: 258.8
14th February 10: 262 (TOM)
21st February 10:
28th February 10:
THIS MONTH:
TOTAL SO FAR:

GOAL LIST
---------------------------------

*** Drop BMI Range (Obese) (lose 47 lbs/233 lbs)
Reach Half-Way Point (lose 75 lbs/205 lbs)
Drop BMI Range (Overweight) (lose 106 lbs/174 lbs)
Drop BMI Range (Healthy) (lose 135 lbs/145 lbs) (re-evaluate goal weight at this point)
Reach Original Goal Weight (lose 150 lbs/130 lbs)

MILESTONES
---------------------------------

** GOAL ONE :: Drop BMI Range (Obese) **

Lose 1 lb: DONE 27/03/09
Lose 5 lbs: DONE 28/03/09
Lose 10 lbs: DONE 05/04/09
Lose 1 stone: DONE 07/04/09
Lose 15 lbs: DONE 21/04/09
Lose 20 lbs: DONE 22/04/09 & 07/02/10
Lose 25 lbs: DONE 15/05/09
Lose 2 stone: DONE 19/05/09
Lose 30 lbs: DONE 27/05/09
Lose 35 lbs: DONE 05/06/09 & 15/07/09
25% Done: DONE 11/06/09 & 21/07/09
Lose 40 lbs: DONE 11/06/09 & 27/07/09
Lose 3 stone: DONE 23/06/09
Lose 45 lbs:
Drop BMI range (lose 47 lbs):

**********************************

** GOAL TWO :: Reach Half-Way Point **

Lose 50 lbs:
Lose 55 lbs:
Lose 4 stone:
Lose 60 lbs:
Lose 65 lbs:
Lose 5 stone:
Reach half-way point (lose 75 lbs):

**********************************

** GOAL THREE :: Drop BMI Range (Overweight) **

Lose 80 lbs:
Weigh under 200 lbs:
Lose 6 stone:
Lose 85 lbs:
Lose 90 lbs:
Lose 95 lbs:
Lose 7 stone:
Lose 100 lbs:
Lose 105 lbs:
Drop BMI range (lose 106 lbs):

**********************************

** GOAL FOUR :: Drop BMI Range (Healthy) **

Lose 110 lbs:
Lose 8 stone:
75% Done:
Lose 115 lbs:
Lose 120 lbs:
Lose 125 lbs:
Lose 9 stone:
Lose 130 lbs:
Drop BMI range (lose 135 lbs):

**********************************

** GOAL FIVE :: Reach Original Goal Weight **

Note: this goal may be modified if, when reaching a healthy BMI, I revise my goal weight higher. However I do not expect this to happen; if anything I think I'll revise it lower.

Lose 140 lbs:
Lose 10 stone:
Lose 145 lbs:
Reach original goal weight (lose 150 lbs):


CHALLENGES
---------------------------------

Lose 10lbs in April: DONE 21/04/09
Lose 10lbs in May: DONE 31/05/09
Lose 10lbs in June: DONE 16/06/09
Biggest Loser Challenge 6 :: Team TAHITI!

TARGETS
---------------------------------

Lose 30lbs by 5th June 2009: DONE 27/05/09
Lose 47lbs by 9th May 2010:

CONTACT
---------------------------------

I'm on Twitter: http://twitter.com/dreaming_aloud
FaceBook: http://www.facebook.com/victoriamarchant
My Photography: http://www.flickr.com/photos/dreaming_alou
d
My Food Blog: http://www.nomalicious.blogspot.com
SparkFriends

SparkTeams

My Ticker:
current weight: 262.0

Interact with DREAMING_ALOUD







Recent Blogs:

Profile


Member Since: 3/24/2009

SparkPoints: 6,614

Fitness Minutes: 8,656

My Goals:
To change my lifestyle in order to become and then maintain a healthy weight, so that my husband and I can start a family.

My Program:
1. Eat balanced meals totalling between 1330 - 1680 calories per day;

2. Walk to work every day and incorporate aerobic exercise and strength training into my daily life;

3. See this as a lifestyle change, not a diet;

4. Stay positive;

5. Treat myself when there's a good reason to!

Personal Information:
Mid-twenties new wife in the UK with a lot of weight to lose!

Other Information:
I love to cook, bake, make chocolate - pretty much anything that involves food, so I thought this hobby was going to suffer as I succumbed to bunny rabbit meals and model-esque liquid detox days. Thankfully I can adapt most of my recipes and keep them low-calorie - with most of them, the only real problem is the portion size!

My foodie-turned-healthy-eater ways have landed me with a food-related blog:

http://nomalicious.blogspot.com

I also have an (unhealthy?) obsession with red things with white polka dots. My kitchen is filled with baking dishes, jugs, bowls and all sorts of things; I have two dresses and a dressing gown, bags, shoes, sunglasses, scarves... all sorts of things. If it's red and white polka-dotted, I love it.

Profile Image