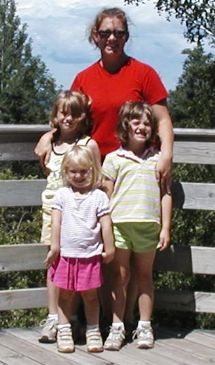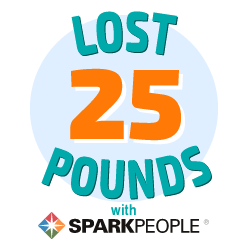 I have 4 pics in my gallery

Awards

70 Days to a new healthier ME!!
What else do I have to lose but 45-60 pounds. Lost 30 pounds as of 4-12-2009

What have I tried? LA weight loss - it worked but they closed. Slim fast, pills, starving .

Then I tried the "I will accept me for me" attitude - otherwise known as "I don't want to eat right or exercise". That didn't work either - too unhappy. I know we can never turn back time, but I LOVED the way I looked before I had children.

A friend told me about this website and I ...
What else do I have to lose but 45-60 pounds. Lost 30 pounds as of 4-12-2009

What have I tried? LA weight loss - it worked but they closed. Slim fast, pills, starving .

Then I tried the "I will accept me for me" attitude - otherwise known as "I don't want to eat right or exercise". That didn't work either - too unhappy. I know we can never turn back time, but I LOVED the way I looked before I had children.

A friend told me about this website and I jumped all over it. Well that was a year ago. I started out great, but then I lost my way. I then got on a scale and found I was 10 pounds heavier than I was a year ago. I have not weighed this much since I was 9 months pregnant. At least I had an excuse then to weigh that much.

I want to set goals and reach them. I want to eat better. But most of all, I want to be a role model for my daughters. I do not want them living a life of dieting; I want them to live a healthy life style.
_______________________________
Goals & rewards:

January 30 - 181 (-14) GOAL MET JANUARY 22, 2009.
February 27 - 173 (-22) - GOAL MET March 2, 2009. A few days late, b ut I have been fighting a horrible cold.
March 27 - 165 (-30) - (7 pounds to go in 25 days) buy a new pair of jeans and swimsuit for vacation.
April 12 - 160 a
June 29 - maintained 160 for 2 months :)

New Goals
July 10 - 155 (-40)
July 31 - 149(-46)
September 4 - 139 (-56)
September 18 - 135 (-60) - My DH birthday. What a present.

__________________________________
Other Important Dates with goal weight

March 11 - My birthday - Hope to be 170
March 14 - Day 30 of P90X - 169
April 3 - See parents - first time since I have lost weight or since Christmas. Hope to be 163.
June 30 - Restarted P90X
September 28 - FINAL DAY OF p90X

_______________________________
5 New Fitness Activities for 2009

- Crunches everyday - goal 100 (up to 5 sets of 10 1/23/09)
- pushups everyday - goal 50 (up to 3 sets of 10 1/23/09)
-- train for a 5k for next summer.
- Complete all my workout videos

SparkFriends

SparkTeams

My Ticker:
current weight: 160.4


Recent Blogs:

Profile


Member Since: 1/11/2008

SparkPoints: 0

Fitness Minutes: 3,941

My Goals:
I would like to lose 2 pounds per week to reach my goal. I would like to lose 50 pounds. That is the amount of weight I put on with three pregnancies in four years. I would also like to be able to maintain this weight.
I would like to be more active with my children.

My Program:
I am cutting back on my carb intake and getting at least 30 minutes of excersie a day. My daughters do the exercises with me so they keep me motivated. They tell me everyday that I look skinny

2/13/09 - Started the p90x program. I have cut my carbs and increased my protein intake. I workout with the CDs and then do an additional 30 minutes on the elliptical.

Personal Information:
Where you are from- Kalamazoo/Battle Creek, Michigan.

Teach high school English.

I have three daughters 8, 7, and 5. They keep us on the run with all of their activities.

Other Information:
My daughters are my inspiration. Since I teach high school, I see too many girls who are super thin talking about dieting because a size 2 is too big. I want my daughters to know that dieting is not the answer. The answer is healthy eating and excercising. I never want to hear them say they are on a diet.

Profile Image