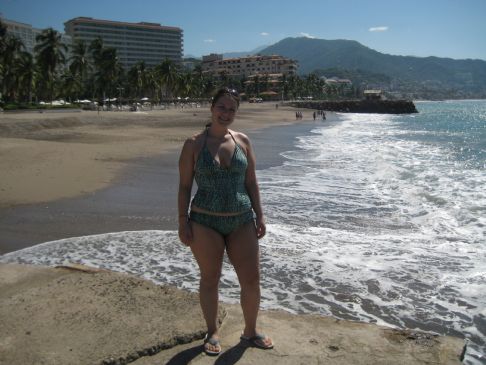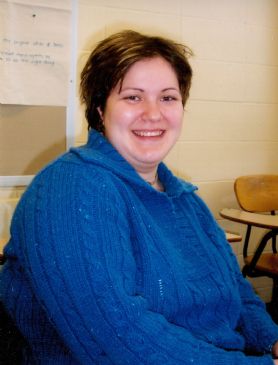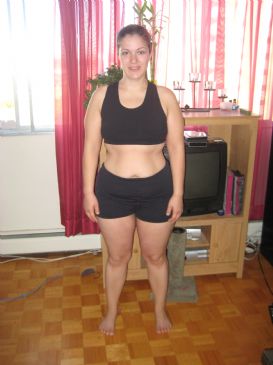 I have 22 pics in my gallery

Awards

Why am I sabotaging myself?? I love myself, STOP BINGE EATING DANA!!
Hi everyone! I'm a 24 year old Registered Nurse in Edmonton, Alberta, Canada.

Since November 2007, I've been having TMJ problems, and mostly affected greatly by large amounts of pain and insomnia which really alters how I live on an hour to hour basis. I have learned greatly the importance of balance of normal bodily functions to function properly in everyday life!! I lost a great amount of weight due to an extreme lack of calories (Sept. 15/08 Lost 101lbs), and some not by ...
Hi everyone! I'm a 24 year old Registered Nurse in Edmonton, Alberta, Canada.

Since November 2007, I've been having TMJ problems, and mostly affected greatly by large amounts of pain and insomnia which really alters how I live on an hour to hour basis. I have learned greatly the importance of balance of normal bodily functions to function properly in everyday life!! I lost a great amount of weight due to an extreme lack of calories (Sept. 15/08 Lost 101lbs), and some not by choice, but now I've come to a maintenance mode just by exercising and eating half decently. I'm still so hungry for a lot of things I cannot have (or if I eat will cause me great amounts of pain).

Its insane to be overweight and not be able to eat much, trust me!! lol I feel I'm really unable to move my cardio/exercise program into higher gear due to my pain cycles and how unpredictable they are. I'm just starting work again for a 4 week return to work, 6 hrs a day (my full shifts are 12 hrs normally), and I'm setting new goals for this month, hopefully I will pick up speed with how much I can work and have pain tolerance at the same time. Here's hoping!

I still continue to have a journal on my eating most days (I'm not perfect!). I want to do more yoga and walking. I want to have more of an exercise routine at the gym so that I can increase my cardio using the elliptical (no impact for my jaw yippeee!!!) I have bought a bike this summer and went on a few major treks in the city, and used it 2 times, to physio, a week, but I don't have the ambition when its chilly outside, and I'm more tired before and after work, than not.

New goals for September 15th/08 to December 15th/08
Starting Weight: 169.0 lbs
(Week 1: Sept 23rd: 170lbs)
Sept 30th Goal: 166 lbs
(Week 2: Actual: Sept 30th: 169)
(Week 3: Oct 6th: 168)
(Week 4: Oct 13th: 167)
(Week 5: October 20th: 169)
(Week 6: October 27th: 169)
(Week 7: November 3rd: 168.2)
(Week 8: November 10th: ______)
(Week 9: November 17th Actual: 166.6)
(Week 10: November 24th: 164.4)
(Week 11: December 1st: 164.8)
December 8st Goal: 162 lbs
(Week 12: December 8th:163.0)
Dec 15th Goal: FINAL WEIGH IN: DRUM ROOLLLL PLEASSEEEE
160/161 POUNDS!!!!
ACTUAL FINAL WEIGHT: _______

I KNOW I am capable of reaching my goal weight of 160 lbs over the next three months. I will have to work on getting a better consistency to the gym and not splurge so much when eating out, which I am ok with, and ready to make a few sacrifices. I will have to reassess things as I go, if I feel that my goal weight should differ. I will also have to change my routine into a maintenance mode vs losing weight mode. WOW only 19 lbs away from my goal weight!!

KICK UP THE CARDIO AND BURN CALORIES!!!!

Although I'm not in a hurry to achieve any of my goals, I'm not sure how my health will play a factor in my weight loss, and energy to have daily exercise, so here's for the best!!

Looking back at me, I still can't believe what happened....
April 12th to end of April: 10.4 lbs lost
May: 8.4 lbs lost
June 1st weight: 173.4 lbs
Sept 15th weight: 169 lbs
Dec 15th weight:

I'm leaving my goals as is, because I'm trying my best to eat higher carbs and calories to slow my weight loss down and get more bang for my buck-- the weight loss will have to stop sometime, right?

---- By golly it sure does, I guess some things HAVE changed, and does it sure put things into perspective how crappy I was feeling then, to how I feel now. I won't feel sorry for myself right now. I have control over that and I'm not going to let it win the best of me. I am a positive person and I will win the Great Battle of the Jaw!!! Keep posted for results.

June 1st- Aug 24th:
waist inches lost: 1.75"
hips inches lost: 2.25" WOWZA!!! and that was gaining 2 lbs!!!
Goes to show that the wt gain was muscle!!

Good luck everyone on all of their goals, don't be afraid to message me, I love talking to new people :) Hopefully there will be some Edmonton river valley walks as a group if we can get together!!! :) Let's hope for nice weather! Let's all be losers :O)

July 8th/09: Pre-Mexico weight: 174 lbs
Aug 20th/09: 182 lbs

I can't believe it is so, but I also can: I've been binge eating again, and I'm not sure why. I've been eating well and feeling carb hunger throughout the day. I need to prepare my meals/snacks better, and get EXERCISING!!

Stop being lazy, Dana!! I know you have it in you to do better than this, pain and all!! You are smart, you have a healthy conscience, you know what it takes to lose and challenge yourself to burn more calories and fuel my body at the same time...

Goals:
1) Have a toned body (especially arms and legs)
2) Decrease waist/hip lines while increasing my core strength (especially abdomen/lower back)
3) Increase stamina with cardio
4) Be 170 lbs by my birthday (October 20th)
5) Get a gym membership
6) Take the bus/lrt to work, walk part way, and go to the gym before/after most days.

Daily Energy Expenditure: 2467 kcal

Your Recommended Minimums

Total Carbohydrate 130.0 g
Dietary Fiber 25.0 g
Protein 66 g
Vitamin A 2333.0 IU
Vitamin C 75.0 mg
Vitamin D 200.0 IU
Vitamin E 15.0 mg
Vitamin B12 2.4 mcg
Calcium 1000.0 mg
Iron 18.0 mg
Magnesium 310.0 mg

SparkFriends

SparkTeams



My Ticker:
current weight: 234.0


Recent Blogs:

Profile


Member Since: 4/12/2008

SparkPoints: 2,054

Fitness Minutes: 3,179

My Goals:
Reality Weights:
Highest Weight: Apr 05 270 lbs +
Joined:
Nov 07: 207 lbs.
Mid April/08: 191.4 lbs
May 1st: was 181 lbs
Jun 1st: was 173.4 lbs
Jun 15 :170.4 lbs
Jul 2: 171.2 lbs
Aug 20: 172.4 lbs
Sept 21: GOAL169 lbs
Reached: Sept 15th!
Lowest weight: 163 lbs

New Goals:
175 lbs by Oct 5th/09
Reached:
170 lbs by Oct 20th
Reward: pedicure for birthday celebration!
Reached:
168 lbs: Oct 30th
Reached:
165 lbs: Nov 13th
Movie with Victor
Reached:
160 lbs: Dec 15th/09
Reached:
165 lbs: Jan 15th/10
Reached:
150 lbs: Feb 14th/10 Valentine's Day!!!
Award: Dinner theater with Victor and parents!!
Reached:

Long term: 150 lbs
Size 6/8 pants (currently size 12/14)
BMI states I should be within the weight range of 111-149 lbs. Also considering I'm a huskier boned person, the top range is decent, but I'll see when I get there, maybe my perception will chang

My Program:
yoga 1x/week

walk 20 mins/day

Go to gym 3x/week, and a 4th if I am working less/have weekends off.

Do cardio exercise every time 30-45 mins, and alternate weights.

Personal Information:
At work part time due to my pain, but really trying my best.

I have two cats: Jasper, who is very very bad, and Stanley who is very very timid. They crack me up :) Now they have two pet mice they watch all day long, love it!!

My favorite colour is red .

I love to play guitar, and play in the dark with candles around me-- its very soothing :) I have my own youtube page if anyone wants to listen!

Other Information:
I have a juicer that I need to try to use more to up my veggie nutrients that I miss not being able to eat them and all... :(

I love you crunchy foods!! Come back to me soon! :)

Profile Image