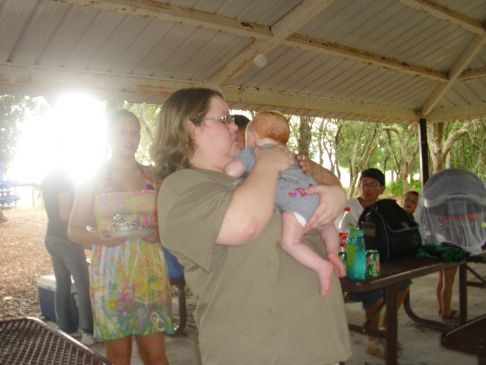 I have 2 pics in my gallery

Awards

My Spark Page
Starting over again. I'm still over 15 lbs (and a size or two) down from my highest weight - but since I haven't been paying attention, I consider myself a newbie. Just getting back on the wagon and all.

According to the SparkPeople calculator, my current BMI is 41.3 and I am obese. I wouldn't argue with either of those.

Obese: Over 163 and a BMI of over 30
Overweight: 137-163 lbs and 25-29.9 BMI
Healthy: 100-136 lbs and 18.5-24.9 BMI

I ...
Starting over again. I'm still over 15 lbs (and a size or two) down from my highest weight - but since I haven't been paying attention, I consider myself a newbie. Just getting back on the wagon and all.

According to the SparkPeople calculator, my current BMI is 41.3 and I am obese. I wouldn't argue with either of those.

Obese: Over 163 and a BMI of over 30
Overweight: 137-163 lbs and 25-29.9 BMI
Healthy: 100-136 lbs and 18.5-24.9 BMI

I can't even begin to imagine weighing 136 lbs. Don't think I've weighed that little since elementary school. I had set my initial goal at 175 lbs, but I'm going to move it to 163, so I'll just be "overweight".
********************************
GET DONE List - Starting at 235 on 06/01/14
5 lbs lost -
10 lbs lost -
20 lbs lost
10% lost - 211 lbs (24 lbs)
30 lbs lost
36 lbs lost - 199 lbs!
40 lbs lost
another 10% lost - 190 lbs (45 lbs)
50 lbs lost
60 lbs lost
70 lbs lost
72 LBS LOST (takes me to my goal of 163)
SparkFriends

SparkTeams

My Ticker:
current weight: 217.2


Recent Blogs:

Profile


Member Since: 8/13/2010

SparkPoints: 2,953

Fitness Minutes: 1,413

My Goals:
I want to be healthy and happy. I want to see my future grandchildren grow up.

On a totally shallow note, I want to feel like I used to, sexy and fun.

My Program:
Right now, I'm just trying to be more conscience of what I put into my body and how much I move.



Personal Information:
I live in Florida, land of the beach.

Profile Image