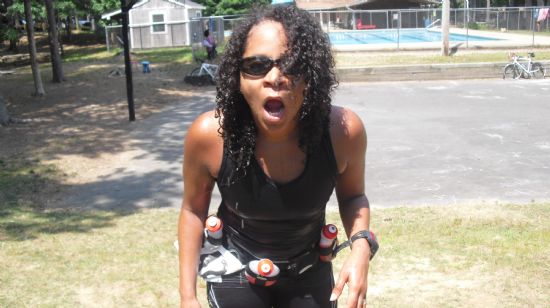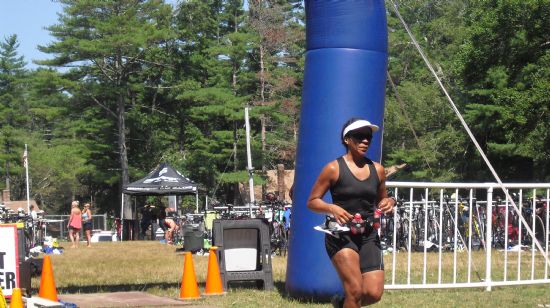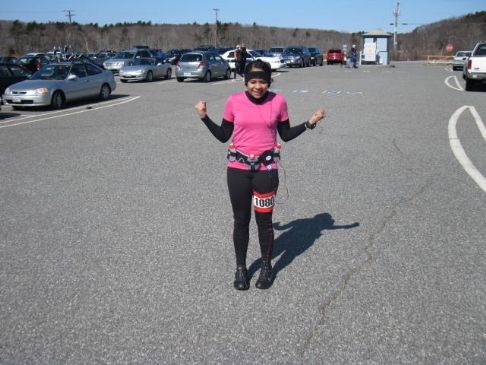 I have 50 pics in my gallery

Awards


I'm TRI – ing!
Hello there & welcome to my Sparkpage!

I started this Sparkpage to chronicle my journey as a WANNABE TRIATHLETE & now I can proudly say I AM A TRIATHLETE!

However, if you have somehow stumbled across my Sparkpage with the impression that you would find an elite status or even a solid age grouper triathlete that perhaps could share their wealth of knowledge, expertise & know-how…

PFFFFF, sorry to disappoint but I am not *quite* that kinda triathlete!
...
Hello there & welcome to my Sparkpage!

I started this Sparkpage to chronicle my journey as a WANNABE TRIATHLETE & now I can proudly say I AM A TRIATHLETE!

However, if you have somehow stumbled across my Sparkpage with the impression that you would find an elite status or even a solid age grouper triathlete that perhaps could share their wealth of knowledge, expertise & know-how…

PFFFFF, sorry to disappoint but I am not *quite* that kinda triathlete!

I am the type of TRIATHLETE…

* Whose only goal in the swim is NOT to drown or get bitten/eaten by sea creatures
* Who just NOW bought a respectable road bike & if I get to say "to your left" to *maybe* 2-3 people & actually PASS them…I think that it is a respectable bike leg!
* Who thinks that running is the most fun thing ever EXCEPT when trying to hack it after swimming & biking…it's ain't pretty!

Although I know that I am not winning any prize money or qualifying for Kona anytime soon, I am soooooooo proud of how much I have accomplished thus far. However, this success did NOT come easy for me...

Sometimes I come up with some ridiculous ideas, so back in 2008 one day I just decided...¨I wanna be a triathlete!¨ Well there were just a *few* problems with that...

#1. I couldn't run - I'm talking not even for 3 minutes!
#2. I hadn't ridden on a bike since I was probably 10 years old & I wouldn't necessarily classify that as "competitive¨ either...
#3. Swimming - yah right! I didn't swim unless you count the doggie paddle which probably doesn't count as a legitimate swim technique

Although all of the steps to become a triathlete seemed very daunting to begin with I had the motivation to get started. Then I found Spark & things really took off! I LOVE Sparkpeople! I know that it is because of Spark that I was able to achieve all of my fitness goals. The Sparkfriends that I have *met* have been soooooo supportive during my journey!

RUNNING
This was the first area that I "learned¨ on my journey to become a triathlete. Mainly because I was told that this was the easiest part to learn that requires the least amount of equipment. I was never a runner my WHOLE life but in October of 2008 I began the Couch to 5K program & never looked back! After I graduated the program I tried my first 5K in March 2009 & I've been hooked on road racing ever since. Running has now become my first love & racing is an adventure that never gets old for me.

SWIMMING
I'm not kidding when I said that my idea of swimming initially was the doggie paddle. I had absolutely no idea how to swim with my head submerged in the water until September 2008 when I joined I began swim lesson at the Y. Of course with swimming I thought it would be just like running, you go there, put in the time & magically you are a swimmer...WRONG! Swimming is so bizarre! It'¦s one of the only sports that the more effort you put in the worse you perform. I am a sinker & putting all that energy into kicking about frantically in the water had me going no where, slowly too! Then I started private lessons in September 2009. It took awhile, a lot of effort & PATIENCE but eventually I learned how to swim! One caveat with this whole "I learned to swim thang"...I am incredibly SLOOOOOW but I'm working on it!

BIKING
Biking was just something that I never really did. I didn't even own an official bike when I started this process to become a triathlete. Biking thus far has been a big game of trial & error. I've gone through a mountain bike (superslow), hybrid (slow) & an old road bike from 1972 (still slow) until finally I got it right, sucked it up & bought my new road bike, Mercedes! I think I finally got the hang of it & I'm working on getting faster & faster with each race!

* My Master Plan

Step 1 - Complete a 5K-DONE 3/21/09
Step 2 - Complete a 4 Mile Race-DONE 8/2/09
Step 3 - Complete a 5 Mile Race-DONE 8/9/09
Step 4 - Complete a 10K-DONE 9/12/09
Step 5 - Complete a Duathlon-DONE 10/25/09
Step 6 - Complete a Half Marathon-DONE 3/21/10
Step 7 - Complete a Triathlon-DONE 6/27/10 (Sprint), 6/18/11 (Oly)
Step 8 - Complete a Marathon?? - DONE 5/5/13

The BEST benefit to training for a race whether it is a 5K, marathon or a tri is that you trick your body into shape! You *think* that you are training but really you are putting in tons of exercise. I've lost over 10 pounds since I started this process & I feel like I'm getting close to being in the best shape of my life. By focusing on athletic events/challenges instead of obsessing about the scale, you will definitely see results!

RUNNING PERSONAL RECORDS -aka- Braggin' Rights...
5K - 24:05
10K - 53:04
Half Marathon - 1:51:29
20M - 3:04:45
Marathon - 4:06:05 (Long Island Marathon)
Second Marathon - 4:08:35 (Vermont KeyBank Marathon)
Third Marathon - 3:53:26 (Baystate Marathon)

1st Duathlon - Wrentham Halloween Duathlon - 1:40:04
1st Tri - Oh My Goddard Triathlon - 1:22:48 (.25/11/5K)
2nd Tri - SheROX Triathlon - 1:42:23 (.5/12/5K)
3rd Tri - Bayside Triathon - Less than1:41:00 (.5/12/5K) No Chip!
4th Tri - Berkshire Y Triathlon - 1:56:42 (.5/14.5hills!/5Khills!)
5th Tri - Fairfield Tri - 1:38:58 (.5waves!/10M/5K Too HOT!)
1st Olympic Tri - Pat Griskus Tri (0.5/22.7/6.2) - 3:10:39
2nd Olympic Tri - Lowell Tri (1/22/6) 2:53:23
3rd Olympic Tri - Park City Mossman (1/25/6.2) - 3:09:35
6th Sprint Tri - Mayflower (0.33/10/3) - 1:19:43 inaccurate distances
7th Sprint Tri - Ocean Community Tri (0.5/16/3) - 1:46:06
4th Olympic Tri - Old Colony Triathlon (1M/25M/6.5M) - 3:10:09
5th Olympic Tri - Lake T OlyTri (1M/25M/6.2M) - 2:59:39
6th Olympic Tri - Wheel & Heel Tri (1M/25M/6.2M) - 3:25:59


SparkFriends

SparkTeams



My Ticker:
Pounds lost: 0.0


Recent Blogs:

Profile


Member Since: 10/15/2008

SparkPoints: 17,995

Fitness Minutes: 28,302

My Goals:
Current Goals *
- Remain consistent with training
- Stay injury free
- Clean up my diet





My Program:
Currently Training for a MARATHON - 5/3/15 Cox Marathon - Providence, RI
Hal Higdon Intermediate 1 Plan



Personal Information:
- I am 35 years young
- I am the mother of two perfect boys
- I work full time
- I live in Rhode Island
- I like to exercise & like races
- Lost the last 10 lbs of weight after baby in 2008
- Finished couch to 5K & is discovered that I enjoy being an athlete



Other Information:
Quote That Motivate Me To Keep Running

"Mom, I never strike out the next game" - DS#1
"SUPAfast" - DS#2
"Mom,real athletes don't blame other people" - DS#1"
"Chance follows design" - Joyce Carol Oates
"Take it to failure" - Billy Blanks
"Your body will do what your mind tells it to do" - My co-worker, variation of Mind Over Matter
"To see results it is about the sum of all things... make everyday count!"


Profile Image