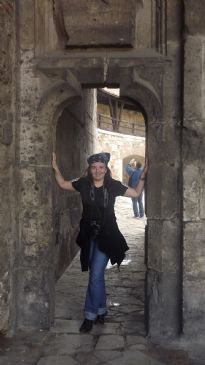 I have 18 pics in my gallery

Awards

CrisRo - It's just me!
Back to SparkPeople. First time, I created the account in April 2006. Lost weight, maintained. Closed the account in 2010. Created another one later that year , lost it earlier this year when I changed the email address attached to my account.

Meantime I used FatSecret to keep myself accountable and LOST 17.6 lbs by March 2013. I made it back to my top healthy weight for my frame (5'2"). Ideally I'd want to lose 6-8 lbs more (vanity reasons).

Unfortunately, I managed ...
Back to SparkPeople. First time, I created the account in April 2006. Lost weight, maintained. Closed the account in 2010. Created another one later that year , lost it earlier this year when I changed the email address attached to my account.

Meantime I used FatSecret to keep myself accountable and LOST 17.6 lbs by March 2013. I made it back to my top healthy weight for my frame (5'2"). Ideally I'd want to lose 6-8 lbs more (vanity reasons).

Unfortunately, I managed to revert to some older habits - because of stress, death of a family member and a demanding job - but I never ever give up.

2013

Jan 5, 2013: 70.3 kg / 155 lbs
Feb 1 , 2013: 64.3 kg / 141.8 lbs
Mar 1, 2013: 63.3 kg / 139.6 lbs
Apr 1, 2013: 62.2 kg / 137.1 lbs
May 1, 2013: 62.9 kg / 138.7 lbs
Jun 1, 2013: 63.4 kg / 139.8 lbs
Jul 3, 2013: 63.1 kg / 139.1 lbs
Aug 1, 2013: 62.4 kg / 137.6 lbs
Sep 1, 2013: 64.3 kg / 141.8 lbs
Oct 1, 2013: 66 kg / 145.5 lbs
Oct 31, 2013: 65.7 kg/ 144.8 lbs
Nov 20, 2013: 65.7 kg/ 144.8 lbs
Dec 31, 2013: 68.7 kg / 151.5 lbs

2014

Jan 31, 2014: 68.7 kg / 151.5 lbs
Feb 28, 2014: 67.8 kg / 149.5 lbs




SparkFriends

SparkTeams

My Ticker:
current weight: 150.0


Recent Blogs:

Profile


Member Since: 2/19/2013

My Goals:
Want to get back to (62 ) 60 kg and then hopefully as low as 58 kg (the weight I was in 2007-2009)

My Program:
Eat clean, walk for fitness, small weights.

Personal Information:
European-born (living in Romania), working for a US company, travel writer, blogger and photographer

Profile Image