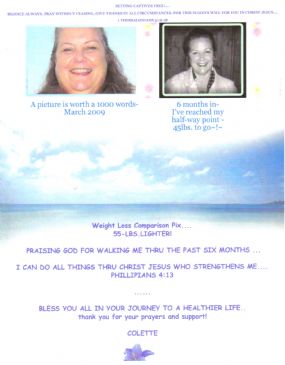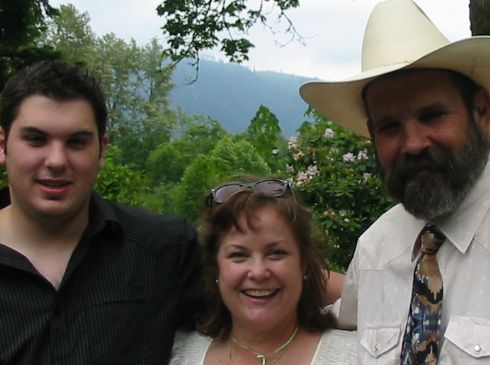 I have 49 pics in my gallery

Awards

Colette-8-B-4-2~NO ARTIFICIAL INGREDIENTS!
Greetings from the Great Northwest!

I'M BAAAAACK! I thought I could do it on my own, stopped seeing the doctor and went my merry way until I got on the scale the other day! YIKES! My clothes still fit, what's going on?? Not enough exercise I suppose, and too many summer BBQ's at BBR? Whatever, I refuse to go back to what I weighed when I first started with Sparks and so I'm back at the doc's office and back on my 800 calorie diet a day. It's not going to be easy, may take a few ...
Greetings from the Great Northwest!

I'M BAAAAACK! I thought I could do it on my own, stopped seeing the doctor and went my merry way until I got on the scale the other day! YIKES! My clothes still fit, what's going on?? Not enough exercise I suppose, and too many summer BBQ's at BBR? Whatever, I refuse to go back to what I weighed when I first started with Sparks and so I'm back at the doc's office and back on my 800 calorie diet a day. It's not going to be easy, may take a few weeks to get back to the 800 cals, but I know I can do it!

Since I was last here, I went to Costa Rica for three months, tended to our ever-producing orchards, have a new granddaughter on the way, spending more time in California with family, remodeled our home, and attempted to try out for Master Chef. That's right! I applied and was put thru to an interview but decided if I continued, I wouldn't be able to keep my weight under control. So, sadly I had to decline further interviews, but am stoked knowing that I can still cook, and being creative in the kitchen is still fun for me. My husband says, "You've still got it baby!" whoo-hoo...that's all the recognition I need, right there! And, the pleased faces of my family when I cook for them. By the way, my signature dish is Albondigas Soup. I'llpost a picture of it for you to see, and can tell you that the CIA, Culinary Institute of America said it was the best Albondigas Soup they've tasted. :) They have the recipe now; sorry I can't share it with you but if you look closely, you can see many of the ingredients in the photo.

My history, why I started Sparks is this....
"SparkPeople" was recommended by my weight-loss doctor as a tool for me to keep track of my daily calories, exercise and to connect with other like-minded people who are AS determined to lose weight as I am!....

I have enjoyed reading and am inspired by the stories of those who have reached their weight loss goals and improved their quality of life....

I began my diet on 4-01-09 with my top weight at 247lbs. I started with an 800 calorie per day diet, the scale kept moving downward as well as my blood glucose and liver enzyme levels.

I am a (type 2) diabetic, I have been diagnosed with a "fatty liver" and have R.A...

Since I started my restricted calorie diet in April of 09, my liver enzymes (were near 200 and higher) are now both below 100! Actually as of 11-09 my liver enzymes are normal :) It is now June of 2010 and they have remained below normal :)

The only thing that is high is my bad Cholesterol, and I'm still working on that, although they have changed considerably in one year.....I'm still in the "at risk" category. This is my newest goal, more than losing pounds, is to do all I can do to change these numbers!

I HAVE REACHED ONE OF MY GOALS....
The best news of all is that my fatty liver is GONE..It took 8 months of low-fat diet with exercise , even with the occasional ice-cream (slow-churned has less calories) but only on my splurge days...It's been over a year and they are still down. The spot on my liver has not changed in size :)

Guess What!!! The doctors were right! I only wish I had listened to them sooner!
When my doctor calculated my Fat Mass (106) and my lean body mass (126) I first became ashamed and then determined to lose this fat before I become too sick to do anything about it! I have no idea what my BMI is now, one year later, but I once I've reached my 100lb. goal, I will post them!

WHERE DID I START ?

I was instructed to not only count my calories but to eat 70 gr. of protein a day in order to keep my lean body mass ....
I use to drink Premier High Protein Shakes (Cost Co has the best price) which provides 30 gr. of protein.
I did this first thing in the morning. They taste good, but after losing 60lbs, I purchased their large bag of protein powder and make my daily smoothie....It's saving me money and gives me the variety of fruit I need for fiber and for my health....I drink them for breakfast after I've had my morning Diet Red Bull.....I don't drink coffee anymore, only when I need a "jolt."

As a diabetic, (UPDATE-my glucose level is normal and I will be allowed to go off the Rx when I've reached my goal..The doc.has lowered my daily dose:) I'm off Janumet and on Metformin now :)

IT'S NOT ALL ABOUT ME, or is it?

When you are on a severe weight-loss program, it's not all about your diet (although your diet IS where you begin!) Weight-loss, just as excess weight gain, usually happens to everyone in the household. The food you put in your shopping cart is the food your family will eat. The food you eat, determines your mood. The phrase, "If MAMA ain't happy, NO one is!" holds true to my household. I'm a happy person and to me attitude is everything!

Only organic food for me now, and NO GMO's....
No more soda-pop, although I have one occasionally...
I drink lots of water, eat less meat and more raw veggies.

In the summer I eat right out of our garden, like raspberries or blueberries (I freeze some too) lettuce, peas, herbs, etc.....
In the dead of winter, I go to the freezer and grab my berries (that I bagged in snack size baggies :) I make smoothies w/protein powder and enjoy the taste of summer and the fruit of our labor!
For anyone who does not have a garden, go to the produce stand and purchase berries to freeze....don't wash them first. It will ruin them; just wipe off any dirt, or better yet, if you see they are too dirty, find another grower to buy from. Don't buy non-organic food. Your liver hates chemicals !!!

Last summer, I helped my husband with the farm chores and played with the horses more than I did the summer of 07...
Waking up, putting on my grubby clothes, and head out to see the chickens and hungry horses makes me happy. Because my husband maintains our animals, some days I choose to wake up and write. I enjoy writing and photography...!!! I get to do a lot of this in the winter months! Because it's so cold here in the winter my arthritis gets to where I can hardly use my hands and feet so I stay inside, keep warm and keep busy! ;)

Because my husband and I are retired, my doctor recommends we go to a "warmer" climate in the winter months. This will also help my husband's asthma; and my arthritis, as well as give me the opportunity to exercise more....No matter where I am, I will be available to my friends on Sparkspage :)

I am a Christian, and the Lord has blessed me with three sons, two daughters (in-law) two grandchildren, a supportive and loving husband, and most importantly, Jesus. I give thanks to Jesus for my new-health and new-found strength and energy.

Faith is a ......F~=fantastic, A~=adventure, I~=in, T~=trusting, H~=HIM

"I Can Do All Things in Him That Strengthens Me".
Philippians 4:13

G' day and God Bless!

Contact me if you need to talk....:) I have free time to do this in the evenings! ~Colette~

The Numbers; 2009

4-01-09- 247.0=lbs.
5-04-09-227.5=lbs.
5-05-09-225.0=lbs.
5-09-09-223.0=lbs.
5-22-09 -220.2=lbs.
6-11-09 -215.00=lbs.
7-15-09-207.00=lbs.

The Numbers; 2010

1-1-09- 190=lbs.
6-26-10-190=lbs.

P.S. A restricted calorie diet (under 1200 calories per day) is only for those who are being monitored by an MD. If you would like more info. about the clinic I joined, please ask :)

SparkFriends

SparkTeams



My Ticker:
current weight: 194.0


Recent Blogs:

Profile


Member Since: 5/3/2009

SparkPoints: 0

Fitness Minutes: 396

My Goals:
My goal was to lose 100lbs in 12 months or less.....
It's been 14 months and I have lost 60....
The first 50 to come off easier than the 50 pounds I struggle to lose now.
I do not want to go back on the 800 calorie diet, it was very hard on me. I eat 1200 cals. per day, sometimes less...

I am rediscovering myself, the reasons I over-ate, alternate ways to comfort myself without food.

With all that said, I can tell you that weight-loss is a journey. Unloading the pounds I picked up along life's highway is a long-haul, and maintaining the 60 plus pounds I've lost is the assurance that I have a new lease on life, and to keep going..a day at a time, with a few rest-stops in between!

as of 10-10-10 I have 40lbs. to go!




My Program:
I am being monitored by an MD who specializes in weight-loss.....
I am on an 1200 calorie a day diet.

I've written about my program and my faith in my blog...
my faith is an important part of my program. without God I could never have made it this far..and he has blessed my efforts with more accountability. With responsibility comes accountability, and as a Christian I am accountable to God first. Strengthening my relationship with Him has allowed me to become more fruitful in both my spiritual and personal life. You can read more about my faith here.

http://colettes.wordpress.com

I love writing...
I write because it matters......
Reflection is so important in reaching our goals. Giving thanks to those who help you and understanding the method that helped you reach your goals are VERY important. If you don't write it down, you won't remember!

Just as counting calories, counting the minutes you exercise, counting the numbers on th

Personal Information:
Wife, Mother, Mother-In-Love, Grandmother,
Aunt, Daughter, Daughter-In-Love, Sister, Sister-In -Love, Friend, Servent of God :) Travel Agent, Writer, Spanish-Student, Steward of God's provisions, and Encourager!

Other Information:
Favorite Books,
Bible NKJV, Corrie ten Boom, and Francine Rivers.

Favorite Hobby is traveling...
Now that I'm 18 months into my weight loss program I have learned more about myself than what made me fat in the first place. My emotional eating, and the the things in life that kept me from doing anything are not controlling me anymore.

I love cooking my own meals and snacks and feel this is the first step in shedding pounds, and the way to maintain it for life.

My husband is a retired Sea Captain who now keeps himself busy with gardening, bee-keeping, tending to our orchard, carpentry, and anything with wheels!

I live on a farm, and we have downsized to owning only two Haflinger horses, a Chihuahua, a wild cat, a hen-house full of chickens. Caring for animals has taught me a lot about myself and being able to grow our own food has taught me even more about God.

I take the time every day to thank Him for his provisions, His Love,

Profile Image