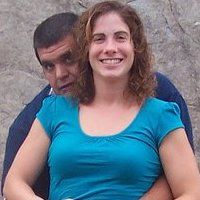 I have 13 pics in my gallery

Awards

Celestialmom Gettin' it Done!
I'm a 35 yo homeschooling, work at home mom of four wonderful children who just recently learned to love exercise and training. I have made halfhearted attempts through the last ten years or so at working out (usually just for a month or so after I had each baby!), but always HATED the gym, cardio, anything to do with sweat or exertion.

In the summer of 2006, I woke up one day and realized that I was edging very quickly towards FAT--I was 5'5" and 158lbs, with not much muscle mass ...
I'm a 35 yo homeschooling, work at home mom of four wonderful children who just recently learned to love exercise and training. I have made halfhearted attempts through the last ten years or so at working out (usually just for a month or so after I had each baby!), but always HATED the gym, cardio, anything to do with sweat or exertion.

In the summer of 2006, I woke up one day and realized that I was edging very quickly towards FAT--I was 5'5" and 158lbs, with not much muscle mass to balance that out. So I joined the gym and a kickboxing class and started having so much fun that I really got inspired to eat healthy and keep up the hard work. The instructor of the class was also a friend who was working towards her certification to become a personal trainer. When she saw how much I loved her class, she asked me if I would be her "guinea pig" in training. She worked with me twice a week for 6 weeks (of course I visited the gym in between sessions as well) and I was hooked! I loved lifting weights, and I could stand the cardio sessions in between the lifting days. :-)

To make a long story not quite so long, I lost over 20 lbs from the routines that my trainer made up for me as well as from drastically cutting calories (1000-1500 daily), but of course gained it back again when I went back to eating "normally". My normal wasn't all that healthy but was only about 2000 calories. So in January of 2008, I started the process over. I worked out hard, lifted harder, ate hardly anything, and got down to about 140 lbs.

In about March, the same trainer friend was telling me about this new book (The New Rules of Lifting for Women), so I borrowed it, read it in a day, ordered my own copy, read it again, read it again, highlighting sections, and started Stage One on 4-22-08. I LOVED the entire program, and finished it in November. I feel like I have a much better handle on nutrition by taking in the info outlined in the book regarding healthy fats, eating enough protein, good carbs, etc. It was a leap of faith for me to up my calories by so much (they had very low, around 1000, even when I was 150 lbs), but I managed to lose another 17 lbs while doing New Rules (and gaining muscle!), putting me at an all time low of 123 lbs. I am much fitter and healthier than I have ever been in my life, including high school. (I'm at my high school weight but at that time had no muscle, endurance, or fitness to speak of.)
SparkFriends

SparkTeams



My Ticker:
current weight: 137.0

Interact with CELESTIALMOM1







Recent Blogs:

Profile


Member Since: 11/4/2008

SparkPoints: 0

Fitness Minutes: 5,889

My Goals:
1. 90% compliance to nutrition plan. (Learn how to eat at maintenance level for at least 16 wks. (1400/1600 initially, will readjust if needed) Min 30% protein (or 125g protein), max 40% carbs, eating mostly whole, clean foods.
2. Complete Maximum Strength Program (16 wks, starting Jan 5)
Increase Max. Lifts by 10-15%:
Broad Jump
82.5" (now)
90.75 (10%5)
94.875 (15)

Box Squat
145# (now)
159.5 (10%)
166.75 (15%)

Bench Press
105# (now)
115.5 (10%)
120.75 (15%)

Deadlift
190# (now)
209 (10%)
218.5 (15%)

Chinup
137# (now)
150.7 (10%)
158 (15%)

3. Education: Would like to read at least one more book or resource on nutrition, and either re-read one of the lifting books I've just gotten choose a new program, or find a new book and program to do after Maximum Strength is done.

My Program:
Maximum Strength by Eric Cressey. It is a 16 week weightlifting program designed to increase strength and power as well as all-around fitness.

Profile Image