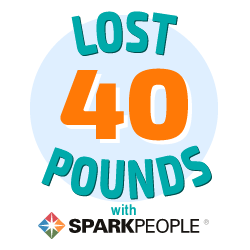 I have 17 pics in my gallery

Awards

I'm gonna do this!!!
My name is Cassie, I'm a stay at home mom of a 3 year old little boy. I want to lose weight for many reasons. One reason is for my health and of course like may people I want better self-esteem. I don't mind doing the work I need to do to get healthier but, I just can't seem to keep motivated (go figure). I do what I can and if I don't see something happening I tend to get off track and once I get back on track it's almost like starting all over.(July 11, '08)

Update: So, I've lost ...
My name is Cassie, I'm a stay at home mom of a 3 year old little boy. I want to lose weight for many reasons. One reason is for my health and of course like may people I want better self-esteem. I don't mind doing the work I need to do to get healthier but, I just can't seem to keep motivated (go figure). I do what I can and if I don't see something happening I tend to get off track and once I get back on track it's almost like starting all over.(July 11, '08)

Update: So, I've lost more then half of my "original" goal weight. I went back and changed my goal weight because I decided to make my goal weight a weight at which I would have a healthy BMI. The original goal was 150 and (once I reached this I would edit it as I chose to continue or begin my maintenance stage for myself. My NEW goal is 135. This would put me right in the middle of the ranging numbers of a healthy BMI for my height and build. The only stipulation I currently have on my goal is that I will stop trying to loss if getting to 135 starts to make me too thin. I mean, come on I don't want to be skin and bones I'm looking for lean and toned. (Feb. 19, '09)
SparkFriends



SparkTeams

My Ticker:
Pounds lost: 61.0

Interact with CASSDRAGON23






Recent Blogs:

Profile


Member Since: 7/11/2008

My Goals:
I want to lose 50 to 60 lbs by next summer.

My Program:
Right now I'm just trying to exercise more and learn better portion control.

Personal Information:
I live in Pelion, South Carolina. I am currently getting a divorce from my son's father and hope to marry his Daddy someday and have a second baby.

Other Information:
I like to read. My Favorite author is Dean Koontz and I like Dan Brown. I'm open to most books though as long as they keep me interested.

Profile Image