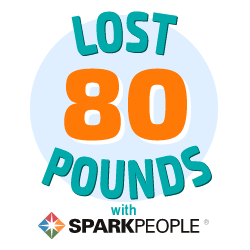 I have 19 pics in my gallery

Awards

I will set mini goals which will lead up to the big picture!
THIS IS ME IN A NUTSHELL....

Hello SparkFamily...My name is Caryn, my husband name is Ricky our wedding date was May 25. So there you go....carynricky525.

My journey, like yours, has been a long struggle. When I first came on Sparkpeople my starting weight was 233lbs. I lost weight and gained it back after I had a back injury "due to a personal trainer". I could not exercise for almost a year! During that year my weight ballooned up to 257lbs!

Once I ...
THIS IS ME IN A NUTSHELL....

Hello SparkFamily...My name is Caryn, my husband name is Ricky our wedding date was May 25. So there you go....carynricky525.

My journey, like yours, has been a long struggle. When I first came on Sparkpeople my starting weight was 233lbs. I lost weight and gained it back after I had a back injury "due to a personal trainer". I could not exercise for almost a year! During that year my weight ballooned up to 257lbs!

Once I was able (almost 2 years now) I became this beast when I was in the gym. I worked out 6 days a week and had more energy than ever. I don't need a personal trainer because I have all the knowledge that he instilled in me.

I must say he did show me things in the gym that I "can" do compared to me thinking that I can't do. He had a conversation with me one day and asked me what speed do I go on the treadmill. With my head held low I said 2.5 and I hold on for dear life. He told me to pick my head up and put the speed to 4.0 and DON 'T HOLD ON! I looked at him as if I couldn't do it. He showed me that I can. Once he was done with me I can now run sprints at 9.5 and I DON ' T hold on!!!! I now use machines I never imagine using. My mistake was telling him I want to try the stairclimber but was scared. He showed me that their is no reason to be scared and made that part of our routine. The stairclimber is NOW my favorite machine in the gym.

On my own I went from 257lbs to 170lbs. I use to wear size 20/22 pants and size 2x blouses. I NOW wear size 12 PANTS & medium BLOUSE! YAY to the new and improved me! I only work out 3 days a week and once on the weekend. I do attend a ton of fitness events in any giving month where I now keep a calendar so I don't miss the events.

Before my journey I never wanted to look in a mirror. Now I love the person I see in the mirror. I often talk to her and remind her of where she was and where I would not let her go again. I absolutely love going clothes shopping became my clothes are always getting too big for me.

I did my 1st 10k in March 2013!! I was pretty much crying during the race wondering what did I get myself into. My youngest brother and niece was motivating me through the entire race. I had this elderly man (one of the finished runners) double back to run across the finish line with me. (How sweet) I cried after crossing the finish line! I didn't know I had it in me, but my brother and niece proved to me that I did. I just needed that foot up my behind to push me. A year later (April 13, 2014) I am doing the Run or Dye 5K. My ultimate goal is to do a marathon. Which I see I should start slow but LORD'sWILLING it will get done!

My body is my castle and if I don't cherish it...WHO WILL!

Thanks for listening!
Caryn

SparkFriends

SparkTeams

My Ticker:
Pounds lost: 73.0

Interact with CARYNRICKY525






Recent Blogs:

Profile


Member Since: 7/31/2006

SparkPoints: 31,840

Fitness Minutes: 33,230

My Goals:
I would like to reach a weight where I can feel comfortable with myself. I want to get in those skinny girl pants again.

I am going to keep my head in the game and reach my goal....Mini goals leads to the ULTIMATE PRIZE!!

I will take this journey one day at a time!





My Program:
I eat 3 balanced meals a day and would normally eat 2 healthy snacks a day.

My favorite classes are

Boot Camp
Insanity
Cardio Kickboxing
Zumba

I faithfully workout 5-6 days a week and absolutely love it!

Monday: Bootcamp & "if possible" Cardio Kickboxing

Tuesday: Insanity & Zumba

Wednesday: Power Strength

Thursday: Zumba & Cardio Kickboxing

Friday: I rest my bones!!

Saturday: Cardio Kickboxing & Awesome Abs

Sunday: I rest my aching body! "Sometimes Zumba"




Personal Information:
I lived in NJ the entire 47 years of my life.

Married for 18 years to a wonderful and supportive man with whom I've been in a relationship with for 24 years and going strong.

We have 3 wonderful children:

29 year old daughter
25 year old son
17 year old son

I have my healthy children, darling husband and now getting my health back in order...what more can a woman want?



Other Information:
One thing I love to do is go clothes shopping just to see if I could fit the next size down. During this journey I have seen a huge change in my body, self-esteem and my drive to keep going in the right direction. Food was never my enemy; the treadmill & the gym was. NOT TODAY!! NOT ANYMORE I was determined to win this battle called obesity and this girl here is WINNING with her head held high!

My favorite actors are:
Ben Stiller & Owen Wilson.

My favorite movies are:
Meet the Parents & Meet the Fockers

My favorite color is: Anything bright! Where I use to hide in all black clothing...but not anymore.

My favorite number is 3 "because I have 3 marvelous children"....OKAY..let's take out the word MARVELOUS...I have 3 children

But don't we all think our children are marvelous at some point....not all the time though!



Profile Image