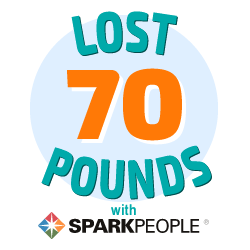 I have 2 pics in my gallery

Awards

Working hard to make it happen!
I am trying to right some genetic wrongs and stop the problems before they start. Right now my health is good, but I don't want to take any chances!

I have tried just about every diet out there - no-fat vegan, vegetarian, Atkins, Fat Smash, low fat... you name it, I have done it. All of them seem to work, but are nothing that I would want to do for the rest of my life.

I am currently interested in the Mediterranean diet, and my doctor agrees that it is the best for ...
I am trying to right some genetic wrongs and stop the problems before they start. Right now my health is good, but I don't want to take any chances!

I have tried just about every diet out there - no-fat vegan, vegetarian, Atkins, Fat Smash, low fat... you name it, I have done it. All of them seem to work, but are nothing that I would want to do for the rest of my life.

I am currently interested in the Mediterranean diet, and my doctor agrees that it is the best for me.

I am pretty healthy for a fat person - my electrolytes, blood sugar, thyroid, iron and blood pressure are all normal. My cholesterol is "amazing" according to my doctor. My LDL and triglycerides are very low and my HDL is 92 - the doctor said anything above 40 is good. The letter he sent me for my records said "Overall, your risk of heart disease is less than average." To an overweight person with a long, long, long family history of heart disease on both sides, that was great news to hear!

A cyber friend who was very successful losing weight with SparkPeople sent me here. Turns out, I had created an account way back in 2006 and promptly forgot about it! I am not going to let that happen again and will hopefully be ready to get going soon!


"It is never the first mistake that hurts you" - Dr. Mehmet Oz
SparkFriends

SparkTeams



My Ticker:
current weight: 187.0


Recent Blogs:

Profile


Member Since: 5/2/2006

SparkPoints: 3,692

Fitness Minutes: 612

My Goals:
* Reach my goal weight of 140
* Complete Couch-to-5K
* Continue to make healthy choices and lose weight while spending Summer 2010 in Europe


Maintain for 6 months - weekend away with DH
Maintain for 1 year - Hawaii, baby!

My Program:
* Gluten free Weight Watchers Simply Filling technique (Basically, the Mediterranean diet without the wine and using less oil. Fresh, whole, real foods.)
* I am slowly working my way through C25K, taking as many weeks to finish each step as needed
*Walk daily


Personal Information:
Born and raised in Ohio, lived in Michigan for almost 9 years, now in Mississippi.

Moving to Mississippi has been interesting... I can't find many fresh fruits and vegetables, and when I do they aren't usually in the best shape. Doing what we can with what we have.

Other Information:
I am a stay at home, homeschooling mom to three awesome teenage boys. They keep me busy and on track. Oldest son (18) is a foodie, middle son (16) is the pickiest kid ever (!!) and youngest son (15) will eat just about anything. Two of us have celiac disease, so our house is 100% gluten free.

My husband is a classically trained Chef, now working for a corporate chain. Food is our life. We live and breathe food - It literally pays our bills.

Profile Image