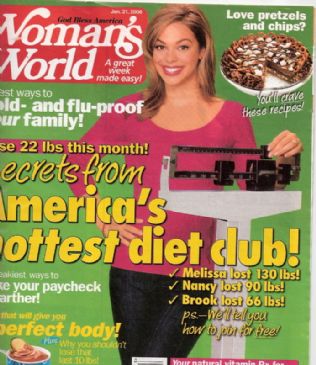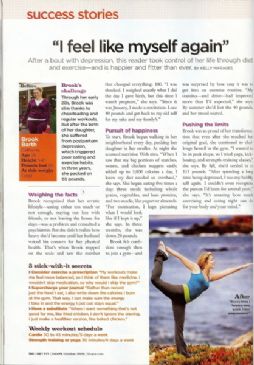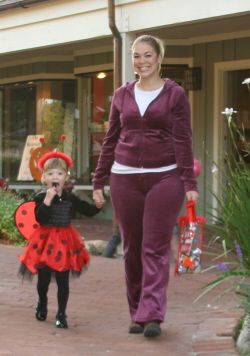 I have 27 pics in my gallery

Awards


Say hello to the new me!
Just created a new spark group, come check it out :)
http://www.sparkpeople.com/myspark/group
s_individual.asp?gid=62462


Hey everyone! Just had baby #2. Working on loosing the baby weight 1lb at a time :) And I am happy to report I did not have any PPD this time around thanks to a wonderful support team :)


Thanks to this site i have lost 68lbs and have my life back, thank you Sparkpeople.com it has also opened so many doors i didnt know were ...
Just created a new spark group, come check it out :)
http://www.sparkpeople.com/myspark/group
s_individual.asp?gid=62462


Hey everyone! Just had baby #2. Working on loosing the baby weight 1lb at a time :) And I am happy to report I did not have any PPD this time around thanks to a wonderful support team :)


Thanks to this site i have lost 68lbs and have my life back, thank you Sparkpeople.com it has also opened so many doors i didnt know were possible :)


I discovered this website in Jan 2007 and found myself hooked! I love all the great articles on it and the fact that I have to hold myself accountable for ALL of my calories in and out!

My whole life i was always a very active girl, always skinny, had lots of energy, very bubbly, i was even an all american cheerleader in high school, but after the birth of my daughter I got the dreaded post-partum depression. It changed who i was. I was no longer the happy, skinny, bubbly Brook. I became the depressed, crying, angry, eratic behavior, i wanna eat everything Brook. It was bad! My whole family suffered because of the horrible choices and some of the people i surrounded myself with at that time. I found myself wanting to go out as much as possible and just get out of the house. anything i could do to get my mind out of the state of miserey and go into my "fantasy" world i would do.

Finally two and a half years into my disorder i went to the doctor. why did i wait so long? Because i was in denial! So i went to the Doctor and was prescribed Lexapro, the anti-depressant. I dropped a good 20lbs immediatley, i never wanted to eat. i was never hungry when i was on the drug. i felt like i was in a constent walking zombie state. After about 4-5 months on it i decided i was done being a zombie and wanted to "wake up" so i went off of it cold turkey. not realizing by doing so there were HUGE side affects. I saw there were side effect warnings for actually being on the drug, but none for going off of it. I was shacky, nauseated, sick and almost in a state of manic. which is HIGHLY unlike my character. I begain drinking alcohol like it was water, NEVER in the presance of my daughter though! I even attempted sucide. After the withdralwls wore off i began to eat and eat and eat. it was my new comfort, my new love!

I ate so much in a period of 3 months i balloond back up to 180, the weight i weighed on the day i gave birth to my daughter.

So on Jan 3, 2007 finally stepped on the scale, and thats when i saw it. I was 180! talk about your holly sh**, omg, moment. It was a real, right there in front of my eyes. I dug down deep into my sole and was determind to get back to my old self. so i wrote down ALL of my goals for 2007. I posted them on the frigde so i can look at them EVERYDAY i go in there. i found this website through a Google search, followed the YOU on a diet and apply the Secret from Oprah to my life.

I have now lost a total of 60lbs. I have never felt more strong both mentally and physically. I have also beat post partum depression. Its amazing to me what the power of the mind and changing the way you live will do for your life.

There are many forms of PPD and i NEVER had any ill feelings towards my daughter. i was always over loving and protecting of her. i only had ill feelings towards myself. everyone who suffers from it has different affects. I HATE that doctors so easily just handout drugs to "cure" you, when in reality there not! more people should try and use diet and excercise instead.

I just wanted to thank everyone that has helped me along the way,my family, my friends,and all of YOU. The people on here leaving me there words of praise and encouragment, thank you! we can all do this. just stay strong, stay focused and stay on here!

Im now in the process of becoming a personal trainer and hope to attend nutrtion school soon afterward. Fitness is my life and one of my many loves in life. i cant wait to help people and get them passionate about fitness and healthy eating as i am :)
Now get out there and workout! :)


Current Status:


SparkFriends

SparkTeams



My Ticker:
Pounds lost: 44.0

Interact with BROOKIEBOMB






Recent Blogs:

Profile


Member Since: 1/6/2007

SparkPoints: 11,467

Fitness Minutes: 11,400

My Program:
I like to keep active with my toddler and 10 year old. I run 3-5 times a week. Do strength training at home and go to the gym when the weather is bad out.

Personal Information:
Thank you everyone for all your wonderful comments :) Feel free to message me here with any questions you may have about how I lost all the weight and continue to do so.
~Brookie :)

Hit me up on Facebook: Brook Rockwell




Other Information:
34 year old stay at home mom to 2 beautiful girls. Lover of fitness, life and food :)

Profile Image