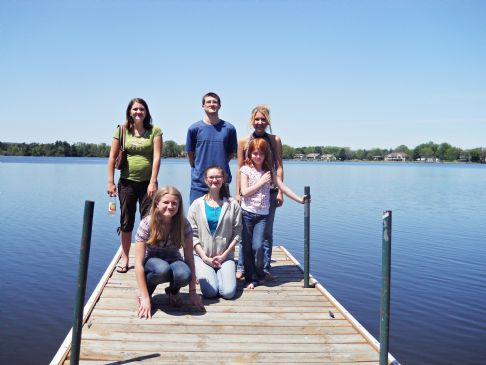 I have 26 pics in my gallery

Awards

Third Times The Charm, right?
Hi. I'm Lori. I'm from Wisconsin. I have six children, and one grandchild. :)

I didn't always have weight issues. As a teenager, I was thin and in shape. I was very active. It wasn't until I had my twins in 1995, that I started to struggle with addictions to high sugars, and Pepsi. But I lost the weight, and I became thin. But when I had my last child almost 10 years ago, my weight issues started again. :(

I have to take MY life back into my own hands, ...
Hi. I'm Lori. I'm from Wisconsin. I have six children, and one grandchild. :)

I didn't always have weight issues. As a teenager, I was thin and in shape. I was very active. It wasn't until I had my twins in 1995, that I started to struggle with addictions to high sugars, and Pepsi. But I lost the weight, and I became thin. But when I had my last child almost 10 years ago, my weight issues started again. :(

I have to take MY life back into my own hands, and get myself healthy again. I tried doing it for me, and have failed multiple times. This time it's for my children and grandson.

The last couple of times that I tried this new healthy lifestyle, I lasted 3 weeks.

10/27/13: Gained 2 lbs back. :( But today marks EIGHT MONTHS since I've had a soda!

6/19/13: Lost 3 more pounds. Another week and it'll be 3 months since I've had a soda.

5/30/13: Lost another pound. It's been 3 months since I've had a soda on the 27th. Woo hoo!!

5/15/13: Lost 2 more lbs. Very happy with myself. Makes for a total of 12 lbs.

5/5/13: Tried drinking carbonated water, and I almost threw up. Makes me realize that I'll never be able to drink soda again. What a great feeling to be rid of something that was controlling me. I'm proud of me! :)

4/19/13: Another pound gone. I'm at a 10# loss. My reward is to color my hair. Hmm... What color should I go with?

4/11/13: Lost another pound. Making it 9 #'s lost now. :) It's been almost seven weeks since I stopped drinking soda. Yay!

4/8/13: My depression is getting the best of me. No weight lost since 4/1. I'm thinking it has a lot to do with my depression/anxiety, and my little "friend". Will keep plugging along recording everything I eat.

4/4/13: Dug the measuring tape out finally. Lost an inch in my hips and waist. And then half an inch on my thighs.

4/1/13 : Lost another lb! :) This feels so good!

3/27/13: It's been one month since I've had a soda. Woo hoo!
I've also lost another 2 lbs. Making it 7 lbs lost now with Sparkpeople.

3/21/13: I've lost 5 lbs with Sparkpeople.

2/27/13: My first day with NO soda



SparkFriends

SparkTeams



My Ticker:
Pounds lost: 0.0

Interact with BLAYNESGAMMY





Recent Blogs:

Profile


Member Since: 9/17/2010

SparkPoints: 7,561

Fitness Minutes: 5,075

My Goals:
Lose 83 pounds
1 pound a week

Get tone by using strength exercises

REWARDS FOR MY WEIGHT LOSS:

(Goal Met) 10 lbs- Dye my hair /Buy MP3 Player to use with workouts
15 lbs- Buy the new NKOTB CD, I've Wanted
20 lbs- Buy two new pair of jeans
25 lbs- Buy new camera
30 lbs- Treat myself to a movie
35 lbs-New Make Up
40 lbs- Buy some new shirts and possibly jeans
45 lbs- Give the girls money to clean the apartment (haha)
50 lbs- Go out to my favorite restaurant
55 lbs- Get a haircut
60 lbs- Buy new clothes and get my photos professionally taken

My Program:
1. Go for a brisk 30 minute walk a day, followed by a cool down.

2. NO MORE SODA, only water or flavored water.

3. Keep track of all the foods I eat

4. Be in bed, by 11pm. No more late nights

5. Blog every day.

6. Create a cook book with recipes from SparkPeople.

7. Strength training 2 x week/ then increase to 3 x a week.


Personal Information:
I'm from Wisconsin. Lived here my whole life. I've suffered A LOT of loss, including my parents, my first love, a child through a miscarriage, and my son, who was supposed to be adopted but wasn't. Thankfully we've been reunited after 9 years of separation.

I LOVE horses!

I have six children. Most have special needs. Ex. ODD, ADHD, cognitive delays, Sturge-Weber Syndrome, and seizures. And one grandson. :)

I am an amateur photographer going pro.

My website
http://jahspromise.wix.com/simplymepho
tography

Other Information:
I had a Sparkpage before under Norwegianditz, but someone got into my account and deleted it.

SO... I'm starting new again.

Profile Image