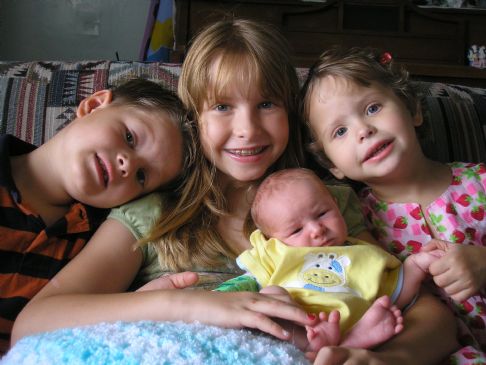 I have 19 pics in my gallery

Awards

It is my time to take care of me again. I want to lose 50 pounds before my Daughter's Make-a-wish!
Hello all of my friends!!!

I know it has been a very long time, which I have been on SparkPeople. After my Princess Amelia received her transplant I started taking care of her and my family's needs. I as Mom, took a back burner, I did not take care of me. I got into the role of doing everything for my family and nothing for me again.

I have been thinking about SparkPeople for weeks now, trying to rearrange my life again so I can have some priority. Well I have ...
Hello all of my friends!!!

I know it has been a very long time, which I have been on SparkPeople. After my Princess Amelia received her transplant I started taking care of her and my family's needs. I as Mom, took a back burner, I did not take care of me. I got into the role of doing everything for my family and nothing for me again.

I have been thinking about SparkPeople for weeks now, trying to rearrange my life again so I can have some priority. Well I have done it!! To the best of my availability! Amelia is doing well with her Kidney transplant, and the family is now adjusted to our new routines. I know that I can start taking care of me again, and I need to!! I am important too!!!

With all of the stress that I have had this last year with Amelia, the recent birth of my last child, and 2 children being in the hospital and loosing my house and moving. I had to wait to take care of me.

I have taken a few weeks to figure out my new life with 4 children and going back to work full-time, but I have done it. I have figured out how to take care of me. I am important to.

I am ready for this new challenge in my life. I am ready to take care of me and make me important too! My goal is to lose at 50 pounds before my daughters make-a-wish trip in June 2012!
(She has wished to be a Disney Princess. So they are sending her and the family to DisneyWorld!)

I have set up my goals to lose 10% of my weight at a time so I can reward myself on the way!


I know I can do this. I need to do this. I miss feeling all of the energy I use to have. I am ready to start this new journey. If anyone has any advice or suggestions to help me, please do.

I look forward to joining you all again, in our health goals!
Special Thank you for all of those who never forgot about me! Who stayed with me and supported me during all of the trials I went through this year! You have been wonderful! It is because of you that I am ready to come back! Thank you for everything and all of the kind notes that you have left me on here and on CarePages.

BKMnursing



To read more about my Princess Amelia and her path to a Kidney transplant. Check out her webpage on:
www.carepages.com
page name: AmeliaRoseMatthews

or check out my webpage that helped to support us with the kidney transplant.

WWW.BrendasQuiltShop.com


SparkFriends

SparkTeams

My Ticker:
Pounds lost: 9.5


Recent Blogs:

Profile


Member Since: 1/20/2009

SparkPoints: 13,797

Fitness Minutes: 15,956

My Goals:
To lose weight 10% at a time.
I want to follow this goal plan so I can lose 50 pounds before my daughter's make-a-wish trip! in June 2012!

Here is a break down of my weight and next goal. I will be going for 10% weight loss from each level. (Not a total percentage loss from the beginning weight.)

starting weight &
first 10% goal
275 Lbs; 10% = 27 Lbs

2nd 10% goal
247.5 Lbs; 10% =25 Lbs

3rd 10% goal
222.5 Lbs; 10% =22 Lbs

4th 10% goal
200.5 Lbs; 10% =20Lbs

5th 10% goal
180.5 Lbs; 10% = 18Lbs

6th 10% goal
162.5 Lbs; 10%= 16Lbs

This would take me down to just around my goal weight so I will stop after I have lost 60% for an end weight of
146.5 pounds!!!

I can do this!! I have my family and wonderful spouse support!!!






Profile Image