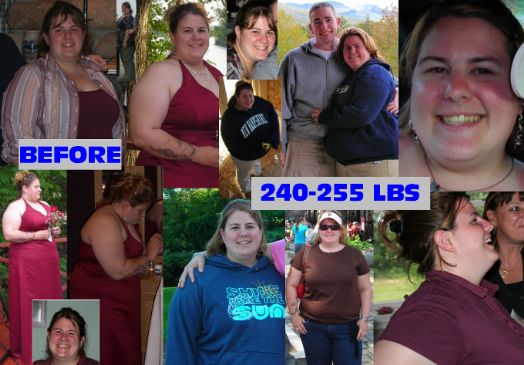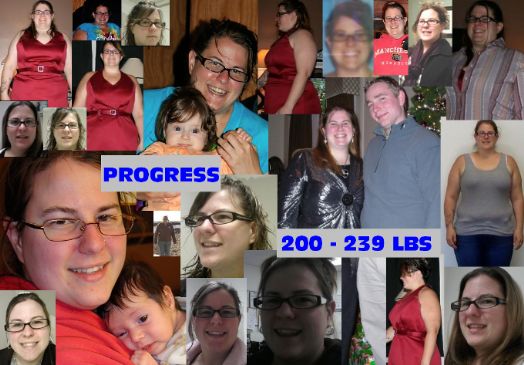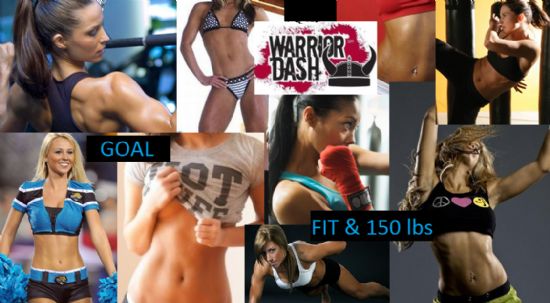 I have 39 pics in my gallery

Awards


Finding true strength within...
...and learning to wear it on the outside. I'm a fighter and not quitting this time.

I am 27 years old, stand 5' 2 1/2" short, and started losing weight when I was over 250lbs. I don't know my actual highest weight. I had/have a fear of the scale.

I am Starting over; FRESH & CLEAN.
A new slate. New goals, new all.

In 2011, I finally figured out in life what I wanted and what I wanted out of it. In 2012, I started on the path to building a ...
...and learning to wear it on the outside. I'm a fighter and not quitting this time.

I am 27 years old, stand 5' 2 1/2" short, and started losing weight when I was over 250lbs. I don't know my actual highest weight. I had/have a fear of the scale.

I am Starting over; FRESH & CLEAN.
A new slate. New goals, new all.

In 2011, I finally figured out in life what I wanted and what I wanted out of it. In 2012, I started on the path to building a brighter future. I obtained my CDL-A and landed a perfect local trucking job for myself... and then my life fell apart.

I am currently going through a divorce and plan on wearing a little black dress to my final court date for when the divorce is finalized. Call it whatever you want, but I want my ex to see everything he is missing out on.

Nothing, and I mean NOTHING is standing in my way of achieving my goals this time. This time, I am on my own and won't stop until I reach all of my goals.


My YoYo Weight:
07/07/2007: 243.7 lbs ...Up
10/07/2007: 203.4 lbs ...Down
06/01/2008: 220.8 lbs ...Up
09/21/2009: 206.6 lbs ... Down
01/01/2010: 221.6 lbs ...Up
09/01/2010: 196.6 lbs ...Down
10/01/2010: 204.6 lbs ...Stupid YoYo!!!
11/01/2010: 193.4 lbs ..DOWN!
01/01/2011: 183.6 lbs ..DOWN!!
04/18/2011: 183.0 lbs...DOWN!!!
06/01/2011: 199.2 lbs... I HATE you YoYo!
02/10/2012: 225.0 lbs... No more YoYo, I am cutting your string

GOAL WEIGHT: 150 lbs
GOAL BF%: 20%-22%

I am SICK & TIRED of falling off the wagon.. and slowly getting back on to only fall off again. There is no better motivator than yourself, but sometimes it is nice to have a network of friends who are right there beside you to cheer you on.

**************************************
*******2012 PROGRESS! *******
**************************************
I am starting 2012 NOW... I'm not waiting until January 1st to kick my butt in gear (I don't want to be known as a "resolutioner")

Date.............Weight............Month Loss...........Year Loss
01/01/2012: 215.0 lbs
02/01/2012: 225.0 lbs..... + 10.0 lbs.................+10.0 lbs
03/01/2012: 221.0 lbs..... - 4.0 lbs.................... + 6.0lbs
04/01/2012: riiight... about this....
05/01/2012: umm..... oops?
06/01/2012: *%(#$#()!!!! Forgot again....
GRADUATION DAY: 215.0..back to where I started this year
07/01/2012:
08/01/2012:
09/01/2012:
10/01/2012:
11/01/2012:
12/01/2012:
12/31/2012:

**************************************
*******2011 PROGRESS! *******
**************************************
DATE...............Weight............Mo. Loss............Yearly Loss
01/01/2011 ~ 183.6 lbs......... n/a....................... n/a
02/01/2011 ~ 187.0 lbs......... +3.4 lbs .............. +3.4 lbs
03/01/2011 ~ 187.0 lbs.........+0.00lbs..............+3.4lbs
04/01/2011 ~ 187.0 lbs ..........+/- 0.00lbs.........+3.4lbs
05/01/2011 ~ hahaha.... I have no idea.....oops?!!?
06/01/2011 ~ 199.2 lbs..........don't know.........+ 15.6 lbs
...this is as far as I got in 2011... hence, starting over, again


**************************************
******2010 WEIGH INS ! ********
**************************************
DATE...............Weight............Mo. Loss............Yearly Loss
01/01/2010 ~ 221.6 lbs...........n/a......................n/a
02/01/2010 ~ 224.2 lbs........ +2.6 lbs.................+2.6 lbs
03/01/2010 ~ 219.2 lbs.......... -5.0 lbs................. -2.4 lbs
04/01/2010 ~ 218.0 lbs .......... -1.0 lbs................ -3.6 lbs
05/01/2010 ~ 209.8 lbs.......... -8.2 lbs ...............-11.8 lbs
06/01/2010 ~ 205.6 lbs............ -4.2 lbs ............ -16.0 lbs
07/01/2010 ~ 200.2 lbs.............-5.4 lbs............-21.4 lbs
08/01/2010 ~196.8 lbs...............-3.4 lbs ...........-24.8 lbs
09/01/2010 ~196.6 lbs...............-0.2lbs...........-25.0 lbs
10/01/2010 ~204.6 lbs..............+8.0lbs.........-17.0 lbs
11/01/2010 ~193.4 lbs..............-11.2lbs.......-28.2 lbs
12/01/2010 ~ 188.4 lbs............-5.0 lbs ........-33.2 lbs
12/31/2010 ~ 183.6 lbs............-4.8 lbs..........-38.0 lbs

38.0 lbs lost in 2010!!!! A SUCCESSFUL year!! SUWHEEEEET!

***************************************
****WHEN WEIGHTS REACHED****
***************************************
...I gained weight back, so I am starting over FRESH & CLEAN...
243.7 lbs ~ Starting Weight
220.0 lbs ~ 03/08/2012
210.0 lbs ~
200.0 lbs ~
190.0 lbs ~
185.0 lbs ~
180.0 lbs~
170.0 lbs ~
160.0 lbs~
150.0 lbs~
SparkFriends

SparkTeams

My Ticker:
current weight: 219.0


Recent Blogs:

Profile


Member Since: 6/1/2009

SparkPoints: 12,548

Fitness Minutes: 7,618

My Goals:
************************

Highest: 255.0 lbs ??
Starting: 243.7 lbs
Lowest: 183.0 lbs

************************

GOAL:

150.0 lbs

************************

Fitness Goals:
~Run a 5K
~Lose the keg, get a 6'er
~Benchpress 130lbs
~Run outside

Upcoming Goals:
~Love Thyself
~Fit in a size 14
~Fit in a size MEDIUM
~Have babies!!

Big Goals:
~Love thyself
~Fit in a size 6/8
~Fit in a size SMALL
~Have babies!!

My Program:
MMMmmm Challenge:

Nutrition:
1300 cals/day
195 carbs/day
10 glasses H2O
BLACK coffee

Exercise:
Cardio: 30min/day
S/T: 3x/week

Personal Information:
I am a 26 year old (MARRIED!!!) short (5' 2"ish) overwieght female. I may be big in weight, but I am big in confidence too.

I moved back to Manchester NH, USA from the western part of NH. I love being back in the city!

Email me using the spark email address!

Other Information:
Live to Love
&
Love to Live





Profile Image