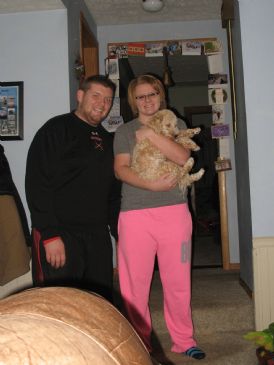 I have 47 pics in my gallery

Awards

Big Hot Momma
I am a 48 year old mother of 2 wonderful young adults. I have been married for 27 years to my amazing husband. I am tired of being overweight and want to be able to be healthier for my family and myself. I want to teach my children healthy habits so that they do not end up fat like me.


Who Do You Say You Are?
I'm changing my life and this time it is for good!
Someone will always be prettier.
Some will always be smarter.
Some of their houses ...
I am a 48 year old mother of 2 wonderful young adults. I have been married for 27 years to my amazing husband. I am tired of being overweight and want to be able to be healthier for my family and myself. I want to teach my children healthy habits so that they do not end up fat like me.


Who Do You Say You Are?
I'm changing my life and this time it is for good!
Someone will always be prettier.
Some will always be smarter.
Some of their houses will be bigger.
Some will drive a better car.
Their children will do better in school.
And their husband will fix more things around the house.
So let it go,
and love you and your circumstances.
Think about it! ~~~My friend, Amina

...I CAN'T STAND THE RAIN of depression, weariness and dreariness that sets in sometimes. I just can't stand it. I pray that God can give me a mind to accept the changes going on in my body and the will power not to sabotage my own efforts.
....I need an umbrella. ~~~~Amina


Reminescent of the whole "Sparkpeople" idea...I've gotten to thinking of my life and the lives of my friends as flames. Flickers of light just trying to stay aglow. Light is something that even though it gives so much - is very fragile and I honestly think that there are some people that walk around with buckets of water or garden hoses rather..just to douse the flame of someone they think is burning too bright. I've had my flame doused a couple of times. Yea..a few times. And I couldn't understand how after burning so brightly that just a few drops of water could take away the light that I had. Sure it is explained in science classes - but as it relates to life? Not so much.

But as I've realized - as quickly as your flame can be blown out, it can be relit. Just a kind word, a message, a hug, a spark goodie (lol) can reignite the flame you once had.

So never fear. Get yourself a box of matches. And even when there is no one to light your spark for you - you can do it yourself! ~~~~Amina ( She dedicated this one to me)



SparkFriends

SparkTeams

My Ticker:
current weight: 228.0

Interact with BIGHOTMOMMA44







Recent Blogs:

Profile


Member Since: 5/4/2008

SparkPoints: 10,807

Fitness Minutes: 1,817

My Goals:
Goal #1 To be under 200 lbs by May 20th, 2011

Goal #2 To get Breast reduction surgery end of May, 2011

Goal #3 To be back in my size 14's by July!

Goal#4 Be in size 12and weigh 180 lbs. by My birthday Nov 14, 2011!

Goal #5 Start 2012 @175 lbs!

My Program:
I am counting calories and working out at home at least 4 days a week.



Personal Information:
My name is Lisa
From Ohio

Other Information:
When I first started this program in May 2008, I would have never dreamed that I would end up jogging and WANTING to get stonger and leaner! Because of the amazing group of women in my friends list that "Spark my Flames" everyday, I have stayed focused and achieved so much!
Thanks Girls!! Let's keep the spark going!

Profile Image