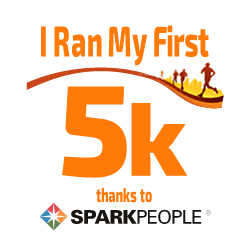 I have 1 pics in my gallery

Awards

Stephanie's Great Adventure
I am finally making myself a priority and choosing to view food journaling and exercise as a loving choice.

When I joined SP in early July 2010, I was back at my heaviest weight. I did WW eight years ago and weighed in exactly then where I weighed in at my doctor's office that early July morning.

After my doc gave my the ultimatum (lose it or get diabetes), I logged on here, re-activated my account and started plowing into the nutrition and fitness tracker. I ...
I am finally making myself a priority and choosing to view food journaling and exercise as a loving choice.

When I joined SP in early July 2010, I was back at my heaviest weight. I did WW eight years ago and weighed in exactly then where I weighed in at my doctor's office that early July morning.

After my doc gave my the ultimatum (lose it or get diabetes), I logged on here, re-activated my account and started plowing into the nutrition and fitness tracker. I joined a Biggest Loser Challenge and it really jump-started my process.

Minimally, I need to lose 107 pounds to get to the upper limit of a healthy BMI. It's funny, I initially thought that getting to 189 pounds and a size 14 would be amazingly fantastic. Lately, I've begun to wonder if I'm not setting my sights too low. At 6'1", what does 189 look like? What does 179 look like? What does 169 look like? It's a little sad that I can't even imagine it.

I'm charging ahead, committed to losing at least 2 pounds a week to shred this body down to a healthy, fit and active weight and size in short order.

++++++++++++++++++++++++++++++++++++++++
++++
Starting weight with SP on July 6, 2010: 296
BLC 14 (with the 30 somethings with 100+ to lose) starting weight: 290
BLC 14 Goal: 275
BLC 14 Actual at End: 274
SparkFriends

SparkTeams



My Ticker:
current weight: 278.0


Recent Blogs:

Profile


Member Since: 6/29/2006

SparkPoints: 5,360

Fitness Minutes: 5,598

My Goals:
My main goals are to lose 107 pounds and get into good physical shape. I will do this by:

*Tracking food
*Tracking fitness minutes
*Staying accountable to a team/community

Specific Goals:
*Run a 5K
*Run a 10K
*Do the Flying Pig 1/2 marathon


My Program:
I had great success with WW, so the food journaling is a big help, as always. I also find that being unemployed for the moment gives me more time to figure out better food options and getting into an exercise routine. Water aerobics and Jilian Michaels' 30 Day Shred are current faves.

Personal Information:
I live in Cincinnati, Ohio and am happy to be raising my family here. AND I desparately miss living in Washington, DC. Great old city to live in.

I have two sweet girls, a husband and a dog that I'm taking care of these days although I am an organizer by profession...just taking the rest of the summer off to play with my girls and see if I can't parlay my dreams into a paid reality. :)

Profile Image