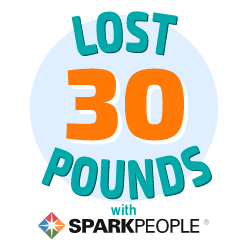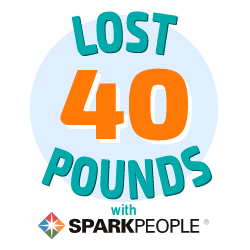 I have 9 pics in my gallery

Awards

12/07/10 here i come!!!
I'm beginning my journey because, like a lot of people, I was a fat kid, a fat teen and now a fat adult. I am ready to make my commitment to change my ways and become healthy. I deserve it....

I started in June 09 by exercising. I was laid off from my job and decided that if i wasn't working and was not working out then I was just plain lazy! Luckily, my unemployment did not last long but I continued to exercise. In August I decided to become a vegetarian - something I have ...
I'm beginning my journey because, like a lot of people, I was a fat kid, a fat teen and now a fat adult. I am ready to make my commitment to change my ways and become healthy. I deserve it....

I started in June 09 by exercising. I was laid off from my job and decided that if i wasn't working and was not working out then I was just plain lazy! Luckily, my unemployment did not last long but I continued to exercise. In August I decided to become a vegetarian - something I have wanted to do for a LONG time. It was also a way to jump start my healthy eating, eliminating the option of eating fast food and forcing me to read labels and think about what I was putting in my mouth. Then came September, I rejoined Spark and decided to start tracking my meals. This was just the wake up call I needed. I wasn't paying attention to a lot of things I needed to such as carbs, sodium, protein, etc etc. October's here and unfortunately I haven't been working out. I NEED to change that asap.

*update
I have been tracking food daily and exercising at least 3 days per week for 30 min. Trying to get up to 4 days per week.

*update (July '10)
I regularly work out - usually 5 days a week. I also take 25-30 min walks at lunch 2-4 days a week (weather permitting, of course). I've recently slacked on tracking my food. Here's my thoughts, I have been at this for about a year and I pretty much eat the same foods everyday, so I am fairly good at knowing about how many calories I can eat. Also, tracking food every single day is not a lifetime thing. I want to have the self discipline to control my eating without using a tracker. HOWEVER if I do not continue to lose weight, I will utilize the tool again.

Short term goal weight: 198 (April 2010)
Long term goal weight: 150 (December 2010)

SparkFriends

SparkTeams

My Ticker:
current weight: 255.2


Recent Blogs:

Profile


Member Since: 9/15/2009

SparkPoints: 0

Fitness Minutes: 8,524

My Goals:
Cardio 4x per week
Strength train 3x per week
10 regular push ups
45 min on elliptical

Size 20 jeans - done 12/09
Size 18 jeans - done 2/10
Size 16 jeans - done 3/10
Size 14 jeans - done 6/10
Size 12 jeans
Size 10 jeans

ST goal weight: 198 (4/10)
LT goal weight: 150 (12/10)

My Program:
* Track food daily
* Stay between 1200-1500 calories with a goal of 1400
* Track exercise
* Exercise 4 days a week minimum of 30 min
* Eat to live not live to eat
* Portion control


Personal Information:
I'm 25 yrs old from Columbus, Ohio. I love loud music, horror movies, awesome friends & wonderful family (especially being an aunt).

I have a love/hate relationship with working out - i hate getting up to do it but love how i feel after.

Profile Image