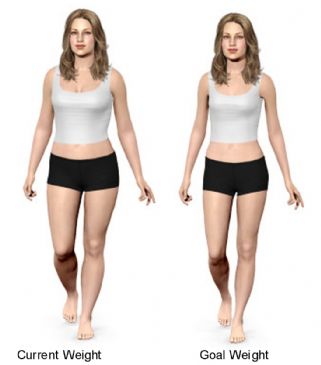 I have 2 pics in my gallery

Awards

Every Day is a New Opportunity
After trying, succeeding... then slipping and falling, I'm determined to remind myself that everyday is a new opportunity to go after my goals and then do it.

I was 195lbs before I joined SP. I originally got down to 176lbs, with a little dip to 168 but moved, started a new job and quickly jumped back up to 185. It was at that point, I said 'No more!' and decided to start over. I got back to 175, and fell again.

My story should be one of "starting over". I can't ...
After trying, succeeding... then slipping and falling, I'm determined to remind myself that everyday is a new opportunity to go after my goals and then do it.

I was 195lbs before I joined SP. I originally got down to 176lbs, with a little dip to 168 but moved, started a new job and quickly jumped back up to 185. It was at that point, I said 'No more!' and decided to start over. I got back to 175, and fell again.

My story should be one of "starting over". I can't even begin to say how many times I decide to make a commitment and drop it just as quickly. This is a struggle for me but the one thing that I keep reminding myself of is that I still want the change. I'm willing to make the effort, it's just saying no to my brain sometimes.

My goal is not to be super skinny. That's just not my ideal. I love my curves - in fact, when I raise my arms over my head, I see my perfect body. It's there, I already have the figure I want. It's just hidden underneath some fat. ;-)

If I'm going to do this, I'm going to have to be accountable to myself. And for me, that means putting it publicly out there. So here goes....

October 8, 2013 - 188lbs

11/19/13 CW: 184.6
11/24/13 CW: 182.4 (-2.2!)
12/1/13 CW: on vacation
12/8/13 CW: 180 (-2.4)
12/15/13 CW:
12/22/13 CW:
12/29/13 CW:

"Yesterday you said tomorrow"

"Never discourage anyone who continually makes progress, no matter how slow." - Plato

"Bad men live that they may eat and drink, whereas good men eat and drink that they may live." - Socrates

Regret for the things we did can be tempered by time; it is regret for the things we did not do that is inconsolable" - Sidney J. Harris

SparkFriends

SparkTeams



My Ticker:
current weight: 180.0

Interact with AURORAMARILENA






Recent Blogs:

Profile


Member Since: 4/15/2008

My Goals:
Long Term Goals:
165 and 8/10

Short Term Goal #1:
175 by January 1st

Short Term Goal #2:
170 by April 1st

To have womanly curves and tone up my lovely hourglass figure.

My Program:
I am on a flexitarian eating plan. I try to eat mainly meatless meals. I do indulge when I have a craving, but it's about not driving myself crazy.

To combat the chocolate cravings, I have the halloween bag mini pieces and I have one when I crave them.

My program involves making smart substitutions - putting pureed pumpkin into brownie mix instead of oil and eggs. So you have your chocolate without the fat.

Personal Information:
I try to see goodness in the little things. Life is too short to go around being unhappy.

Other Information:
I LOVE to read. I am always trying to have something new to read. Sometimes I'm reading multiple series at once switching between one and the other.

Book I'm reading now:
Allegient by Veronica Roth

Last book I read:
Gameboard of the Gods by Richelle Mead

Profile Image