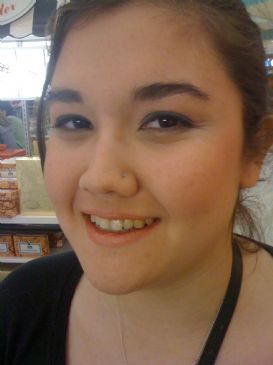 I have 5 pics in my gallery

Awards

LET THE SPARKS FLY!!!
Hey! I'm a pretty happy person, but I'm ready to be happier (if that's a word...) =D


I'm so ready to be done being fat that I can't even begin to tell you! I have gotten to the point that I'm EXCITED! It's almost like I'm skinny already I'm just that excited! It fills me to the brim with excitement!

update May 2011 - I have gained weight and now my amazing boyfriend has become my live in trainer/nutritionist/bad guy who keeps me from eating too much =) I just ...
Hey! I'm a pretty happy person, but I'm ready to be happier (if that's a word...) =D


I'm so ready to be done being fat that I can't even begin to tell you! I have gotten to the point that I'm EXCITED! It's almost like I'm skinny already I'm just that excited! It fills me to the brim with excitement!

update May 2011 - I have gained weight and now my amazing boyfriend has become my live in trainer/nutritionist/bad guy who keeps me from eating too much =) I just know I'll do it this time. I have everything in the world going for me!

update September 2011 - I have now officially lost 15 pounds! I have NEVER lost more then 10 pounds at a time =) I feel more and more like I'm actually doing this. I'm taking things one pound at a time. Seriously. I can do this if I just stay focused on that one pound at a time =)

update November 2011 - I have reached the 25 pounds GONE marker! I'm staying steady with portion control and I'm starting to walk/jog as a consistent workout. I'm actually finding that I rather enjoy it! Probably because it's nice to get out of the house to work out. My goal is to get to 160 by Thanksgiving! I have 2 weeks and 4 pounds to go to get to my half way marker!

update January 2012 - So I reached my half way goal of 160 in December of 2011 and have since been hovering in the 162-160 range. I have not been motivated, but that's ok! My new moto is "The best way to start, is to just start!" I am sticking with this until further notice =) Lets everyone MAKE this a good year!

Update April 2012 - I have continued to "maintain" through out the last three months. Apparently I know how to maintain. And I know that I know how to lose weight because I've already made it half way. I took my extended break and now I'm back. Ready to fight the good fight. Ready to continue to change my habits =)
SparkFriends

SparkTeams



My Ticker:
current weight: 143.0


Recent Blogs:

Profile


Member Since: 2/2/2010

SparkPoints: 8,409

Fitness Minutes: 11,361

My Goals:
I set small, obtainable goals and then reach them!

- 1 pound every six days to end up being 5 lbs a month
- To work out AT LEAST 3 days a week.
- 155 by the end of Christmas 2011. (did not reach =( Time to reset! =D)

- 155 by the end of January 2012
- 140 by my second anniversary with my boyfriend (May 2012)
- 125-130 I think is my ultimate goal weight now. I want my BMI to be well within healthy ranges and not just barely. I want to be at this by July 2012


185: Goal Reached May 2011!

180: Goal Reached June 2011!

175: Goal Reached August 2011!

172 (10% marker): -19 lbs - Goal REACHED! 9/13/2011

170: Goal Reached September 2011!

165: Goal Reached October 6, 2011

160 (Half way there!): Goal Reached December 8, 2011!!

155:

152.8 (20% of my original weight lost!!):

150:

145 (No longer in the "overweight" category!):

140:

135:



My Program:
Currently eating less and working out!

Changed my plan again! lol... I'm now doing BodyRock.tv 5 days a week and yoga once. Hopefully some additional cardio will get stuck in there some where =)

Water: 14/17 days of April
Working out: 6/12 days of April

Personal Information:
I LOVE to read... Generally I read teen fiction with some adult fiction mixed in. One of my favorite authors is Jane Austen. Also love manga/anime.

Currently Reading:
"The Omnivore's Dilemma: A Natural History of Four Meals" by Michael Pollan

Other Information:
Change your body;
Change your mind.
Change your mind;
Change your body!

Profile Image