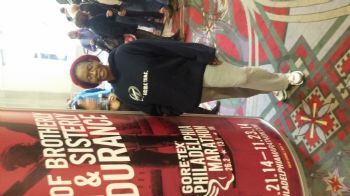 I have 50 pics in my gallery

Awards


TOMORROW'S SUCCESS BEGINS TODAY!
To read my "SparkPeople Success Story," paste the following into the Search box on SparkPeople: "Sparking Others Helped Her Lose 142 Pounds." Then scroll down to the story.

DECLARATION OF INDEPENDENCE FROM DIETING

When in the Course of human events, it becomes necessary for one woman to dissolve the emotional bands which have connected her with one diet attempt after another, and to assume among the powers of the earth, a separation from dieting to which the Laws of ...
To read my "SparkPeople Success Story," paste the following into the Search box on SparkPeople: "Sparking Others Helped Her Lose 142 Pounds." Then scroll down to the story.

DECLARATION OF INDEPENDENCE FROM DIETING

When in the Course of human events, it becomes necessary for one woman to dissolve the emotional bands which have connected her with one diet attempt after another, and to assume among the powers of the earth, a separation from dieting to which the Laws of Nature and of Nature�s God entitle them, with respect to her body, mind, and soul that she should declare the causes which impel her and other like-minded women to the separation.

We hold these truths to be self-evident, that all women are unique, that they are endowed by their Creator with certain unalienable Rights, that among these are Life, Liberty and the pursuit of Happiness.That to secure these rights, women have previously attempted diets with hopes of yielding such results. However, whenever any Form of dieting becomes destructive of these ends, it is the Right of the People to alter or to abolish it, and to institute a new way of feeding one�s self, laying its foundation on such principles as mindful eating, permission, flexibility, intuition, and the wisdom of the body and choosing foods in a way that to them shall seem most likely to affect their Safety and Happiness. Prudence, indeed, will dictate many food choices, but not all, and accordingly, past eating experiences hath shewn, that womankind are more disposed to suffer from dieting, while evils are sufferable, than to right themselves by abolishing the restriction to which they are accustomed. But when a long train of abuses and fruitless diet attempts, pursuing invariably the same Object of a smaller body, yields the same results of frustration, demoralization, feelings of failure, guilt, and in many cases weight gain, it is their right, it is their duty, to throw off such restrictions, and to consider a new approach for their future health and happiness. Such has been the patient sufferance of these women who have tried diet after diet; and such is now the necessity which constrains them to alter their former relationship with food. Our history of dieting is a history of repeated injuries and usurpations of the joy and pleasure that food can provide, all having in direct object the establishment of an absolute Tyranny over so many women. To prove this, let Facts be submitted to a candid world.

~ If one diet worked perfectly, there would never be the need for another, yet there are countless diet plans available.

~ Dieting, for many women, has been shown to result in weight gain over time.

~ Dieting often demonizes foods making them more appealing as forbidden fruit.

~ Dieting generates stress and feelings of failure for many.

~ Dieting is the antithesis of healthy eating.

~ Dieting results in most people regaining the weight they lost and more.

We, therefore, the Representatives of the diet-weary, in the name, and by Authority of good sense, appealing to women everywhere, solemnly publish and declare, That these women ought to be Free and Independent of ineffective and unhealthy diets; that they are Absolved from all Allegiance to restriction, starvation, deprivation, guilt and the self-judgment that diets create; and that as Free and Independent women, they have full Power to decide what to eat, when to eat, and why to eat, based on their personal needs and desires, and to do all other Acts and Things which normal eaters may of right do. And for the support of this Declaration, with a firm reliance on the wisdom of the body, we mutually pledge to each other to never diet again.

written by Robyn Priebe, RD

~~~~~~~~~~~~~~~~~~~~~~~~~~~~~~~~~~~~~
~~~~~~~~~~~~~~~~~~~~~~~~~~~~~~~~~~~~~

I HAVE A DREAM OF A WORLD FREE FROM EATING DISORDERS

Martin Luther King, Jr., had a dream so powerful it survived him. Today, his dream continues to change lives around the world.

"I, too, have a dream. I have a dream that (I believe) is explosive in its potential to change, and save, lives. I have a dream that (I hope) will survive long after I am gone. I have a dream that should and MUST survive for the sake of all those who have already passed on for the lack of it.

I have a dream of healing that edges out nightmares left over from half a lifetime spent battling anorexia and bulimia. I have a recurring dream of hope that haunts me in the best possible way. Every time I look in a mirror, I have flashback dreams to a time far past, and still yet to come, of catching sight of my own image and LIKING what I see.

I have a dream of a day when little girls will walk down the grocery store aisles with their moms, choosing healthy, delicious foods without looking at the fat and calorie content on the labels.

I have a dream of a day when the bodies of athletes, dancers, actors and models will actually look as diverse as those of their audiences, and we can see and celebrate ourselves in each other � comfortable, healthy, curvaceous, empowered, REAL.

I have a dream of a day when all eating disorder treatment facilities will be turned into restaurants � such is the demand for wholesome, nutritious food that is generated by those who have graduated from within their walls.

I have a dream of a day when the sixty billion dollar-a-year weight management industry goes out of business, and all monies formerly spent supporting it will instead go to FIGHT the damage it has done to our bodies, minds and spirits.

I have a dream of a day ahead when �Eating Disorders Awareness Week� is no longer needed, and �Love Your Body Day� happens not just once per year, but EVERY day of our lives. I dream of a day when �size-blindness� goes global, and we can finally access the tremendous beauty available to us in ALL of its many forms!

I have a dream of holidays yet to come when family, fun, friendship, fellowship, gratitude and generosity push food back into its rightful and proper place...no less, and no more.

I have a dream of a day when I can sit down to brunch with my girl (or guy) friends, and look around the table to realize that NONE of us has suffered from an eating disorder!

I have a dream of a day when a comedian makes a joke about �skinny jeans�, and no one in the audience knows what s/he is talking about.

I have a dream of a day when I will not be afraid to reproduce, and thus risk passing the genes for my eating disorder, which were passed to me, along to my daughter or son.

I have a dream of a day when I will wake up in the morning and smile radiantly at myself in the mirror, absolutely confident that who I am, and what I have to offer, is exactly perfect - just as I am.

And I have a dream of a day when everyone - and I do mean EVERYONE - who suffers from any shape or size of eating disorder IMMEDIATELY receives the comprehensive, ongoing treatment they NEED and DESERVE.

Yes, I have a dream. And I know I do not dream this dream alone. I know that I dream it alongside husbands, wives, mothers, fathers, sons, daughters, boyfriends, girlfriends, best friends, sisters, brothers. I know that even the seemingly most self-assured amongst us secretly dream it alongside those who openly battle for their lives.

I know that we each, and all together, deserve the fulfillment of this dream�.�. but I also know that, as of yet, it remains unclaimed."

~~ written by Shannon Cutts




Current Status:


SparkFriends

SparkTeams



My Ticker:
Pounds lost: 154.2


Recent Blogs:

Profile


Member Since: 8/10/2009

SparkPoints: 43,188

Fitness Minutes: 4,664

My Goals:
Eat with the intention of fueling my body and as a response to cues of physical hunger.

Decrease automatic eating and episodes of emotional overeating.

Increase joy-filled movement!

My Program:
Less meat, more plants.
Less salt, more spice.
Less sugar, more fruit.
Less words, more action.
Less worry, more sleep.
Less anger, more laughter.
Less barking more wagging!

Personal Information:
I believe that outlook counts where calories do not.

I believe that real runways have curves!

I believe that scales and mirrors fail to reflect the beauty inside.

Other Information:
I AM ALIVE, I AM WILLING,
I AM EAGER, I AM ENOUGH!
~~ I AM TRUE BLUE!



Profile Image