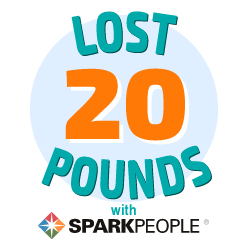 I have 6 pics in my gallery

Awards

It's my life! It's my responsability!
As my happiness increased when I married, so did my weight and waist. What happened to the athlete, the yogini, the woman who loved to wear dresses...and who is this woman married to my husband wearing his jeans and x-large shirts?

I am ready to get my life and waist back!

My favorite motivational quotes:

People often say that motivation doesn't last. Well, neither does bathing-that's why we recommend it daily.
Zig Ziglar

Life is ...
As my happiness increased when I married, so did my weight and waist. What happened to the athlete, the yogini, the woman who loved to wear dresses...and who is this woman married to my husband wearing his jeans and x-large shirts?

I am ready to get my life and waist back!

My favorite motivational quotes:

People often say that motivation doesn't last. Well, neither does bathing-that's why we recommend it daily.
Zig Ziglar

Life is like a dogsled team. If you ain't the lead dog, the scenery never changes.
(source unknown)

The greatest oak was once a little nut who held its ground
(source unknown)

It is better to be patient, than it is to become one .

We cannot direct the wind but we can adjust the sails.

The reason so many people never get anywhere in life is because when opportunity knocks, they are out in the backyard looking for four-leaf clovers.
Walter Percy Chrysler

Opportunity is missed by most people because it is dressed in overalls and looks like work.
Thomas Alva Edison

Doctors and scientists said that breaking the four-minute mile was impossible, that one would die in the attempt. Thus, when I got up from the track after collapsing at the finish line, I figured I was dead.
Roger Bannister (After becoming the first person to break the four-minute mile, 1952)

Champions aren't made in the gyms. Champions are made from something they have deep inside them -- a desire, a dream, a vision.
Muhammad Ali

My thoughts before a big race are usually pretty simple. I tell myself: Get out of the blocks, run your race, stay relaxed. If you run your race, you'll win... channel your energy. Focus.
Carl Lewis

If you watch a game, it's fun. If you play it, it's recreation. If you work at it, it's golf.
Bob Hope
SparkFriends

SparkTeams

My Ticker:
current weight: 163.0


Recent Blogs:

Profile


Member Since: 4/28/2009

My Goals:
fit size 8 again

Take care of my self and my loved ones

Avoid energy drainers

Focus all attention on action and activities rather then on emotions

Lose weight gain a sense of humor and confidence!

Finding a balance between making an income and doing what I love

My Program:
Track nutrition and fitness every day and stick to maximum calorie intake

Get 7-8 hours sleep

Practice yoga every day for strenght and flexibility in combination with pilates, cardio and strenght training.

May-june 2009 Nivea silhouette challenge program.




Personal Information:
It gives me joy to create and I made a water garden and flower garden in our yard...(many fitness minutes... ) for my personal daily peaceful retreat where I can write and paint after work.

I love animals and enjoy the company of our pets (Including our 9 fishes).

Profile Image