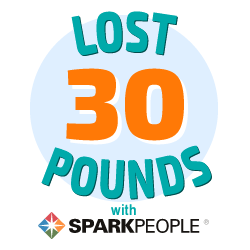 I have 12 pics in my gallery

Awards

I am starting over...again. But this time I have a plan and a partner!
*****Update 12/13/09*****
My husband got some people together to do a Winter Weight Loss Challenge. Our goal is to see measurable changes in weight and fitness in 4 weeks, and to begin a healthy lifestyle. Cheo and I are doing the Couch to 5K program together, and we started tonight! I feel great!

***** Update 2/1/09 *****
After one month of working out Mon-Fri 30 min/day, I have lost 1.5 pounds and 5 inches! For more info, see my blog with today's date.

...
*****Update 12/13/09*****
My husband got some people together to do a Winter Weight Loss Challenge. Our goal is to see measurable changes in weight and fitness in 4 weeks, and to begin a healthy lifestyle. Cheo and I are doing the Couch to 5K program together, and we started tonight! I feel great!

***** Update 2/1/09 *****
After one month of working out Mon-Fri 30 min/day, I have lost 1.5 pounds and 5 inches! For more info, see my blog with today's date.

***** Update 12/31/08 *****
I started working again in August and my weight loss and healthy lifestyle have totally taken a back seat to everything else. So, tomorrow I will begin again. I am currently 159 pounds and have made my goal to be at 130 by May 15, 2009.
I know I can do it with the help of SP!

***** Update 4/28/08 *****
It's been almost 3 months and I am amazed at how my mindset, my food choices and my body have changed. I feel like I look at life through new eyes. It's so refreshing to know that I am making healthy choices, and it has become really easy!

I have adjusted my calorie intake to about 1000 calories less than I was consuming daily before I started SP. I do cardio 3-5 times a week, and I'm just starting to be consistent with my strength training. The most amazing thing to me is the way my perspective about food has changed.

We've gone out to some of our favorite restaurants lately and I was excited about the healthy choices they had (that I never noticed before!) I used to try to get the cheesiest, creamiest item on the menu. NOW I look for the tastiest healthy option - and I don't feel like I'm giving up anything. I LOVE it!

I've lost almost 25 pounds and I feel terrific! I still have a lot more weight to lose, but now I KNOW it will come off because *I* have changed. I have a new healthy lifestyle; my body has no choice but to get healthier! I'm not concerned any more with how long it's gonna take to "get this weight off." It will happen, and I will be able to enjoy the Golden Years with my husband and be there for my daughter. That's priceless!

***I have been yo-yo-ing most of my life. I even remember being on a diet in fifth grade. I gained about 30 pounds during my VERY difficult pregnancy (2 months of bed rest, severe pre-eclampsia, emergency c-section at 31 weeks), which resulted in the most beautiful little girl EVER! I've lost about 20 lbs in the past 2 years, but gained it back by January 2008. I need some serious discipline (and observation skills - I haven't been paying attention to what I eat) in order to hit my goals. I want to be healthy for myself, my husband, and my daughter. I want to be healthier at 35 than I was at 25. I really think I can do it with the help from SparkPeople!!!***

*****Original Goals*****
(I adjusted my original goals because I was losing so fast. My new goals are also on my Page, and I added Body Fat Percentage goals.)
170 - 4/1/08 REACHED 3/3/08
160 - 6/1/08 REACHED 4/28/08
155 - 8/1/08 REACHED 6/30/08
145 - 10/1/08
130 - 12/3/08
125 - 2/1/09
120 - 3/3/09


SparkFriends

SparkTeams

My Ticker:
current weight: 184.0

Interact with AMYTERESE0303







Recent Blogs:

Profile


Member Since: 11/30/2007

SparkPoints: 0

Fitness Minutes: 5,713

My Goals:
I'm not actually trying to hit a specific weight. I just want to feel and be healthy. I'm trying to avoid the Type 2 diabetes that runs in my family, be able to enjoy the Golden Years with my husband, and be there for my baby girl as long as I can.

My Program:
I'm working on gradual changes in my lifestyle that will stick. I eat between 1200-1500 calories per day. I run/walk about 12 miles per week and try to do strength training two or three times a week. I can't seem to get consistent with my strength training. I'm still working on that.

Personal Information:
My husband and daughter are my inspiration. Their love makes my world go 'round.

Other Information:
5'1", 34 years old, SW 183 lbs, 40.5% Body Fat on 2/02/08

****Body Fat Goal: 21%-24%****
170 - 3/17 - REACHED 3/3, 37% Body Fat
160 - 5/12 - REACHED 4/28, 33.5% Body Fat
**158 - out of obese BMI range - REACHED - 5/14/08
150 - 7/21 - REACHED - 7/27/08
140 - 9/29 - massage
**132 - out of overweight BMI range
130 - 12/8 - swimsuit
120 - 2/15/09 - All-Inclusive Resort for our 5th Anniversary!

Profile Image