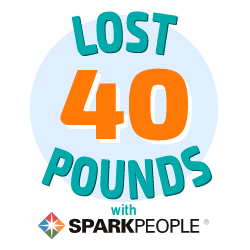 I have 2 pics in my gallery

Awards

This time... steady progress is my game..
I have been down this road before. Losing 100 pounds in 16 months and gaining it back again in about the same time.

Now I want to lose weight in a more positive way by making lifestyle changes and giving up my reliance on quick fixes. In the past to control my weight I would eat high calorie foods and then overexercise the weight off. It was a dangerous combination and my weight was always dramatically up and down.

Not this time...

Now I am seeking ...
I have been down this road before. Losing 100 pounds in 16 months and gaining it back again in about the same time.

Now I want to lose weight in a more positive way by making lifestyle changes and giving up my reliance on quick fixes. In the past to control my weight I would eat high calorie foods and then overexercise the weight off. It was a dangerous combination and my weight was always dramatically up and down.

Not this time...

Now I am seeking balance and moderation in my exercise plan and have developed a way of eating I can stick to not just for months.. but as a lifestyle change.

I am not in a rush but steadily each day making positive food choices and exercising.

I have given up eating refined sugar (have a difficult time controlling myself around it) most of the time and budget calories for a late night snack (my worst time of day). It's been working for me and now I am doing some running a few times a week to shake things up and get myself thru a plateau.

In the time I have been on sparkpeople, I have already lost 43 pounds and counting.

I feel much healthier. I am now running several times a week, dancing and eating healthier. I tell everyone I know I am losing weight and remove myself from tempting food situations.. they are everywhere!

Losing weight again this time is a journey, yet I am not alone and the support of the Sparkpeople Comnunity has motivated me to lose it in a healthy way this time around. All the tools are there for us.

If I can do it... you can too! :-)


SparkFriends

SparkTeams



My Ticker:
current weight: 227.0


Recent Blogs:

Profile


Member Since: 2/19/2011

SparkPoints: 0

Fitness Minutes: 10,920

My Goals:
Starting Weight:
2/22/11 - 232 pds
9/20/11 - 189 pds (lost 43!)

Goal: Lose 7 Pounds for 50 pound weight loss!
11/15/11 - 182 pds

Future Goals:
172- Overweight BMI
145- Normal BMI

My Program:
Eating:
1. Popcorn, apple & tea
= Late Night Snack

Exercise:

1. 1/2 hour weight training 3X week

2. Running 3X wk - at 9.3Miles (max) working toward 13 Miles.

- Doing.. The Spark everyday!

Other Information:
"Anyone can give up, To hold it together when
things fall apart, that's true strength."

"I can't change the direction of the wind, but I can adjust my sails to reach my destination."

"Life is a dance. Sometimes we lead, sometimes we follow."

"Don't worry about what we don't know. What's important is we learn as we go."

Profile Image