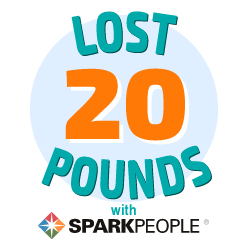 I have 10 pics in my gallery

Awards

Those tiny steps add up!
My biggest goal: being fit and healthy and finding a balance in life.

I'm looking to create lifelong habits that can keep me where I want to be and sustain both the lower weight, and increased fitness and optimum health. This is going to be a challenge! I'm ready for it.

During college I gained a good amount of weight (50+) from my already above-healthy BMI weight. By my graduation, I had turned things around, committing myself to better eating, fitness, you name it. I ...
My biggest goal: being fit and healthy and finding a balance in life.

I'm looking to create lifelong habits that can keep me where I want to be and sustain both the lower weight, and increased fitness and optimum health. This is going to be a challenge! I'm ready for it.

During college I gained a good amount of weight (50+) from my already above-healthy BMI weight. By my graduation, I had turned things around, committing myself to better eating, fitness, you name it. I used the Self Challenge and Reach your Goal programs for a few years, and I got back down under 160 lbs on my relatively larger 5'6" frame. I was healthy, and happy. I got down to 151 and was feeling and looking good- just a few pounds to go and I would be in my 140's - a goal I was looking forward to for several years.

Fast forward a bit, and I gained a good few pounds back. After I got down under 160, I promised myself I would do my best to never be there again- so when I clocked in at 167, I knew that I needed some new motivation. For me, accountability is important - I don't feel deprived when I keep track of my food and fitness - and it helps substantially to keep myself on track.

Finding Balance:

Because my job involves eating, thinking, and working daily with food (good food!) - rejoining Sparkpeople just helps me to balance - I know that if I have to eat a highly caloric meal one day, it's not going to completely ruin my downward progression on the scale - I just need to bump up my focus during the week.

Finding Inspiration:

Following others - When I was younger, I used to love reading the "I've made it" articles in the back of prevention magazine. Reading success stories is surprisingly motivating for me, as well as reading blogs - such as Kristen's "Eat like me" on Self.com, Katheats.com (Kath Eats Real Food), and Eatliverun.com - to get healthy ideas from people who are fit.

Books: I try to read new books, be it diet, fitness, business, motivational, or autobiographical books, on a regular basis. Consistently educating and motivating myself (really for all aspects of my life) is important, and constantly gives me ideas for how to improve just small areas of my life. Ones that I consistently check back to - French Women Don't Get Fat; Rich Dad - Poor Dad; Women Don't Ask: The High Cost of Avoiding Negotiation--and Positive Strategies for Change; Dr. Andrew Weil's 8 Weeks to Optimum Health to name a few.

_______________________________________
Update June 2010 - just over a year here on Sparks and it's safe to say that it's completely changed my life.

June goals:
1. Be in the top 25 for fitness leaders of the Bay Area on SparkAmerica
2. Weight down under 140.
3. Delicious meals, all month long.
4. Motivate others: 2 blog posts per week.
5. Self-development and Motivation (2 books, at least)
________________________________________
____________

Update 12/1/09:

What a few months it's been here on spark people! I'm down almost twenty pounds, and even though it's been a slow journey (about a pound a week), my life has had so many little changes that have added up.

I recently enrolled at the Institute for Integrative Nutrition - so by the end of next year I will be a certified health and wellness coach, taking my interest in using food as a way to change your life to the next level.

I've been running - it hasn't been easy, but I'm getting there. I joined a spark team Couch 2 5k - and found partnerships here on spark that keep me motivated even on the bad days.

___________________________________
SparkFriends

SparkTeams



My Ticker:
current weight: 156.6


Recent Blogs:

Profile


Member Since: 5/20/2009

SparkPoints: 39,490

Fitness Minutes: 71,862

My Goals:
Short-term
1. Getting back to a healthy bmi - and staying there.

2. Convincing myself that I "enjoy" lifting weights. My cousin is a natural body builder for goodness sake - how come it isn't a genetic trait?

3. Dropping the late night munching habits.

4. Integrating more meat-free meals into the diet. Good for the health and the environment.

5. Water. NO MORE ONE CUP OF WATER DAYS EVER.

Weight Rewards:

;; 155 - New Sneakers
Achieved: 9/29/09
(Mizuno's!) DONE
;; 150- New work out clothes
Achieved: 11/09 - Ok, I didn't trust myself for a few weeks... and then.. I rewarded myself with heirloom beans from Rancho Gordo... instead of workout clothes! DONE
;; 145- New Jeans/ or workout clothes...
Achieved: DONE
140 -
135 -
130? -

Running Goals:

Complete a 5K (well, the t-shirt will be the reward) - DONE 9/23/12 32:14

Complete a 10k - done

Run a Half Marathon - d

My Program:
Aiming for 350+ minutes of exercise a week.

:: I try to walk at least 30-60 minutes every day.

::Gym - CrossFit 2x week

:: Cross train days include - Running, yoga, other classes..

Eating: I love to eat! Currently sticking to my calorie range of 1260-1800. Finding balance, eating breakfast regularly, and adding more vegetables is the key. Trying to cut down on mindless eating as well. That's hard!

Personal Information:
After four years in sunny San Francisco, I'm back living on the East Coast in New England.

Profile Image