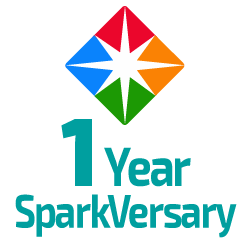 I have 48 pics in my gallery

Awards


Whatever It Takes!
'What's worth the prize is always worth the fight
Every second counts 'cause there's no second try
So live like you'll never live it twice
Don't take the free ride in your own life' Chad Kroeger

****************************************

I didn't know it then, but when I found SparkPeople in September 2008, I was beginning a transition. The obvious, was that I was here to lose weight. What I found is that I can write my life as I wish it to be. ...
'What's worth the prize is always worth the fight
Every second counts 'cause there's no second try
So live like you'll never live it twice
Don't take the free ride in your own life' Chad Kroeger

****************************************

I didn't know it then, but when I found SparkPeople in September 2008, I was beginning a transition. The obvious, was that I was here to lose weight. What I found is that I can write my life as I wish it to be.

"The most important thing about goals is having one." Geoffry F. Abert

And so, each day I am writing the next chapter of my life. After I lost most of the weight I intended, I earned a degree in Exercise and Movement Science. I am an ACSM Certified Health Fitness Specialist, working to help others achieve their fitness goals. I work at the local YMCA as a Wellness Coach, and at the local community college in the fitness center.

****************************************

"Ability is what you're capable of doing.
Motivation determines what you do.
Attitude determines how well you do it." Lou Holtz

****************************************
Thank you for visiting my page! As of this update, I have been a Sparker (off and on) for seven years. I'm all about honesty and am not good at flowering it up. So, I'm here to tell you there's only one person who can make this happen, and that's YOU!

In a nutshell, you gotta burn up more energy than you take in. Simply modifying your nutritional intake can create this change.

How you do it is your own thing, but I highly recommend you change how you look at food. You must realize that food is to your body what gas is to your car. If you try to put too much gas in the tank, it's only going to spill out. And my guess is, that is what you did with food, so here you are spilling out your own britches, trying to clean up the mess you made.

It can be done. That's the good news! It does require work, though, so take time to learn about proper nutrition and make quality choices in your meal options. This is where the majority of your success will come from. Fortunately, there is tons of information right here on SparkPeople. You've come to the right place!

Regular exercise is another factor to improving your health. Among other things, it reduces stress, improves circulation and boosts mental clarity, not to mention shaping, toning and facilitating weight loss. SparkPeople also offers tons of information and hundreds of free exercise demonstrations and videos to help you jump-start your fitness routine.

The last component is the key to permanence. According to Nutritionist Tanya Zuckerbrot, "If you're doing it temporarily, the results are temporary." So, whatever changes you make, must be something you can live with...for life! It makes perfect sense, really.

****************************************

I have been overweight most of my life though in good health until about five years ago. My BP has crept up to hypertension and my cholesterol is too high. I don't take medications for either and I don't want to. That is why I have decided to change my ways.

Having never been petite, I've always been self-conscious about my size. The time came when it became more difficult to do daily tasks, tying my shoes, clipping my toenails, getting up from the couch. Over the last few years I had become ashamed and embarrassed.

My goals are not unlike others; I want to feel better, look better and live a more active, happy life. I've been overweight all of my life and while I could blame it on a multitude of reasons, the fact is I simply have not been proactive in my nutrition program and I have lacked the motivation to get active and stay active.

****************************************

"Do or do not; there is no 'try'." Yoda

****************************************

One of my favorite qualities about myself (besides the 'hottiness' factor) is my sense of humor. In making this new commitment to myself, to become fit and healthy, I had to step up and embrace that quality, more than ever. If I didn't, the shame and embarrassment would continue to control me. Instead, I am in control.

I blog and make fun of things that irritate or please me as they come up. I make fun of my personal experiences. If you can relate and get a good laugh along the way, we'll both be smiling! Of course, there are realizations, and at times, I find myself LMAO as I write. For me this is great therapy. I hope you will enjoy the journey with me.

****************************************
"For want of a nail, the shoe was lost. For want of a shoe, the horse was lost. For want of a horse, the battle was lost." Unknown

****************************************

Last updated: 20 June 2014
SparkFriends

SparkTeams



My Ticker:
current weight: 186.4


Recent Blogs:

Profile


Member Since: 9/15/2008

SparkPoints: 43,547

Fitness Minutes: 57,356

My Goals:
* Tuck my shirt in
* Need a belt
* Regain my confidence
* Look good naked
* Lower my BP
* Lower my cholesterol
* Have more energy
* Be physically active
* Find a career/job I love to do
* Be the beast that I know I am.

******************
I picked 150 as my goal weight because it is a number on the right side of the ticker. This is a weight I have not seen since high school. More than anything, though, my goal is to be healthy, fit and haaaawt!

My Program:
BALANCED NUTRITION
-This is my first focus. Through this process I have gravitated to clean-eating for 85-90% of my intake.

-I drink 8 glasses of water, minimum, per day.

CURRENT EXERCISE ROUTINE
-I always warm-up before I begin working out.
-My routine begins with 10 min. of lite cardio or full-body foam-rolling to warm up, then on to weights.
-Strength training on Monday, Wednesday, Friday
-After ST, I do 15-30 min. of cardio, followed by 5-10 min. of streching.
-Tuesday, Thursday, Saturday are cardio only, for 45-60 minutes.

OTHER STUFF
-On off days, I usually putter in the yard or with home projects or do a bit of hiking or biking.

-Currently, I document food and exercise about 3-4 days/week using SP trackers.


Personal Information:
My name is Tammy. I am a native Oregonian and I've lived in Eugene for over 25 years, though I consider LaPine to be my hometown.

I have a partner of 19+ years. We were recently legally married - so are "newlyweds" again. We have 3 grown sons who are starting their own careers now.

+++++++++++++

My current background picture was taken at Trestle Creek Falls near Cottage Grove OR.

Other Information:
I LOVE:
* watching my boys grow
into men
* growing with my wife
* common sense
* sushi
* football
* 4-wheeling
* fishing
* working
* being with family
* quiet moments
* laughing
* the smell of pine trees
* connecting
* my dogs (I have 3)
* puttering
* the intricacy of
nature

I DON'T LOVE:
* cruelty
* stupidity
* laziness
* oppression
* excuses
* potato salad


Profile Image