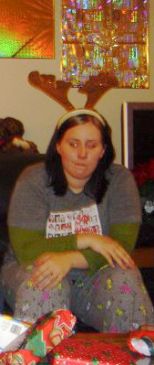 I have 19 pics in my gallery

Awards

There is no next time. It is now or never.
This go around I'm giving myself a longer period of time to lose all the weight compared to past attempts. I have 18 months (May 1, 2014) to reach my longterm goal instead of trying to do it in under a year, which I know I could do but risk putting it back on if I take it off too quickly. At this time in my life I am ready for the slower and steadier pace.

I'm losing weight 1) so I can really enjoy the last few years of my 20s, and 2) before my husband and I try having a kid in a ...
This go around I'm giving myself a longer period of time to lose all the weight compared to past attempts. I have 18 months (May 1, 2014) to reach my longterm goal instead of trying to do it in under a year, which I know I could do but risk putting it back on if I take it off too quickly. At this time in my life I am ready for the slower and steadier pace.

I'm losing weight 1) so I can really enjoy the last few years of my 20s, and 2) before my husband and I try having a kid in a couple years. I'm shooting for getting healthy and fit before so during it won't be as hard to stay active and I won't put on a gazillion pounds. Also I feel if I get pregnant at say the low to mid 100s versus the high 100s or even low 200s it will be a lot less stress on my body and easier to bounce back after having the child.

I am doing small weight loss increments and rewards when I reach each goal.

√ 1st goal met on Jan. 28! YES! :D
2nd reward - Spa day. The gift cards are waiting. :)
3rd reward - Whatever strikes my fancy
4th reward - Whatever strikes my fancy
5th reward - New wardrobe
SparkFriends

SparkTeams


Recent Blogs:

Profile


Member Since: 12/27/2006

SparkPoints: 14,417

Fitness Minutes: 4,862

My Goals:
~To wear a bikini on a beach or at a resort and feel proud even if I'm not the skinniest one there.
~Get to a healthy weight in 2013.
~RUN in a competitive 5K, 10K, half marathon, then a full marathon.

My Program:
As of 1/15/13
~ 80-96oz H2O
~ 1,100-1,350 calories
~ 75g+ protein
~ Under 150g carbs
~ Walking
~ Jogging

Personal Information:
I am: a wife of 7 years (I'm quite proud of this), mommy to 3 dogs, Rottweiler, Bullmastiff, and Shih Tzu, lover of all things that smell good, I have amassed quite the collection of scented candles and perfumes. I am a fan of art deco and art nouveau jewelry, art and architecture. My favorite decade is the 1930s. I like to sleep but I hate when yet another day comes to an end.

Other Information:
I like music. Lately it has been a lot of Bon Iver, City and Colour/Dallas Green, Alex Clare, Ellie Goulding, Fun., Gotye, Grizzle Bear, The Lumineers, Mumford & Sons, The Naked and Famous, Phoenix, Ray LaMontagne, Say Anything, Two Door Cinema Club, A Perfect Circle...

Profile Image