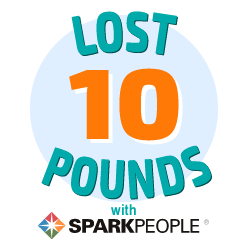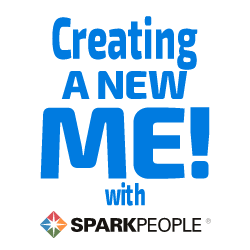 I have 3 pics in my gallery

Awards

Hello 12-16-12 & 3-7-2013
My name is Michelle, I'm 23, and I've been struggling with my weight for about the same number of years.

I'm sitting at work, at 260 pounds wondering how I could let myself get this far in the hole. Right now I'm looking at pictures at when I was 225 (when I first joined SP at my 'highest') and 190 (when I lost a good chunk of weight), wanting to be that weight again.

I think I'm just so unsure of what I am truly capable of. My self confidence and self esteem are ...
My name is Michelle, I'm 23, and I've been struggling with my weight for about the same number of years.

I'm sitting at work, at 260 pounds wondering how I could let myself get this far in the hole. Right now I'm looking at pictures at when I was 225 (when I first joined SP at my 'highest') and 190 (when I lost a good chunk of weight), wanting to be that weight again.

I think I'm just so unsure of what I am truly capable of. My self confidence and self esteem are very low and I'm just so scared of failure, in every aspect of my life. I've been in college for 5 years and just feel like every failure I encounter is more of a reason to just give up. I've gained 70 pounds in the past 3 years and that's just crazy!

I can't stand being overweight/obese anymore. (Oh gosh just typing out the word 'obese' turns my stomach) I feel like I'm weak and not capable of being healthy and losing this weight... but I know I am!!! I just have to utilize everything available to me and surround myself with positive thoughts and new habits.
****************************************
*******************

Starting Measurements:
(June 26, 2012)

. Neck 16.5
. Chest (above breast) 44
. Under breast 41
. Waist 40
. Belly 47
. Hips 48
. Left arm (above elbow) 12.5
. Left arm (flab) 20
. Right arm (above elbow) 13.25
. Right arm (flab) 20
. Left thigh 29
. Left calf 17.5
. Right thigh 29
. Right calf 17.5
Weight: 256.8

*~*~*~*~*~*~*~*~*~*~*~*~*~*
September 5- 262.8
September 12- 250 (-12.8)
September 19-
September 26-
October 3-
October 10-
October 17-
October 24-
October 31-
November 7-
November 14-
November 21-
November 28-
December 5-
December 12-
December 16-


My anniversary is 12-16-12 (4 years!) & my 6 month check up with my doctor is 3-7-2013.
Glucose: 127
Triglycerides: 312
Weight: 262.8

*~*~*~*~*~*~*~*~*~*~*~*~*~*

SparkFriends

SparkTeams



My Ticker:
current weight: 248.8

Interact with ABMCCLADYM16






Recent Blogs:

Profile


Member Since: 4/24/2008

SparkPoints: 1,306

Fitness Minutes: 575

My Goals:
* Mini Goals *
==============

1st GOAL: 260-245
2nd GOAL: 245-230
3rd GOAL: 230-215
4th GOAL: 215-200
5th GOAL: 200-190
6th GOAL: 190-175

==============



My Program:
- Cardio:
- Weight traning:
- Do not eat past 8pm.
- Drink at least 8 glasses of water daily
- Take a Multi-Vitamin and calcium supplement daily
- Don't deprive myself of foods I want to eat... just cut back on portions



Personal Information:
- I'm 23
- 5'9''
- A college student in Texas with a full time job.
- Just bought a house with my amazing fiance.
- We have 2 furbabies that are the best dogs ever!

Profile Image