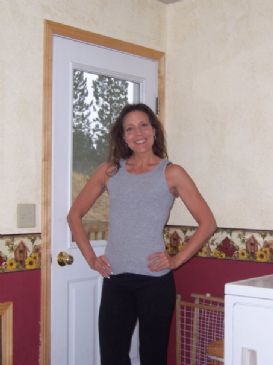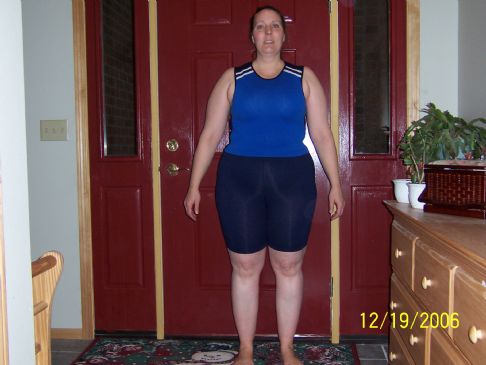 I have 39 pics in my gallery

Awards


No more yo-yo.... It took a year to lose 90 pounds and 4 years to gain it all back....TRUTH
2014- Little steps to switch back to good habits and big steps to squash the bad habits came back when I didn't focus to make myself a priority
January
1)step one-get moving more... 15 flights of stairs a day …no more than two hours sitting watching tv
February
2)step two-eat more green things 5 a day….no more pasta or soda
substitute tea for coffee….
March
3)step three- gym….nuf said edit…. and if not the gym get outside for 30 minutes and move…more ...
2014- Little steps to switch back to good habits and big steps to squash the bad habits came back when I didn't focus to make myself a priority
January
1)step one-get moving more... 15 flights of stairs a day …no more than two hours sitting watching tv
February
2)step two-eat more green things 5 a day….no more pasta or soda
substitute tea for coffee….
March
3)step three- gym….nuf said edit…. and if not the gym get outside for 30 minutes and move…more
April
4) step four take a before photo and post --------ugggh stop eating after 7 pm----it can wait until morning

2013-14 update Gained last year after I lost 99 pounds between 2007-2008, maintained for a year or two but the last two years new job, new hubby, new puppy, and I have returned to old habits THEY NEED TO GO! I have gained back too many pounds and am determined to drop back down to at least 148 by sometime 2015 I CAN LOSE THIS---IT CAN BE DONE---this page is proof!

When I started SP January 2007......
My goals were to get back to an exercise routine not let measurements be neglected. I started exercising by joining Curves on Nov 15, 2006 then paying attention to diet and and measuring January, 2007. My husband died suddenly and unexpectedly on February 28, 2007, he was only 43 years old and in good health. I joined a gym in April 2007 and became obsessed with working out there. I reached what I consider a satisfactory weight of 145 February 2008 and after starting a new job and beginning the dating process let my weight creep up as much as 25 pounds.

Failure came in the last years with a return to married life, dinners out and limited time for the gym.---truth I did not make it a priority

I am determined to live healthy, eat clean and exercise every day if possible for 40 minutes or more FOR THE REST OF MY LIFE...............may it be long and joyful.

lost 99 lbs
(gained back 25 in 2010, 25 more then more then all by 2014)
lost more than 20 % body fat (but don't know now)
lost 90 inches (11.75/35/26.5/35.5/13.25)(now up again)

2-18-13 214
1-20-13 218
--yo yo yo---
4-26-10 168
2-15-10 153.5
1-30-10 157
11-15-09 147.5
12-14-08 147.5
10-22-08 145
08-05-08 140
07-08-08 138.5
07-01-08 141
06-24-08 138
06-15-08 136
06-02-08 141.5
05-27-08 142---
05-05-08 140
04-13-08 141
03-18-08 141.5
03-07-08 141
02-25-08 143
02-19-08 144.5
02-04-08 145!!!!!!
01-29-08 146.5
01-22-08 147.5
01-02-08 148.5
12-23-07 149
12-11-07 149.5
12-4-07 153
11-27-07 154
11-20-07 155
11-14-07 156.5
11-8-07 157
10-24-07 159
10-16-07 160.5
10-9-07 162.5
9-25-07 163.5
9-19-07 164
9-11-07 164.5
9-4-07 166.5
8-28-07 169
8-14-07 169.5
8-7-07 170
7-31-07 170.5
7-24-07 171
7-22-07 173
7-10-07 176
7-3-07 178.5
6-26-07 180
6-18-07 181
6-5-07 184
5-29-07 186.5
5-17-07 189
5-08-07 191
5-01-07 193.5
4-17-07 196.5
4-10-07 199
4-02-07 202
3-27-07 204
3-15-07 205
3-06-07 209
2-27-07 214.5
2-20-07 215
2-11-07 216.5
2-6-07 218
1-31-07 222
1-23-07 224
1-16-07 227
1-9-07 228
1-1-07 233
11-15-06 239


Current Status:


SparkFriends

SparkTeams



My Ticker:
March Minutes: 1,010


Recent Blogs:

Profile


Member Since: 1/6/2007

SparkPoints: 15,432

Fitness Minutes: 15,286

My Goals:
2014: 170 by September 148 by 2015 sometime -hips measure under 40"

1. To weigh 148
2. Body fat at 23% or less
3. Size 6 Levis
4. 28 " waist-
21" thighs-
37 inch low hips
5. Take a beach vacation with confidence Jan 2015


My Program:
2014
No bread, pasta, white stuff
No red meat
No soda, coffee, alcohol
Stevia no artificial stuff
Green veg 5 x a day
Limit 2 fruits a day

Weights 3x week
Gym 5x a week 30 minutes or more cardio

used to be in 2008
1. Cardio daily between 40 and 90 minutes 450 -500 minutes a week

2. Strength mostly free weights for 20-30 minutes after cardio

3. Supplements:L-glutamine,BCAA, and goat whey protein

4. Diet: Gluten free no sugar, no bread, no pasta, no white rice

Keep calories at 1300-1500 cycling up 2000-2500 for apx 2 days of every 10

5.Never to eat food from a drive through again (unless it's a salad)

MENU ---21 main foods?
Salmon, eggs, shrimp, whey, apples, berries, seaweed,
tomatoes, mushrooms, onions, green beans, green peppers, peas, almonds (almond milk,) limited potatoes, cabbage, brown rice, black beans,
carrots, celery, spinach

Personal Information:
Living on the tundra with 3 dogs
Widow at 40 remarried @45

Other Information:
Having babies isn't everything

Profile Image