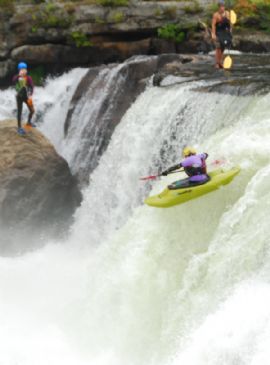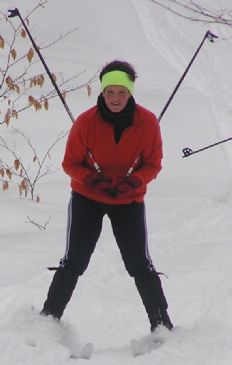 I have 49 pics in my gallery

Awards


Making up for lost time - Extreme weight loss to extreme sports
I'm 47 years old and managing my weight the old-fashioned way, through diet and exercise. No pills, no surgeries.

My goal was to get to a healthy BMI (under 25). The scale first said it on December 23, 2009. On January 9, 2010 the moving average of my weight caught up. Merry Christmas and Happy New Year!

Video of my transformation on the TODAY show:
http://tinyurl.com/joyfit

Blog post about being on TODAY:
...
I'm 47 years old and managing my weight the old-fashioned way, through diet and exercise. No pills, no surgeries.

My goal was to get to a healthy BMI (under 25). The scale first said it on December 23, 2009. On January 9, 2010 the moving average of my weight caught up. Merry Christmas and Happy New Year!

Video of my transformation on the TODAY show:
http://tinyurl.com/joyfit

Blog post about being on TODAY:
http://www.sparkpeople.com/mypage_public
_journal_individual.asp?blog_id=4985652

Slideshow of my progress:
http://tinyurl.com/4A-HEALTHY-BMI-shrink

Graph of my progress:
http://tinyurl.com/4A-HEALTHY-BMI-graph
(This shows the moving average function that smooths out daily fluctuations - it's a lot of data, so be patient for loading)

Fitbit profile:
http://www.fitbit.com/user/25GDQB

Maintenance is a Very Serious and Difficult Issue. 5% of people who lose weight manage to keep it off. I am doing EVERYTHING in my power to be one of them. Some days are better than others, but it really does seem that the key is frequent monitoring and immediate correction. It is important to NEVER give up.

See my blog posts here and my column at wekeepitoff.com for more about that:
http://wekeepitoff.com/category/angela-b
aldo

Search my blog posts here:

Search the whole post:
tinyurl.com/4A-HEALTHY-BMI-blog

Search just the titles:
tinyurl.com/4A-HEALTHY-BMI-blogsearc
h

Vision Slideshow
http://tinyurl.com/vision-collage
(Like the collage, but electronic.)

I've been down this road before. In my 20s I lost over 100 lbs and got down to 144 and at the time was unbelievably active and fit.

Over subsequent years the poundage crept back on (with several attempts to control it via Weight Watchers) until I found myself in the "Super Morbidly Obese" category at a BMI over 52. I have an emotional eating problem. I would rather hide away alone at home and numb my feelings with food than get out there and interact with the world.

In May 2007 one of my cats died from old age and I was devastated. I started eating less and walking a half-mile loop around the block. When I got up to about 4 miles per day an old knee injury began to cause pain and stiffness. I was diagnosed with severe arthritis and switched from walking to deep water aerobics. Although I was more active, I stopped paying attention to my intake and gained all but 10 pounds back.

In December 2008 I started again. I lost 46 lbs on my own before a wellness program at work introduced me to SparkPeople in March 2009.

Elective surgery scares me. For me that would have to be the very ultimate last resort. I don't think I've exhausted all my other resources yet. If necessary I would reluctantly consider surgery at the end to remove extra skin...

Other alternatives I have not yet tried are: personal chefs, checking myself into a residential fitness program, and getting my jaw wired shut. I do not handle stimulants well, so dietary supplements that raise my metabolism are not an option.

Eventually I may have to replace my arthritic knee, but I'm determined to manage with the "original equipment" as long as I can. I have been advised that I should not have it replaced before I am 60, if possible. I have been dealing with a bad knee my entire adult life since the original injury occurred at 17. They had to remove over half of the cartilage.

In the meantime I'm restricting my intake and increasing my activity.

I started with water aerobics 2x/week, eventually increased it to 4x/wk, and have now substituted spinning for the lower-intensity water aerobics class, and recently BodyPump for the higher-intensity water aerobics. In addition I'm doing weight training with a personal trainer once a week and alone once a week.

So far, so good, I think... For me it's all about building fitness-friendly habits into my lifestyle. Once they're habits then they tend to happen by themselves.

On January 15, 2010 I had a DXA scan done and the result said I have 19% body fat, which puts me just inside the "athlete" category (14%-20%).

The same scan indicated that averaged over the whole body my bones are more than three standard deviations denser than average even though I have a small frame (t-score=3.5, 125%; z-score=3.2, 122%). I guess they're made of the bone equivalent of titanium, or something. LOL

Nutrition:
-------------
http://www.fatsecret.com/diets/member-di
et/Default.aspx?dietid=4355344

50g of fat minimum
40g of fiber minimum
150g of protein minimum
100g of sugar MAXIMUM
(this includes sugar IN my foods, like fruit)

While I was losing the weight I ate around 1000-1100 cal per day on average and the % fat was more like 5-10. Yes this is low. I have an EXTREMELY slow metabolism, which has been determined by medical professionals. No, there's nothing apparently wrong with my thyroxin levels, or any other apparent medical reason for this. My metabolism is simply very very efficient. Do NOT try this at home. Please.

Now that I'm living more on what I eat rather than stored fat my metabolism seems to have changed. Now I seem to need 1800-1900 calories per day. I drop it down to 1500 or even 1300 if the weight creeps up and I need to push it back down again.

This leaves little room for starches, even whole grains, which seem to trigger cravings for me. Most of my carbs come from vegetables like broccoli, squash, carrots, spinach, and green beans. I rarely eat processed flour or baked goods.

I eat very little sugar, and by that I mean perhaps one apple a day. I limit dairy with a high lactose content (nonfat yogurt, nonfat milk). I eat a lot of Greek yogurt which has less lactose. I rarely eat things containing processed sugar or sweeteners (honey, agave, molasses, etc.).

Since I use the LoseIt food tracker on my iPod instead of on Spark People, you'll have to look at this page to see what I might eat in a typical day:

http://www.sparkpeople.com/mypage_tracke
r.asp?id=4A-HEALTHY-BMI&dte=4%2F5%2F2011

I got the protein recommendation from this formula:
[0.6 to 1.5 g of protein per pound of target weight]
Here's where the formula came from:
http://en.wikipedia.org/wiki/Strength_tr
aining#Nutrition

Getting this much protein into my body early in the day (by 5pm) also helps control my cravings and curbs night eating.

I spread the protein into about 4-5 mini-meals, since the body cannot absorb more than 20-30g per hour.

Here are my top 7 lean protein sources (in no particular order):

1) Nasoya Lite Firm Tofu
2) Poultry breast meat
3) Lean seafood (shrimp, tilapia, cod, light tuna, etc)
4) Whey protein powder (and/or egg white powder)
5) Nonfat Greek yoghurt or Skyr
6) Seitan
7) Textured Vegetable Protein

For emergencies I stash low carb protein bars in the car, my purse, my backpack, my life vest, etc. I buy them in bulk online. I have written a whole blog about protein, and if you want specifics, go see it...

I've been trying different whey isolate flavors and logging my impressions here:
http://spreadsheets.google.com/pub?key=t
FwEUAm0WUYByxujvy0-XKQ&single=true&gid
=0&output=html

In case you're wondering, here is a ranking based on how closely the amino acid profile of various protein sources compares with human dietary needs (the higher the rank, the more "complete" the protein source)
http://en.wikipedia.org/wiki/PDCAAS

Current Exercise Schedule:
-----------------------
M - Tae Kardio at lunchtime, weightlifting in the basement in the evening
Tu - XC ski at lunchtime (if there is snow), Spinning in the evening
W - Tae Kardio at lunchtime, weightlifting in the basement in the evening
Th - Tae Kardio at lunchtime, Spinning in the evening
F- Rest, stretching, sometimes a deep tissue massage, or weight lifting
Sa - Playing outside (kayaking, XC skiing, snowboarding, road cycling, etc.)
Su - Playing outside

Iím doing the New Rules of Lifting for Women program at the moment. http://www.sparkpeople.com/myspark/groups_
individual.asp?gid=19130

Helpful Equipment:
-------------------------
1) Tanita Innerscan scale
2) iPod Touch and iPhone with fitness apps on them
3) Moving average weight tracker FatWatch iPod app and my own Google spreadsheet
4) Nutrition tracker in LoseIt iPod app
5)
6) Accurate food scales (Escali at work and at home)
7) Polar Polar FT60 Heart Rate Monitor
8) Marcy platinum olympic cage mp-12.0 and plates
9) 5, 8, 10 & 15-lb dumbbells and weight gloves
10) Cleated bike shoes
11) Cateye Strada double wireless bike computer
12) Horizon E901 Elliptical
13) Polyester (chlorine-proof) swimsuit & rash top

Things I used to find helpful and have outgrown
-------------------------
1) Pimped-out Bowflex PR3000
2) Extra buoyant aqua bells, webbed gloves, and ankle baffles
3) Nordic Track machine (now lives with CARRIE1948)

My weight loss trophy icons are here, if anyone else wants to "borrow" them. :-)
http://tinyurl.com/profile-trophies


Current Status:


SparkFriends

SparkTeams



My Ticker:
current weight: 14.8 over

Interact with 4A-HEALTHY-BMI






Recent Blogs:

Profile


Member Since: 3/9/2009

SparkPoints: 33,724

Fitness Minutes: 51,748

My Goals:
I want to stay at a healthy BMI. To me that basically means
1) keeping below a BMI of 30 and
2) keeping my % body fat in the 17-19 range.

This usually happens around a weight of 150-155 for me.

Reward for reaching a "normal" BMI (under 25): Finis Swimp3 1GB waterproof MP3 Player - achieved on 12/23/2009. Merry Christmas & Happy New Year & Joyous Festivus! LOL

I had a DXA scan done on January 15, 2010. It said I had 19% body fat. At the time I would have been happy with 25%!

My Program:
- 1500 - 1700 calories per day, depending on activity levels
- Minimum of 150g of protein per day
- 15-20% calories from fat (preferably mostly unsaturated)
- 30-45% calories from protein

- Alternate strength training and cardio M-F
- Spend weekends outside having FUN (XC skiing, snowboarding, ice skating, road cycling, white water kayaking)


Personal Information:
"Believe me, my young friend, there is nothing - absolutely nothing - half so much worth doing as simply messing about in boats. [...] In or out of 'em, it doesn't matter. Nothing seems really to matter, that's the charm of it. Whether you get away, or whether you don't; whether you arrive at your destination or whether you reach somewhere else, or whether you never get anywhere at all, you're always busy, and you never do anything in particular; and when you've done it there's always something else to do, and you can do it if you like, but you'd much better not. Look here! If you've really nothing else on hand this morning, supposing we drop down the river together, and have a long day of it?" -- Rat, The Wind in the Willows

Other Information:
I discovered white water kayaking in late autumn 2009 - or maybe it discovered me.

I now aim to become the baddest 40-something ass on the river who used to weigh over 300 lbs. LOL
Not sure how much competition there is for such a title... ;-)

Profile Image